Rogue lands with a thud as DirecTV's first original scripted series
04/03/13 05:49 PM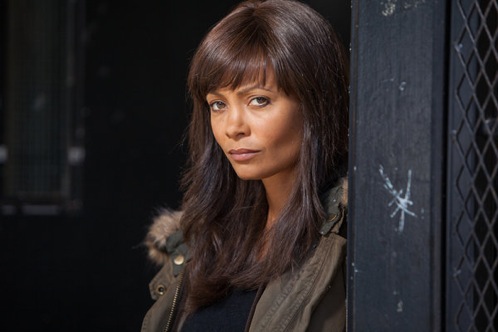 Former ER co-star Thandie Newton in Rogue. DirecTV photo
Premiering:
Wednesday, April 3rd at 8 p.m. (central) on DirecTV's Audience network
Starring:
Thandie Newton, Marton Csokas, Kavan Smith, Sarah Jeffery, Claudia Ferri, Joshua Sasse
Produced by:
Matthew Parkhill
By ED BARK
@unclebarkycom
Dreary in tone and storyline -- and mostly dimly lit as well --
Rogue
is a decidedly uninviting vehicle for DirecTV's first original scripted series.
The satellite service sent the first two episodes for review, but one definitely seemed like more than enough.
Thandie Newton, a regular on NBC's
ER
during the show's latter seasons, plays an Oakland undercover cop named Grace Travis. But for the first 15 minutes or so, it's hard to know exactly what she is. A viewer's patience is initially tested and eventually goes unrewarded in an opening hour that also trades heavily on a one-note crime boss named Jimmy Laszlo (Marton Csokas).
Travis is helping to arrange drug deals for him while also apparently trying to reel him in. But along the way her pre-teen son is murdered by forces unknown. And four months later, a strung-out, grieving Grace is determined to find the shooter, even if most viewers may not care if she does.
Grace is also surly, profane and estranged from her teen daughter, Evie (Sarah Jeffery), who snarls, "Oh good, another promise. I'll add it to my collection."
None of this really clicks. And the script is no help with lines such as "We sit tight until my say!" That line comes from meanie Jimmy, whose son, Alec (Joshua Sasse) is a restive thug who wants more respect from the old man.
The Audience network arm of DirecTV, which will house
Rogue
, is not burdened by commercials. So characters are free to drop f-bombs with abandon, which they do. Newton also gets briefly naked in a shower scene.
DirecTV is best known to date as the noble rescuer of quality dramas such as NBC's
Friday Night Lights
and FX's
Damages
. Both series deservedly received longer leases thanks to DirecTV's intervention and partial funding.
Rogue
mostly needs to rescue itself from itself. And that does not look like it's going to happen.
GRADE:
C-minus
Email comments or questions to:
unclebarky@verizon.net