Vida gives Starz a new look series with a #MeToo overlay
05/04/18 11:06 AM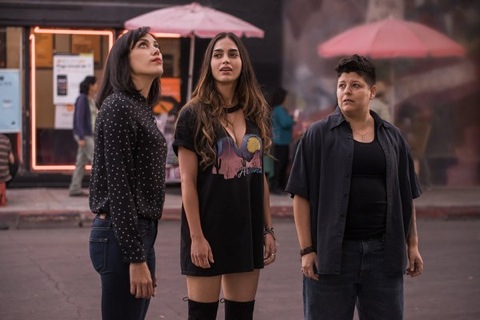 Mishel Prada, Melissa Barrera, Ser Anzoategui play the fractious trio of Vida, a short-order drama series with shorter than usual episodes.
Starz photo
Premiering:
Saturday, May 6th at 7:30 p.m. (central) on Starz
Starring:
Mishel Prada, Melissa Barrera, Ser Anzoategui, Chelsea Rendon, Carlos Miranda, Maria Elena Laas, Ramses Jimenez, Erika Soto, Louis Bordonada
Produced by:
Tanya Saracho, Marc Turtletaub, Peter Saraf, Robin Schwartz, Stephanie Langhoff
By ED BARK
@unclebarkycom on Twitter
The Starz network's latest rebranding campaign -- "The Future is Female. Fearless. Fierce" -- both marches in step with the #MeToo movement and rips some pages from the longstanding Lifetime playbook. Except that full nudity and some heavy-duty profanity are still no-no's on advertiser-supported cable channels. You get what you pay extra for.
Vida
, with three disparate women spurring most of the action, is both a sign of these times and a distinct departure with its look at a predominantly Hispanic East L.A. neighborhood that's being "gentrified" by unscrupulous male developers. A trio of Latinas head the cast, with three other Hispanic women also of considerable import. The three males in the cast, two recurring and only one a regular, are more than beside the point, but well short of being driving forces.
Season One consists of just six episodes of an uncommonly brief half-hour duration each. All of them were made available for review, with a rather ridiculously long list of 22(!) "spoilers" that critics are advised to abide by. Once upon a time,
Mad Men
creator Matthew Weiner was twitted for being obsessed with storyline secrecy. Now he looks like a piker.
The series is triggered by the sudden death of Vidalia, mother of sisters who have little use for each other or the neighborhood they've both put behind them. Unbeknownst to them, mama had a wife in her later years. And Eddy (Ser Anzoategui) is . . . well, that's deemed to be one of the spoilers. Suffice it to say that the apartment building and street level bar owned by Vidalia are now up for grabs.
Older sister Emma (Mishel Prada) has become both imperious and successful as a high-level employee of a Chicago-based company. Flighty kid sister Lyn (Melissa Barrera) also has flown the coop and been living in San Francisco. Exactly what they do for their livings is never really specified, although it becomes evident that Lyn primarily has gotten by on her looks and guile in giving men what they want in return for what she wants.
Lyn is, however, closer to "mommy" than Emma, who harbors a later revealed secret that sent her packing and steeled her in the process. At Vidalia's wake, Emma quickly grows stir crazy. "Nobody wants to say hi to me anyway," she tells Lyn, who rejoins, "That's probably true." A little humor occasionally cuts through these mostly sober proceedings.
Lyn otherwise purloins credit cards to further advance her fabulous wardrobe while also manipulating her old boyfriend, Johnny (Carlos Miranda), whose fiancee, Karla (Erika Soto), is pregnant by him. In this instance, it's Lyn who's the sexual predator, although pliable Johnny doesn't seem to need much coaxing.
Also in this mix is Johnny's sister, Marisol (Chelsea Rendon), an acid-tongued activist who's trying to keep developers from buying up properties and pricing out the neighborhood's longtime residents. In her view both Emma and Lyn are "white Latina bitches" while Lyn additionally is a "
puta
." But Marisol also is prone to be manipulated by resistance leader Tialoc (Ramses Jimenez).
Vida
's other scummy male character is developer Nelson (Louis Bordonada), a smooth-talking Hispanic who gets hands-y with Emma before getting his comeuppance via a hot cuppa joe.
Emma also has an old neighborhood "mentor" named Cruz (Maria Elena), who rekindles their onetime close personal relationship.
Vida
does not lack for graphic sex and nudity, both male and female.
By the end of Season One's six episodes,
Vida
has taken some predictable courses in terms of re-rallying around Vidalia's and later Eddy's efforts to keep the bar and apartment building from being poached. But the series has some interesting ways of getting there while Anzoategui's performance as Eddy gradually registers as the strongest.
On the other hand, Lyn can be irksome and extremely off-putting at times before a cathartic experience in Episode 4 starts to turn her head around. "I'm an open vessel of openness," she tells Emma after becoming further influenced by . . . well, never mind.
Hardened Emma of course also undergoes a transformation while doing a lot of weeping en route. But the three men in this picture are pretty much left as is. "We're going to get this property one way or another," developer Nelson snarls as the sisterhood starts to grow stronger.
Despite the hardly surprising plotting,
Vida
excels as a series with a notably different look and feel. It's steeped in the culture and traditions of a neighborhood that many viewers will be seeing for the first time. Starz's uncommonly short order of just six episodes doesn't indicate much faith in this project, which has only just begun by the end of an eventful Season One finale. So it would be disappointing if
Vida
doesn't return -- and with at least twice as many episodes the second time around. That way, maybe even the male characters will get ample time to develop some shadings.
GRADE:
B
Email comments or questions to:
unclebarky@verizon.net