NBC's The Blacklist gives Spader another chance to act up -- and someimes wear a hat
09/18/13 03:59 PM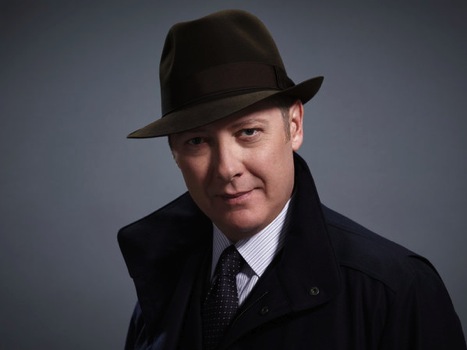 James Spader stars as (mad?) hatter of The Blacklist. NBC photo
Premiering:
Monday, Sept. 23rd at 9 p.m. (central) on NBC
Starring:
James Spader, Megan Boone, Harry Joseph Lennix, Diego Klattenhoff, Ryan Eggold
Produced by:
Jon Bokenkamp, John Eisendrath, John Davis, John Fox
By ED BARK
@unclebarkycom on Twitter
Maybe we've been around this bend more than once too often.
A mysterious, imperious know-it-all promises to track down the world's most sinister bad guys -- only he knows their identities -- in return for doing it all his way.
He'll work only with a new agent who just happens to be beautiful and has a tormented past in addition to some possibly deep-held secrets of her own.
The FBI's "Most Wanted" list? Pish-posh, small fish. "I'm Ahab," declares Raymond "Red" Reddington (James Spader), who used to be an agent himself. "And if you want the whales on my list, you have to play by my rules."
So here we go again, via NBC's
The Blacklist
. Monday's opening hour has one crackerjack action scene amid all the lack of cohesion and wildly quick deductions as to what a seething terrorist of the week named Ranko Zumani plans to blow up.
Spader also is afforded ample time to laugh haughtily or smile smugly. Meanwhile, rookie FBI agent Elizabeth "Liz" Keen (Megan Boone) wonders why her seemingly happy marriage and adoption plans have been all shook up. But Liz also has a tendency to display "narcissistic behavior," as she explains to bossman Harold Cooper (Harry Joseph Lennix channeling the cadence of Barack Obama). Therefore "my colleagues call me 'sir.' They think I'm a bitch."
The Blacklist
seems to think a lot of itself, too. It's a preening Peacock that looks expensive while calling further attention to itself with a big incessant drumbeat of a soundtrack. And NBC has positioned it right behind Monday's two-hour editions of
The Voice
, likely ensuring ample sampling on opening night.
Perhaps Spader will keep some viewers coming back with lines like, "I think I smell the stench of your cologne . . . Smells like hubris." Or, "You got rid of your highlights. You look much less 'Baltimore.' " Or maybe he's shot his verbal wad already, whether wearing a fedora or exposing his shaved, widow's peaked pate.
There's also the kidnapping of a military general's little daughter and a grisly torture scene that commences just after Red gets put up in a luxury hotel suite to the tune of Dean Martin's now over-used "Ain't That a Kick in the Head?" A couple of stabs to the thigh and side likely hurt even worse. After witnessing her loved one on the receiving end, an avenging Liz gets right up in Red's grill. And around and around we go.
The Blacklist
is watchable but patently unbelievable and increasingly unpalatable. Spader's hoping to do
tour de force
here, but I'm already pretty weary of a character whose control freak partnership with an FBI ingenue is considerably less fun than
Sleepy Hollow
's mismatched duo of a back-from-the-dead, time-traveling Ichabod Crane and a young female deputy with her own troubled past.
Those two are pursuing a headless horseman who's learned how to fire automatic weapons in addition to swinging a lethal silver ax. On
The Blacklist
, the despot of the week will be of Red Reddington's choosing. Because as he says, "Well, that was fun. Let's do it again."
Do we really have to? Will you really want to? We'll see about that.
GRADE:
C+
Email comments or questions to:
unclebarky@verizon.net