NBC's Fashion Star wants you to be ready for a store near you
03/09/12 01:44 PM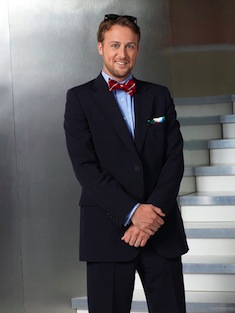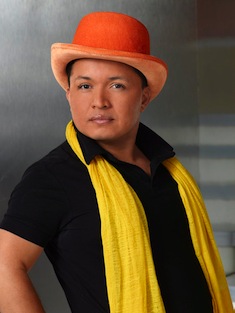 Texans Ross Bennett & Oscar Fierro hope to thread their way through Fashion Star. They're vying with 12 other hopefuls. NBC photos
Premiering:
Tuesday, March 13th at 8:30 p.m. (central) on NBC
Starring:
Elle Macpherson, Jessica Simpson, Nicole Richie, John Varvatos, three retail buyers and 14 designers
Produced by:
Ben Silverman, Elle Macpherson, Jane Lipsitz, Dan Cutforth, Rick Ringbakk, E.J. Johnston, James Deutch
By ED BARK
Very early in Tuesday's 90-minute premiere of NBC's
Fashion Star
, an off-camera announcer bills it as an "epic journey."
It's so easy to be Homeric these days. In reality, though, this latest "reality competition" series is merely about putting clothing in play. So that you, the viewer, can buy it the very next day, either online or directly from select Macy's, Saks Fifth Avenue or H&M stores. The show's mantra: "Watch it today and wear it tomorrow."
From a raw marketing standpoint, this may prove to be quite the brilliant idea. And who better to be the main man behind it than former NBC entertainment co-chairman Ben Silverman.
During his stormy tenure at NBC, Silverman constantly looked for ways to integrate "product placement" into the network's prime-time and late night programming. And in some ways,
Fashion Star
amounts to QVC, with fashions from 14 competing designers showcased in mini-runway shows before the three resident buyers decide whether to make an offer to sell these goods virtually on the spot.
The other glitz -- beyond "bubble cocktail dresses" and "James Dean jackets" -- is provided by host and former supermodel Elle Macpherson (who's also an executive producer) and celebrity mentors Jessica Simpson and Nicole Richie. A third wheel, John Varvatos, adds a leveling "who's he?" factor. Pulse-pounding pop songs and lots of leggy, strutting models top it all off.
Two of the 14 aspirants are from Texas. And neither lacks in self-confidence, even though 37-year-old Oscar Fierro of Lewisville weeps a lot when he's not prancing around.
"I sort of look like a cartoon," says Oscar, whose specialty is "an orgy of over-the-top things." One of the prospective buyers of his clothing, a scowling Saks taskmaster named Terrone Schaefer, says pointedly, "I'm just worried about you being more of a comedian than a designer."
But between crying jags, Oscar doesn't seem to be worried at all. "I certainly know I'm better than anybody else," he says.
There's also Ross "God, I'm good" Bennett of Austin, a 27-year-old bow-tied designer of cocktail dresses and formal wear. His principal mentor is Simpson, who lets him know that they both graduated from Richardson's J.J. Pearce High School.
"There's no one who puts on a presentation like I do," he says.
Not to give a whole lot away, but big talkers don't always carry the day on
Fashion Star
. And those who come away without offers from any of the three buyers are up for elimination in a climactic round that ends with one of them being told, "You're not our 'Fashion Star.' You're going home." In the extended premiere, eight of the 14 designers find themselves in final jeopardy.
Simpson used to be famous for both dating Dallas Cowboys quarterback Tony Romo and being perplexed about Chicken of the Sea brand tuna during her
Newlyweds
reality series with former husband Nick Lachey. But she's survived, is expecting her first child (with boyfriend and former NFL player Eric Johnson) and comes off as pretty well-spoken on
Fashion Star
.
Simpson's baby is due this spring, and she was very much showing in January during a network "press tour" interview session for
Fashion Star
. But the premiere episode was taped a while back, so her "baby bump" isn't nearly so pronounced.
Tuesday's principal flashpoint comes when designer Nicholas Bowes of L.A. tells the two women judges that they aren't really qualified to judge his line of biker jackets for men. This is not a wise choice of words when two of the three mentors and two of the three buyers are women.
Simpson says she's offended before telling Bowes she'd like to "hit you across the face." But she says this with a smile. And it's pretty much a no-brainer to deduce that the rest of opening night will not go at all well for this guy.
After the elimination round, before which the buyers and mentors talk amongst themselves, the show's "digital correspondent," Jeannie Mai, trills for a bit about what viewers can buy the next day.
This possibly could work, and isn't entirely unwatchable. And it's one of the few shows on television where a guy -- namely mentor Varvatos -- can say with a straight face, "I thought they were fun and beach-y." Knowing nods ensue.
GRADE:
C