Carrie-ing on with Season 6 of Homeland
01/12/17 10:54 AM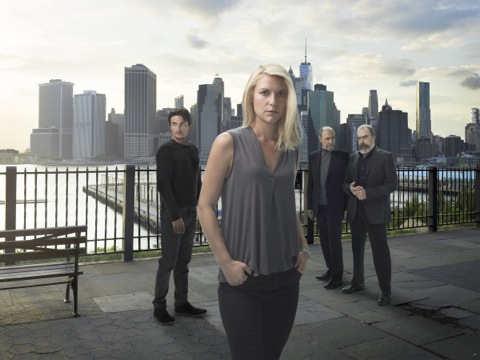 Claire Danes again stands out in Homeland. Showtime photo
By ED BARK
@unclebarkycom on Twitter
Since he's been prominently "outed" in Showtime photos and other publicity materials, it's no spoiler to first note that Rupert Friend's Peter Quinn has joined TV's growing Legion of the Undead.
At the close of
Homeland's
Season 5, CIA heroine Carrie Mathison (Claire Danes) seemingly pulled the plug on him after reading the comatose Quinn's love letter to her. But the room brightened as she did so, signaling something or other. And Season 6 doesn't mess around on the "Is he or isn't he?" front. The series' Sunday, Jan. 15th return (
at 8 p.m. central
) almost instantly establishes that Quinn is alive and limping in a hospital rehab wing, where he's self-destructive and thoroughly resistant to Carrie's daily visits.
Having renounced the CIA and all its evil ways, Carrie is now working for a Brooklyn foundation that specializes in protecting Muslims' civil rights. A case quickly presents itself when teenager Sekou Bah (J. Mallory McCree) is arrested for making videos that allegedly promote terrorism.
"I know what protected speech is. I can say what I want," he defiantly says from his jail cell.
But hardline special FBI agent Ray Conlin (Dominic Fumusa) is determined to waylay any suspicious activities by any means at his dispoal.
"I don't know about you, but I'm not taking any chances," he tells Carrie. "Not here. Not in New York."
There's also a new president-elect, former New York senator Elizabeth Keane (Elizabeth Marvel). Her son was killed while serving in Afghanistan. And longtime CIA schemers Saul Berenson (Mandy Patinkin) and Dar Adal (F. Murray Abraham) worry that she'll compromise and/or end their operations upon taking office.
Carrie otherwise lives in a tidy Brooklyn two-story with her little daughter Frannie, to whom she finally seems devoted. The downstairs unit primarily is rented out via Air B&B. But it also could be used to house a certain somebody with severe physical and emotional problems.
The two episodes made available for review (the first one is already streaming online) have eased off the throttle of previous seasons. So far this is a more domesticated
Homeland
without any explosions or other immediate crises. Carrie also looks to be as stable as she's ever been, without any off/on bouts with her meds.
Saul, of course, has new suspicions and concerns about her. They come to the fore in Episode 2, as does the much-parodied Carrie "cry face" in a cathartic closing scene.
It's a solid enough re-start to a series that Showtime already has renewed for two more seasons beyond this one.
Homeland
has "proven it can reinvent itself year after year," Showtime president/CEO David Nevins told TV critics last summer.
But
Dexter
, which ran for eight seasons on Showtime, proved that a show can fall apart, too, judging from the heavy condemnation of its final episode.
Homeland
also is beset, as is HBO's
Veep
, with jarringly head-smacking real-life events that set a dauntingly high bar for fictional storytellers. So much so that Quinn's resurrection not only is same-old, same-old, but almost banal. A true shocker would be to see him unequivocally dead and buried. Imagine fiction being stranger than truth. What a concept that is these days.
GRADE:
B
Email comments or questions to:
unclebarky@verizon.net