HBO's Lombardi is both overdue and missing at least two essentials
12/11/10 12:55 PM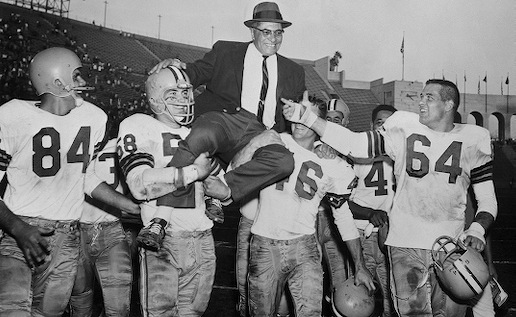 Carry on, boys. Vince Lombardi and his Green Bay Packers. HBO photo
By ED BARK
"The Pope of Green Bay" -- or "Saint Vinny" as some of us native Wisconsinites prefer to call him -- at last steps up further in class as the latest centerpiece in HBO's already Emmy-laden series of sports documentaries.
What took so long?
The 90-minute
Lombardi
, premiering
Saturday, Dec. 11th at 7 p.m. central
, is by no means a substitute for arguably the best sports biography ever. That would be David Maraniss'
When Pride Still Mattered
, first published in 1999. He's included among the documentary's fresh set of interviewees, but Maraniss' written words carry far more power.
Vince Lombardi, who died of cancer 40 years ago at age 57, also is the subject of a new Broadway play and will be played by Robert De Niro in an upcoming ESPN movie. So the legendary Green Bay Packers coach, after whom the Super Bowl trophy is named, is all of a sudden a hot commodity as both a leader of men and an unbending throwback.
HBO's treatment is compelling while also being curiously deficient. Lombardi's two star running backs -- Jim Taylor and Paul Hornung -- were the prime movers of his famed "Power Sweep." Vintage game footage of both players is included. But Taylor is never even mentioned by name while Hornung, anointed Lombardi's "Golden Boy," only gets named in passing. Neither of the surviving players is interviewed. That's like doing a documentary on Tom Landry without identifying or talking to Roger Staubach.
Lombardi
is well-served, however, with interviews of its subject's two children, Vincent Jr. and Susan. Crusty, chubby and gravel-voiced, his daughter is her own highlight reel. And Vincent speaks candidly and movingly about the trials of being the same-named son of a demanding and oft-distant father whose obsession with coaching helped turn his devoted wife, Marie, into a home alone alcoholic on weekdays.
"God forbid she miss a football game," Susan says of her mother. "She never missed one. Not one."
The Packers were stinko when Lombardi arrived in Green Bay for the 1959 season. They had gone 1-10-1 in the previous season despite a nucleus of players that included future Hall of Famers Taylor, Hornung, quarterback Bart Starr, linebacker Ray Nitschke and center Jim Ringo.
Starr remembers Lombardi's first team meeting, in which he told the players, "Gentlemen, we are going to relentlessly chase perfection" even though it's ever elusive. He was immediately sold, Starr said. And the Packers went 7-5 in Lombardi's first year as coach, the storied team's first winning season since 1947. Two years later they won their first of five NFL championships under Lombardi, who coached through the 1967 season. The first two Super Bowls also were dominated by Lombardi's Packers against the American Football League's Kansas City Chiefs and Oakland Raiders.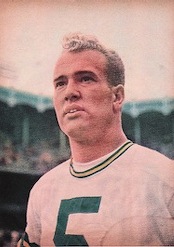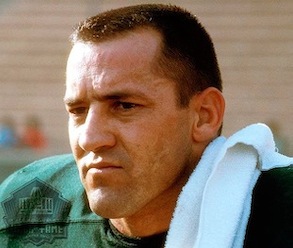 Paul Hornung and Jim Taylor are largely left out of Lombardi.
The two games leading up to Super Bowls I and II were hard-fought, last-play-of-the-game wins against the Dallas Cowboys.
Your friendly content provider was on leave from the Marines when the indelible 1967 "Ice Bowl" game was played in Green Bay. I remember walking a few blocks to a friend's house in Madison, Wisconsin. The cold and the winds were unbearable. And all these years later, it's still hard to believe they played such a stirring game under nigh impossible conditions, with Green Bay winning 21-17 on a quarterback sneak by Starr with 13 seconds remaining.
Lombardi
of course includes footage from that classic encounter. Almost as evocative, though, are color home movies from the weekly post-game Sunday night parties at the Lombardi home. At last the tightly wound coach could unwind, laughing boisterously amid the clanking of hard liquor drinks and mushroom clouds of cigarette smoke. But by Monday he was back into the grind, cajoling, yelling and bestowing head pats whenever a player got too down on himself.
"It's a game for mad men, and I'm the biggest mad man of them all," a chuckling Lombardi says in audio comments sprinkled throughout the documentary.
He was a man's man and a player's coach. And
Lombardi
makes it clear that the color of a man's skin was irrelevant to him, as long as you could perform on the field. Black defensive lineman Lionel Aldridge was worried that the NFL would drum him out of the league if he followed through on his plans to marry a white woman. But Lombardi supported him unwaveringly, Aldridge's widow recalls, even standing up to Commissioner Pete Rozelle, who fretted about the league's image.
Old before his time and in increasingly poor health, Lombardi had one more memorable season after leaving Green Bay. He coached the 1969 Washington Redskins to a 7-5 record, the team's first winning season since 1955. But on the eve of the 1970 season, Lombardi died of cancer.
His feisty daughter, Susan, finally gives in to her emotions, sobbing as she remembers Dad squeezing her hand for the last time. Former New York Giants star Frank Gifford and Lombardi's brother, Harold, also choke up.
The Packers again are contending for a playoff spot this season. And outside Lambeau Field, a commemorative statue of Lombardi still seems to tower over the history-rich playing field.
"He was amazing. He really was amazing," Harold Lombardi says.
Flaws and all, he truly was. Now HBO needs to get busy on that Tom Landry documentary. And be sure to interview Roger Staubach.
GRADE:
B+