HBO's captivating The Night Of sets its hook for seven more Sunday nights after
07/07/16 12:03 PM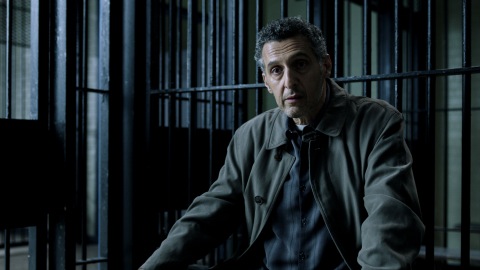 John Turturro, as rumpled New York lawyer Jack Stone, very ably steps in for the late James Gandolfini in The Night Of. HBO photo
Premiering:
Sunday, July 10th at 8 p.m. (central) on HBO
Starring:
John Turturro, Riz Ahmed, Bill Camp, Jeannie Berlin, Amara Karan, Peyman Moaadi, Poorna Jagannathan, Michael K. Williams, Glenne Headly, Sofia Black D'Elia
Produced by:
Peter Moffat, James Gandolfini, Jane Granter, Richard Price, Steve Zaillian
By ED BARK
@unclebarkycom on Twitter
There's a lesser crime, besides murder, connected to
The Night Of
.
It's that HBO did not provide the concluding eighth episode for review. And with a drama this good, that ends up being at least a misdemeanor offense, even if those who have seen the first seven episodes might argue for a stiffer penalty.
This is HBO's best "limited series" since
Angels in America
, which in 2004 won all of the major Emmy awards in its category.
The Night Of
, adapted from the 2008 British series
Criminal Justice
, arrives too late in the game to be eligible for this year's Emmys. But unless it completely collapses with its final chapter, look for much Emmy love the next time around.
John Turturro heads the cast as a Columbo-esque, dirty-to-the-touch New York City lawyer named Jack Stone, whose sandal-clad feet are ravaged by eczema. The role originally was written for the late James Gandolfini, who retains a co-executive producer's credit more than three years after his death.
The Night Of
officially gets underway on Sunday, July 10th, although its 90-minute opening episode has been available online for several weeks. By the end of it, young, American-born Muslim Nasir Khan (Riz Ahmed) has been implicated in the grisly stabbing death of 22-year-old Andrea Cornish (Sofia Black D'Elia). It all happened on the night of Oct. 24, 2014 after Andrea got into a cab that Nasir clandestinely had "borrowed" from his father in hopes of attending a hot party and perhaps hooking up with someone. But this impromptu one-night stand turns out to be laced with drugs, booze, dangerous games and a blackout after sex. So what really happened?
Both Nasir and Andrea are blessed with movie star good looks. But
The Night Of
in large part soars on the strength of a plain brown wrapper trio of Stone, seen-it-all detective Dennis Box (Bill Camp) and an eventual lead prosecutor named Helen (Jeannie Berlin). All three are "ordinary" looking and to varying degrees beaten down by their respective professions. None of them will ever be a
Vogue
model.
Turturro's Stone basically is an ambulance-chaser whose clients are mostly dregs. But he wouldn't at all mind being more famous and better compensated. And while making his appointed rounds in a dreary police precinct house, he sights Nasir before asking as a matter of course, "Hey, what's with Gunga Din in there?" Well, it's much bigger than he had thought.
The laconic Detective Box on the other hand is intent on prying a confession out of Nasir. He probes and prods without seeming to do so. "I'm trying to help you. Help me help you," he cajoles before Stone intercedes to tell his new client to "shut it."
By Episode 2, Nasir is starting to realize what Box is all about.
"He seems like a nice man," his mother, Safar (Pooma Jagannathan), says.
"He's a subtle beast," Nasir replies.
Stone isn't a particularly nice man either. He's mainly intent on sealing a retainer fee with the defendant's financially hard-pressed parents. But the case itself also could be priceless and perhaps even winnable. "He's as clean as Donny Osmond," Stone tells Helen, who's jousted with him before.
The slow, evidence-seeking road to a trial date is juxtaposed with Nasir's incarceration without bail in the hard core Riker's Island prison. It's a constantly foreboding, life-threatening setting where both guards and inmates cut deals. The godfather of inmates, a former boxer named Freddy (Michael K. Williams), asks Nasir in Episode 3, "Do you want my protection? Or do you prefer dead in the shower, with your brains bashed in, guts on the floor? It's up to you."
But protection comes with a price, of course.
Most of the episodes are directed by Steve Zaillian, who's also credited as a co-creator with principal scriptwriter Richard Price. They collaborate on words and images that resonate and linger, whether it's recurring glimpses of Nancy Grace ranting about the case on a barroom television or Stone being asked by his new courtroom partner Chandra (Amara Karan) how he knows so much about "all this drug stuff." Matter-of-factly speaking, "I'm a lawyer," he responds. Case closed.
Prejudices also are omnipresent in the city shaken to its core by 9/11. A young black woman cop clearly has nothing but contempt for Nasir after he's pulled over for making an illegal left turn minutes after making a ghastly discovery. The defendant's parents are caught in the vortex and increasingly ostracized. It's enough to make the increasingly doubting Safar ask, "Did I raise an animal?"
Turturro's singular performance rises above all else. He outwardly stumbles about, but inwardly gains traction whether looking for threads that might implicate someone else, trying various remedies for his unsightly feet or adopting a cat even though he's allergic to same. It's a slow cleansing process for a divorced, rumpled misfit who inwardly longs to be somebody.
The Night Of
slowly gets around to targeting another key suspect. But after seven of its eight episodes, there's really no telling where and how it will end for the accused, who just as easily could be guilty. The denouement won't be until Sunday, August 28th, with HBO firm about keeping that episode under wraps until the appointed night and hour. It already seems like
From Here to Eternity
.
GRADE:
A
Email comments or questions to;
unclebarky@verizon.net