One Tex out, two graduate to Idol's sweet 16
02/28/08 08:22 PM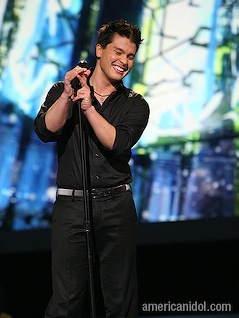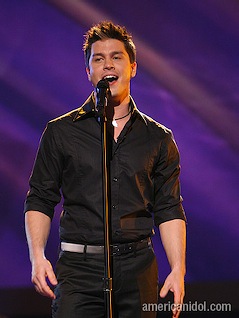 By ED BARK
Dubbed dull and ordinary for two weeks running by arbiter Simon Cowell, wobbly
American Idol
hopeful Jason Yeager of Grand Prairie took a knockout punch on Thursday's second vote-off show.
The 28-year-old Six Flags Over Texas showman joined Robbie Carrico, Alexandrea Lushington and Alaina Whitaker on the hit Fox show's scrap heap.
"I had a feeling I was going to be in the bottom rung," Yeager said before reprising The Doobie Brothers' "Long Train Running" as his swan song.
"You don't stand out in the crowd at the moment," Cowell then told him. "You're not a bad singer."
Jason Castro, 20, of Rockwall and Houston's Kady Malloy, 18, survived to be among
Idol
's final 16, although the latter earlier was left dangling next to Whitaker as one of the show's lower vote-getters.
Idol
host Ryan Seacrest announced that the show's top 12 will perform on a newly designed stage March 11th. And for the first time they've been cleared to sing tunes from the Lennon-McCartney songbook, otherwise known as The Beatles' catalog.
Seacrest also said that the April 9th
Idol Gives Back
special, a sequel to last year's, will include appearances by Brad Pitt, Reese Witherspoon, Snoop Dogg, Mariah Carey, Miley Cyrus and Carrie Underwood.
And while the mood strikes, here are unclebarky.com's picks for
Idol
's Final Four.
Namely, David Archuleta, Ramiele Malubay, David Hernandez and Brooke White, pictured left to right below: