Idol: Burbling Brooke's out, Rockwall's Castro in Final Four
05/01/08 03:38 AM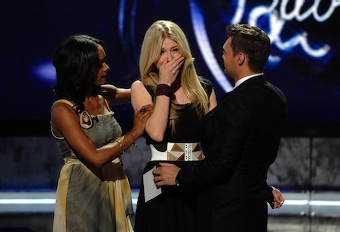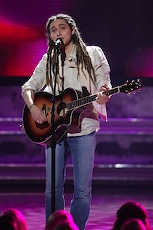 Brooke White goes home while Rockwall's Jason Castro strums on.
By ED BARK
Relentlessly needy Brooke White sobbed her way through Neil Diamond's "I Am . . . I Said" Wednesday night after
American Idol
viewers put her in the show's past tense.
That whittles it down to a Final Four that includes 21-year-old Jason Castro of Rockwall, who survived another whipping from the judges. That included a now exhaustively reported
out-of-body Paula Abdul
critique of a second Neil Diamond song, "September Morn," that he hadn't yet performed.
"Just for the record, the rumors are not true (about Abdul)," said host Ryan Seacrest, apparently referring to a report that she may have been a bit tipsier than usual. "She's part of our family, and we love her."
Castro was declared "safe" in the show's opening minutes, although many expected him to at least share a Bottom Two rung. Judge Simon Cowell had lashed both of his less than riveting Tuesday performances, telling him, "This is not the Jason we put into this competition."
Instead, White joined the relentlessly imperiled Syesha Mercado on the griddle. She sobbed copiously into Mercado's arms after Seacrest counted her out.
"I just want to say thank you," White finally told a weary nation. "It's going to be terrible for me right now. But thank you."
Castro and Mercado join David Archuleta and David Cook in the show's home stretch competition to be
Idol
's seventh big winner. The two Davids are widely seen as the show's Goliaths, but Castro also appears to have a very formidable fan base. If he survives another week, it would be
Idol's
first all-male Final Three. No married contestant has ever won, and White was the last of those.