New series review: Jekyll (BBC America)
08/03/07 10:51 AM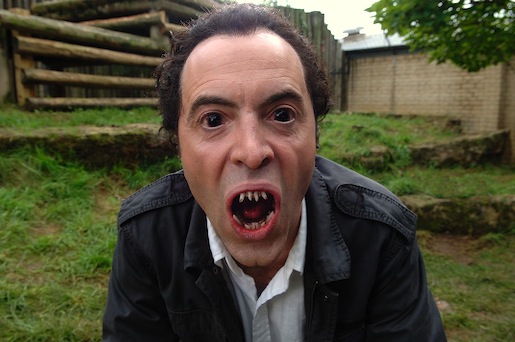 Premiering: Saturday night, Aug. 4 at 7 (central) on BBC America
Starring:
James Nesbitt, Michelle Ryan, Gina Bellman, Dennis Lawson
Produced and written by:
Steven Moffat
By ED BARK
BBC America's present-day new take on London's olde monster tends to be too much of a bloody mess. And that's the case whether he's committing violent acts or fretting as mild-mannered Dr. Tom Jackman.
Saturday's two-hour premiere of
Jekyll
is disappointingly discombobulated, veering wildly in tone and texture. It's
The Odd Couple
meets
The Nutty Professor
meets
The Incredible Hulk
meets Looney Tunes. Or something like that. It's even hard to decipher whether the lead character is Dr. "Chapman" or "Jackman." But Jackman it is, according to the official credits.
Veteran British thespian James Nesbitt has the challenging title role, with NBC's upcoming
Bionic Woman
, Michelle Ryan, striving to cope as psychiatric nurse Katherine Reimer. Her new boss, Dr. Jackman, not only morphs into Hyde but communicates with him on a cell phone. Meanwhile, a semi-comical organization with "unlimited wealth and power" has its eyes on his every move.
Dr. Jackman also has a wife, Claire (Gina Bellman), and two young sons, all of whom amazingly still know nothing of his alter ego. His increasingly odd behavior and unexplained absences seem to merely vex them. Hello!!!
Nesbitt is interesting to watch as Hyde, who's cocksure, hellbent and pretty much everything that Dr. Jackman isn't. He comes out at all hours of the day or night, but not much makeup is required. As Hyde, his hair's combed back, his eyes are bloodshot and his teeth take on the shape of golf tees. Frankly, he wouldn't make much of an impression in a garden variety Halloween costume contest.
Jekyll
hits its low point at a zoo, where one of Dr. Jackman's sons is transported to an outdoor lion's cage in order to draw Hyde out. The end result is a dead lion and a bloody shirt, but no real sense of menace or horror.
Nesbitt's acting isn't the problem, nor is Ryan's nicely showcased curvature.
Jekyll
instead falls victim to a far more sinister force -- lame, unfocused storytelling. It's "full of the unexpected," all right, but don't expect it to make much sense.
Jekyll
will continue with one-hour episodes on Aug. 11 and 18 before concluding with a two-hour finale on Aug. 25.
Grade:
C