Better Call Saul gives Breaking Bad a good name
02/05/15 01:35 PM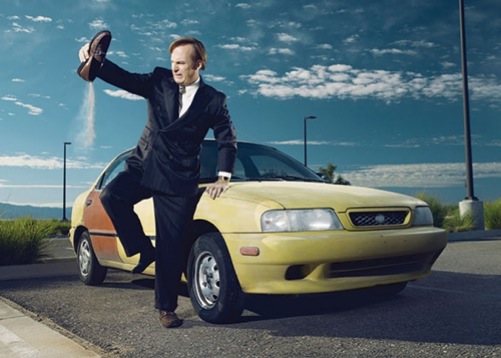 Bob Odenkirk's in the driver's seat for Better Call Saul. AMC photo
Premiering:
Sunday, Feb. 8th at 9 p.m. (central), with a second episode on Monday at 9 p.m. (the show's regular weekly slot).
Starring:
Bob Odenkirk, Michael McKean, Jonathan Banks, Rhea Seehorn, Patrick Fabian, Michael Mando, Julie Ann Emery, Jeremy Shamos
Produced by:
Vince Gilligan, Peter Gould, Mark Johnson, Melissa Bernstein
By ED BARK
@unclebarkycom on Twitter
Until now, Bob Odenkirk has never been required to be The Man.
Instead he's been part of the overall picture, most recently in FX's
Fargo
and most indelibly in AMC's
Breaking Bad
.
Now comes the proving ground. Odenkirk not only has his character's name in the title but must carry the load in one of the most anticipated and daring spinoffs in TV history. You might expect a guy to buckle under such pressure. But the first three episodes of
Better Call Saul
find Odenkirk in terrific form, even if Saul Goodman has yet to emerge from the ashes of penny ante lawyer Jimmy McGill.
Before the prequel, though, comes a glimpse into the nondescript future life of a Saul in hiding. He's seen in black-and-white to the tune of The Ink Spots' "Address Unknown." Let's just say that Saul -- or whatever he's called -- is working a menial job fit for an expressionless face. Later it's home alone, with a stiff drink helping the night to pass faster. A short tour of TV channels just doesn't cut it. So why not plug in an old "Better Call Saul" commercial in honor of past gory glories? Then it's time to fade to color -- and 2002.
All of this is done to the sounds of Saul's silence. After all, what's there to say? Saul's volume and volubility are on the down-low. For now it's the price of freedom -- or a facsimile thereof.
This sobering look beyond the eleventh hours of
Breaking Bad
is evidence that
Better Call Saul
will not be bound by any time or place constraints. Most of the action in the first three hours is built around Jimmy's struggles as an ill-paid public defender who takes cases at the rate of $700 a pop. But Episode 3 begins with a deeper flashback into his past. It was a time when Jimmy was still Jimmy, but his older brother, Chuck (Michael McKean), hadn't gone bonkers yet. So he was still in a position to reluctantly bail his brother out of another serious jam.
As previously publicized, only one other regular character from
Breaking Bad
is working full-time on
Better Call Saul
. That would be Mike Ehrmantraut (Jonathan Banks), the hard-as-nails enforcer who at times worked as Saul's private investigator and fixer. They first meet under entirely different circumstances, although this much can be said. Mike in his own way is still an enforcer.
Episode 1 also finds Jimmy belligerently quoting Ned Beatty's character from
Network
, enlisting a pair of scamming skateboards in a would-be bigger scam and having a surprise encounter with a
Breaking Bad
bad guy before the closing credits roll. It's hard to stay on the straight-and-narrow when your law "office" and living quarters are a cramped dump with a door located in the bowels of a busy nail salon.
Episode 2 finds Jimmy in a life-or-death pickle that puts him at wit's end. But talking his way out is still an option, and Odenkirk shines as a desperate man whose courthouse -- "It's show time, folks" -- is suddenly the desert. This hour also showcases McKean as brother Chuck, a fellow lawyer who used to be a big-timer until his brain started scrambling. Living in self-imposed solitary confinement, he won't allow cellphones to invade his space. And when Jimmy inadvertently lets that happen, Chuck feels the need to wrap himself in a silver space blanket.
Episode 3 shifts Banks' Ehrmantraut into a higher gear via his first real conversation with Jimmy. Viewers also will see the future Saul starting to sprout, with big money rather suddenly in his grasp.
Breaking Bad
creator Vince Gilligan has boldly stepped into
Better Call Saul
without stepping in it. This easily could have been a shit-on-the-soles disaster. But the initial three episodes vibrate on the strength of both Odenkirk's performance -- he's constantly on camera -- and the predicaments the writers have put him in.
"I'm a lawyer, not a criminal," he pleads in Episode 2.
"You are shitting me," retorts a strong-armed intimidator named Nacho Varga (Michael Mando).
Better Call Saul
looks very much as though it can stand on its own, even with occasional drop-ins from prominent
Breaking Bad
characters other than Mike Ehrmantraut. Jimmy/Saul's life isn't in jeopardy as long as he stays in the past. But as the opening minutes show, there's always room for trips beyond the end of
Breaking Bad
. And there's no telling what might happen then.
GRADE:
A-minus
Email comments or questions to:
unclebarky@verizon.net