Mystery drama Broadchurch graces BBC America
08/06/13 01:10 PM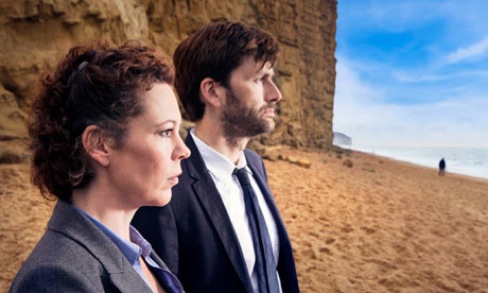 Olivia Colman, David Tennant star in Broadchurch. BBC America photo
Premiering:
Wednesday, Aug. 7th at 9 p.m. (central) on BBC America
Starring:
David Tennant, Olivia Colman, Jodie Whitaker, Andrew Buchan, Matthew Gravelle, David Bradley, Jonathan Bailey, Vicky McClure, Arthur Darvill, Pauline Quirke, Charlotte Beaumont, Adam Wilson, Carolyn Pickles, Will Mellor, Joe Sims, Simone McAullay, Oskar McNamara
Produced by:
Chris Chibnall, Jane Featherstone
By ED BARK
A shocking murder in a small town is hardly a novel premise.
Nor is the arrival of a new and unconventional lawman to strong-arm the subsequent investigation while clashing with his seasoned homegrown partner. We've also been treated to the spectacle of townies getting all stirred up before turning on one unfortunate individual with a conveniently criminal past. Throw in a resultant media circus and the peeling away of long-held secrets harbored by an array of principal characters. BBC America's
Broadchurch
emerges, and damned if it doesn't surmount all of these seeming cliches to fly brilliantly on its own through eight absorbing and impeccably acted episodes.
"
Broadchurch
is the kind of storytelling that grabs your attention and keeps you riveted with every minute -- which is exactly what we look for in an 'event' series." That rave about the United Kingdom's "most tweeted drama" comes not from abroad but from Fox entertainment chairman Kevin Reilly, whose network has announced an Americanized version for the 2014-15 TV season. Odds are they'll screw it up, but one never knows.
BBC America's U.S. premiere of the original
Broadchurch
begins on Wednesday, Aug. 7th and stretches all the way to early fall with an Oct. 2nd denouement. Its focus is 11-year-old Danny Latimer, whose body is found on the usually picturesque Broadchurch beach in a "suicide spot" near an imposing cliff.
But forensics evidence quickly determines that Danny died of asphyxiation before "somebody tried to make it look like an accident." Into the mystery wades incoming detective inspector Alec Hardy (former Dr. Who David Tennant), who's still recovering from a previous investigation that went badly awry.
Hardy's been given the position that veteran detective sergeant Ellie Miller (Olivia Colman) had coveted. Still, they must work together, often uneasily in the early going. In Episode 3, an irate Miller threatens to pee in a cup and throw it in Hardy's face. Delicious.
Danny's grieving parents are Beth and Mark Latimer (Jodie Whitaker, Andrew Buchan), whose marriage is already strained. He's the town's principal plumber and she's initially unaware of his other outside activity. Both blame themselves for Danny's death while also wrestling with the behavior of their rebellious teen daughter, Chloe (Charlotte Beaumont).
Virtually no one is above suspicion, with the single-minded Hardy's televised vow ringing clear at the end of Episode 1. "There will be no hiding place for Danny's killer," he assures the populace. "We will catch whoever did this."
Tennant's performance is a wonder, whether battling his own demons or grilling suspects ranging from the town priest to a battle ax living in a trailer home. The police work is methodical and somewhat old-fashioned, although a would-be psychic named Steve Connelly (Will Mellor) is thrown into the mix to further vex Hardy. This comes off as something of an error in judgment by
Broadchurch
creator/writer Chris Chibnall. It's debatable whether he really needed to add this other-worldly element.
Broadchurch
also is graced by David Bradley (of
Game of Thrones
and
Harry Potter
fame) as shopkeeper Jack Marshall. He distributes the same newspaper that eventually screams incriminating headlines about him. One of the drama's most powerful scenes is near the end of Episode 5, with Marshall weeping over stacks of tabloids headlined "Child Bride of Broadchurch Jack."
The series has been renewed for a Season 2, but viewers won't be strung along with any carryover whodunits. In fact, a vigilant viewer might well be able to determine the murderer -- as this reviewer did -- via a telltale, resonating line in the penultimate Episode 7.
Broadchurch
, with its recurring crashing waves wiping some slates clean, is thoroughly captivating from start to finish. Straight-ahead storytelling (arguably exempting the psychic gambit) and first-rate performances combine to make it both a murder mystery and character study of a town with and without pity.
AMC's final eight-episode arc of
Breaking Bad
, launching on Sunday, Aug. 11th, will be making TV's biggest waves as summer gives way to fall. But
Broadchurch
likewise is "appointment" viewing with its own eight-episode tale of betrayal and revelation. Better yet, you can get in on the ground floor without any further assembly or "power-watching" required.
GRADE:
A