Murphy Brown re-arrives with too many clunks for now
09/27/18 12:01 PM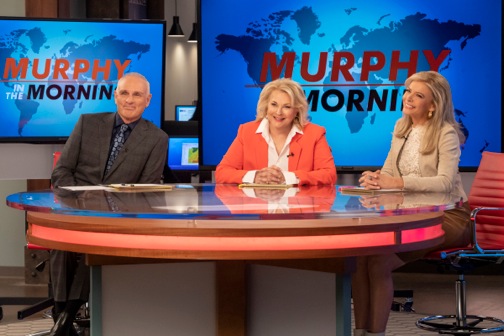 Back in play: Candice Bergen & her old mates. CBS photo
Premiering:
Thursday, Sept. 27th at 8:30 p.m. (central) on CBS
Starring:
Candice Bergen, Faith Ford, Joe Regalbuto, Grant Shaud, Jake McDorman, Nik Dodani, Tyne Daly
Produced by:
Diane English, Candice Bergen
By ED BARK
@unclebarkycom on Twitter
The past year's two other cast reunion reboots of note,
Will & Grace
and
Roseanne
, fired up the Donald Trump jokes in their first episodes before turning to other matters in subsequent episodes.
That's decidedly not the case -- but hardly surprising either -- with CBS' second coming of
Murphy Brown
. Relishing the fight at hand, the three episodes made available for review go hard at Trump, his supporters and the importance of truth, justice and an unfettered, vigilant media. This is not always done with dexterity, though.
Episode 2 in particular hits a comedic rut when Murphy (Candice Bergen) dons a brunette pageboy wig and poses as a French journalist in order to infiltrate a White House press briefing, from which she's been banned. Once in, she doffs the disguise and confronts Sarah Huckabee Sanders, who's edited in via previous footage because obviously she didn't cooperate with this.
"So here's my question," Murphy climactically proclaims. "Why do you lie?"
After protesting Trump's "enemy of the people" declarations, Murphy tries to lead a walkout of all the journalists in the room. No one joins her, including son Avery (Jake McDorman), now an anchor-reporter. More on this later before first noting that this is a rather embarrassingly bad episode which can't be saved by an ongoing over-active laugh track.
The premiere episode begins with video clips of Trump's stunning election before Murphy is first seen awakening that night in a pink "Original Nasty Woman" sweatshirt. "Nooooooo!" she exclaims before she's soon striding into Phil's Bar & Grill in her own ramped-up version of a pink pussy hat.
"I still can't get used to being in a protest march without reporting on it," Murphy laments before two of her old "FYI" news magazine co-workers, investigator Frank Fontana (Joe Regalbuto) and lifestyles reporter Corky Sherwood (Faith Ford), join her at their old hangout. The place is now run by the late Phil's salty sister, Phyllis (Tyne Daly). (Pat Corley, who played Phil, died in 2006.)
The original
Murphy Brown
ended its run on CBS 20 years ago after 10 Emmy-lauded seasons. Early in its run,
Murphy Brown
drew the ire of then Vice President Dan Quayle, who upbraided Bergen's character for "mocking the importance of fathers by bearing a child alone." The show fired back in the following season's premiere episode, celebrating the many forms of family life while also mocking Quayle's celebrated mis-correction of a student at an elementary school spelling bee. It's "potatoe," he said erroneously, not "potato."
The son in question is now all grown up. Not only that, but he's just landed his own show, "Avery Brown's America," on Fox News Channel.
Suitably aghast, Murphy exclaims, "The Wolf network! Where all the male anchors are conspiracy theorists and the women are dead behind the eyes?"
That's being "very judgy," he retorts before mom says she's also getting a new show on the CNC cable network. Fontana and Sherwood will join her on "Murphy In the Morning," airing from 7 to 9 a..m. weekdays. Pause, one-two. This also turns out to be Avery's time slot. And until he can get his finances in order, he'll otherwise be boarding with her, too.
The give-and-take living room scenes between Murphy and Avery so far are the best and most natural parts of this reboot. McDorman, who previously starred in the CBS drama series
Limitless
, has an easygoing manner that succeeds in taking things down a notch. In contrast, the old
Murphy
cast members (also including Grant Shaud as frazzled producer Miles Silverberg), too often seem to be loudly out of rhythm in these early half hours. Rather than acting, they're acting out. In Episode 2, even Bergen comes off as mechanical when delivering the line, "For crying out loud, LeBron would have an easier time getting into Mar a Lago!" In this case, she's talking about barging into Phil's during off-hours.
Through the course of these three episodes, Murphy also gets into an instant Twitter war with Trump and goes toe-to-toe verbally with an obvious mockup of Steve Bannon named Ed Shannon. But this happens at Phil's rather than on the air. Murphy has refused his request to spar on her show after "FYI's" old and still self-important news anchor, Jim Dial (Charles Kimbrough), counsels her during an Episode 3 walk-on as a guest star.
"If you put that human mudslide on the air, you're creating a perfect example of false equivalency," he tells her. And that's what's ruining journalism.
Besides Avery, the only regular cast member under 50 is newly imported social media whiz Pate Patel (Nik Dodani), who in the opening episode has an amusing reaction to Murphy's antique cell phone.
Shaud's Miles Silverberg likewise has a funny moment in Episode 3 after Murphy makes the ratings-deflating decision to shun Shannon against his wishes.
"I'm a five-foot-seven Jew with small calves and colitis," he declares. "I've had a lifetime of not getting what I wanted."
Meanwhile, Avery's collusion with Fox News Channel comes with his caveat that "they're still playing nice with their token liberal." Wouldn't it have been better to make the mom-son disagreements be about his politics as well -- rather than basic guilt by association?
Murphy Brown
, through these first three episodes, is aggressively polemic to the point of diminished returns. It will be telling to see if the core CBS audience, which is both older and white, will be won over or be more inclined to simply tune out. So far this just isn't a very good show, with both
Roseanne
and
Will & Grace
making stronger and funnier first impressions in this particular three-way reboot universe.
GRADE:
C
Email comments or questions to:
unclebarky@verizon.net