Sooner or later it had to happen: Lifetime's The Unauthorized Full House Story
08/20/15 11:30 AM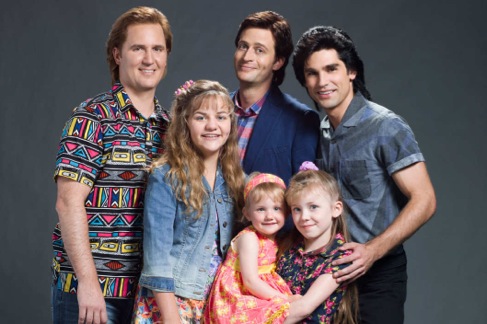 Re-populating Full House for the "Unauthorized" poop. Lifetime photo
By ED BARK
@unclebarkycom on Twitter
Don't let anyone tell you otherwise. Being a critic-proof success always trumps being an acclaimed flop.
ABC's
Full House
went completely Emmy-less while its cast became rich and famous. And now here comes Lifetime's suitably innocuous
The Unauthorized Full House Story
. It premieres on
Saturday, Aug. 22nd at 7 p.m. (central)
as the filler before Netflix's upcoming
Fuller House
reboot, which will reunite all of the original cast members except the opting out Olsen twins.
Premiering in 1987 and running for eight seasons and 192 episodes on ABC,
Full House
virtually birthed Mary-Kate and Ashley Olsen while also providing very gainful employment for Bob Saget, John Stamos, David Coulier and assorted co-stars.
Saget's the driving force of the Lifetime movie. Played fairly capably by Garrett Brawith, he's initially a sardonic standup comic who works blue, considers himself an
artiste
and compromises himself only after learning that his wife, Sherri (Juliana Wimbles), is pregnant with their first child.
After getting fired for ad libbing too much on another failed CBS morning show, Saget is encouraged to give
Full House
a shot.
"It's about a dad with a dead wife raising three little girls," he tells Sherri of the pivotal Danny Tanner role. "See, you cannot stop laughing."
But he yields after the actor originally cast as Danny is seen as good but not great by
Full House
creator Jeff Franklin (Matthew Kevin Anderson). This leads to Saget's best line after the show is shredded by critics, with even
People
magazine giving it a D+.
"That's my show," he commiserates with Sherri. "A hot, steaming slice of yummy crap pie." Delicious.
A pre-
Full House
Stamos (Justin Gaston) is first seen shlepping at his dad's diner after quitting
General Hospital
and enduring two failed prime-time series (for the record they were "Dreams and
You Again?
). "Fewer parties, more work," the old man counsels his heartthrob kid, who considers himself to be "damaged goods."
Coulier (Justin Mader) is excited about joining the cast of
Saturday Night Live
until he's crushed by the show's decision to dump him before he starts. Not only that, he has a flatulence problem that's revisited throughout the movie.
So yes, they end up forming an unlikely
Full House
trio, with Saget constantly carping and threatening to quit in the early going while Stamos and Coulier urge him to stay for the sake of all their careers.
"I didn't get into comedy to be popular," Saget moans. "I wanted to be relevant . . . Every line out of my mouth makes me want to hurl."
But of course he stuck it out, getting the host job on
America's Funniest Home Videos
in the bargain while Stamos played the field and Coulier kept farting before, during and after a failed marriage.
"Dude, you've been on more hot women than sun block," Saget tells Stamos just before he begins dating Paula Abdul for a minute or so.
The revelry and ribaldry eventually give away to an abundance of sappiness, much of it involving Stamos. But Saget first gets a last hurrah by messing around with a mannequin on the
Full House
set after envisioning himself as host of "America's Favorite Sexual Positions." His impressionable young co-stars see some of this, prompting producer Franklin to blow up and order Saget to "get it together." Alas, he then pretty much does.
Meanwhile, Stamos yearns to find the right woman and be seen as more than an "airhead" sitcom star. Back at the diner, his pop tries to set him straight in a scene that might have been rejected as too corny and cloying even for
Full House
. "If you want something more, you have to grow up," he's told. "No agent is going to help you with that."
Down the stretch, Stamos becomes a fatherly mentor to the easily hurt Candace Cameron (Shelby Armstrong/Brittney Wilson), who played Donna Jo "D.J." Tanner throughout the show's run. Everyone ends up heartbroken when ABC finally cancels
Full House
, with Saget getting full-circle squishy during a cast reunion two years later at Candace's wedding.
A few nice turns by Brawith as Saget aren't enough to make
The Unauthorized Full House Movie
more than a connect-the-dots, dish-a-little-dirt, spoon-a-little-sugar, cut-print diversion. Still, it's nowhere near a desecration, giving fans of the series a basically harmless glimpse at how the thing came together and somehow stayed together. A-w-w-w-wesome. Now on to
Fuller House
.
GRADE:
C
Email comments or questions to:
unclebarky@verizon.net