Two Jasons from North Texas at opposite ends of Idol's teeter totter
02/19/08 09:35 PM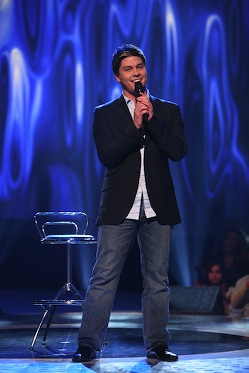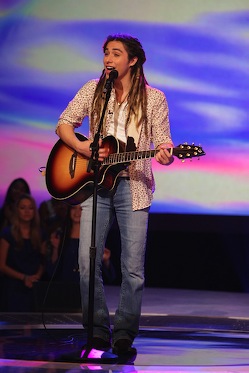 Grand Prairie's Jason Yeager and Rockwall's Jason Castro on Idol.
By ED BARK
Maybe the
American Idol
audience has gotten old enough over the years to actually be in tune with Jason Yeager's treacly rendition of "Moon River" on Tuesday's male-only performance show.
If not, the 28-year-old Huckleberry Friend from Grand Prairie might well be a goner when fans of the Fox mega-hit trim the field from 24 to 20 on the first results show Thursday.
Performing fourth, Yeager endured some of judge Simon Cowell's sharper slashes on a night when the theme was "Songs From the '60s."
"I think it was very 'cruise ship', the whole performance," he said. "You're like a dependable old dog, aren't you?" Which meant he was pretty much bored stiff.
North Texas' other hopeful, 20-year-old Jason Castro of Rockwall, fared far better with his guitar-strumming version of The Lovin' Spoonful's "Daydream." Again we turn to Simon, the only judge who really matters in the company of a stupendously stuporous Paula Abdul and Randy "One Note" Jackson.
"I thought that was in the top two performances of the night," he told Castro. "You, like David, have just got it."
He referred to 17-year-old whiz kid David Archuleta, who's quickly established himself as an odds-on favorite to at least reach
Idol
's Final Four.
"You can only vote for him. You can't adopt him," host Ryan Seacrest said as the show's designated puppy dog happily panted beside him.
Yeager in contrast may have come off as mostly suitable for Branson. But he got better reviews from Cowell than wispy poser Danny Noriega, whose rendition of "Jailhouse Rock" was "verging on grotesque," said Simon. Still, Danny boy may be pretty enough to hang in for a few more rounds.
Twenty-two-year-old Chikezie (no last name) also bombed in Cowell's view with his interpretation of Stevie Wonder's "I Love You More Today Than Yesterday."
"I absolutely hated the whole performance," Cowell told him.
The 12 remaining women perform Wednesday in another two-hour extravaganza before Yeager, among others, finds out whether he's managed to survive Cowell's heavy artillery fire. "Moon River" may have doomed him, though. That is, unless your median
Idol
viewer now is wearing a cardigan, puffing on a pipe and sipping high balls.