Emmy snubs are nothing new, but two of this year's really rankle
07/13/18 09:33 AM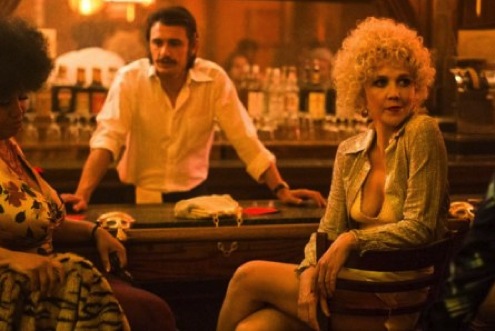 The Deuce came up snake eyes in Emmy nominations. HBO photo
By ED BARK
@unclebarkycom on Twitter
And now for the snubs after fully digesting Thursday's prime-time Emmy nominations -- and what got spat out.
First a caveat. Voters have an increasingly difficult task, with a myriad of programs from almost countless different directions. Even with expanded lists of nominees in some major categories, it remains impossible to please everyone.
OK, no more Mr. Nice Guy, because at least two omissions were inexcusable.
Let's start with Ken Burns' exemplary 10-part
The Vietnam War
, which arguably was his finest, and certainly most immediate, achievement ever. It did receive four nominations, including for directing and writing. But inexplicably,
The Vietnam War
is not among the five nominees for "Outstanding Documentary or Nonfiction Series." Huh? Instead the Emmy nods went to PBS'
American Masters
, Netflix's
Wild Wild Country
, HBO's
The Defiant Ones
, BBC America's
Blue Planet II
and Showtime's
The Fourth Estate
.
Wild Wild Country
and
The Fourth Estate
both had the advantage of being recent premieres while
The Vietnam War
launched on PBS back in September. Apparently that's too long ago for many voters' memories. But in the annals of egregious Emmy omissions, this one is near the top of the charts.
Nor is
The Vietnam War
included in the four nominees for "Exceptional Merit in Documentary Filmmaking." Those went to A&E's
City of Ghosts
, National Geo's
Jane
, Netflix's
Strong Island
and Starz's
What Haunts Us
.
Vietnam War
did fare better than HBO's heavily acclaimed drama series
The Deuce
, which got completely skunked. There are two major factors here.
The Deuce
, which depicts the rise of New York City's porn industry, likewise premiered "long ago" last September.
More to the point, though, it very likely fell by the wayside because of accusations that star James Franco had engaged in "sexually exploitative" behavior on several occasions. His denials -- "not accurate," he said on
Late Show with Stephen Colbert
-- have mostly fallen flat in times when the #MeToo movement has become a major force both in Hollywood and around the world.
Unfortunately, Emmy's complete bypass of
The Deuce
penalizes both the series as a whole and an exemplary performance by Maggie Gyllenhaal as a prostitute seeking to become an independent entrepreneur in the nascent porn film industry of 1970s New York. Other Emmy caliber supporting performances also have been ignored.
Let's move on to the Jeffrey Tambor taint. He'd been lionized by the LGBTQ community and also won two acting Emmys in the role of Mort/Maura Pfefferman on Amazon's
Transparent
. But subsequent allegations of sexual misconduct on the set of
Transparent
knocked the halo from his head. And it got worse for Tambor when veteran actress Jessica Walter said he had verbally bullied her during filming of Netflix's second season of
Arrested Development
, which had completed filming by the time the
Transparent
controversy kicked in.
Both
Transparent
and
Arrested Development
were shut out of Thursday's Emmy nominations, and I wouldn't argue on behalf of either of them. But without the Tambor taint, both series likely would have received at least some recognition.
Arrested Development
mainstay Jason Bateman initially defended Tambor's conduct on that show's set before quickly apologizing profusely on Twitter. Although some thought he was cooked as a potential nominee for his work on Neflix's
Ozark
, Bateman emerged with both lead actor and directing nominations. The series itself did not make the cut in the "Outstanding Drama Series" category.
The FX comedy
Better Things
, which had a terrific second season, received just a lone nomination for Pamela Adlon's lead performance. Its failure to make the "Outstanding Comedy Series" field in part can be blamed on Louis C.K., who was banished as the show's co-creator/executive producer -- and from FX entirely -- after admitting to various sexual improprieties. A rather lame season of Larry David's
Curb Your Enthusiasm
instead got what should have been a nomination for
Better Things
.
Emmy voters also curiously again shut out Netflix's
Bojack Horseman
, which was a no-show in the "Outstanding Animated Program" category. But Disney XD's
Baymax Returns
got a nomination. Really?
Sandra Oh deserved her nomination for BBC America's
Killing Eve
. But if anything, her co-star, Jodie Comer, deserves one even more. Her exclusion is a shame. I would have slotted her instead of Tatiana Maslany for her multi-character performance in BBC America's
Orphan Black
, which had its series finale last August. In this case, Emmy voters' memories proved to be too long.
Finally, Jimmy Fallon continues to pay a price for his playful Donald Trump hair ruffle down the homestretch of the 2016 presidential campaign. He has since publicly regretted this, but to no avail. For the second straight year (after being nominated in the two previous years), Fallon's
Tonight Show
is not among the six finalists in the "Outstanding Variety Talk Series" category. But TBS'
Full Frontal with Samantha Bee
again is an Emmy contender. In contrast, she called Trump's daughter Ivanka a four-letter vulgarity and then apologized without further repercussions.
I wouldn't drop Bee in favor of Fallon. Nor would I dislodge any of the other contenders in the late night category. But as Fallon has learned to his chagrin, making nice with a Trump will get you nowhere when it comes to Emmy nomination time.
Note to readers:
In case you might be wondering, HBO's
Veep
, FX's
Pose
and Netflix's
House of Cards
all were ineligible for Emmy consideration because new episodes didn't air between June 1, 2017 and May 31, 2018.
Pose
missed that cut by just three days.
Email comments or questions to:
unclebarky@verizon.net