More CBS crime time (but in a somewhat lower key) with Ransom
01/01/17 03:28 PM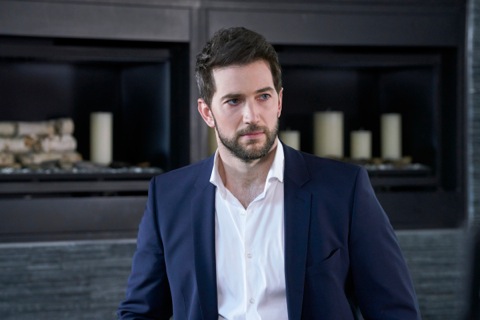 A hunky hostage-rescuer's for hire in Ransom. CBS photo
Premiering:
Sunday, Jan. 1st at 7:30 p.m. (central) before moving to Saturdays at 7 p.m. on Jan. 7th
Starring:
Luke Roberts, Sarah Greene, Brandon Jay McLaren, Nazneen Contractor
Produced by:
Jennifer Kawaja, Julia Sereny, Odile McDonald, Valerie Pechels, Jocelyn Hamilton, David Vainola, Frank Spotnitz
By ED BARK
@unclebarkycom on Twitter
The Crime-buster Network takes yet another bite at it with
Ransom
, an import that will be deported to Saturdays after Sunday's sneak-preview.
At least Eric Beaumont (Luke Roberts) gets by mostly on guile rather than some sort of deductive super-power or transformative drug. Affixed with a designer beard and refusing to carry a weapon other than his killer looks, he's the man to call if your loved one's been kidnapped or caught in a hostage crisis. CBS'
Ransom
, jointly co-produced by Canada's Global, France's TF1 and Germany's RTL, supposedly is drawn from the real-life exploits of French negotiator
Laurent Combalbert
, who unlike his made-for-TV mockup, is bald.
Episode 1 finds Beaumont first tackling a hostage situation in Montreal before moving on to Denver, where an eight-year-old kidnapping case has suddenly come alive after the parents of a then three-year-old son get a ransom note.
"If I don't get your son back, you don't pay," he tells the dad. The finder's fee also would go in part to Beaumont's three team members, Oliver Yates (Brandon Jay McLaren), Zara Haleem (Nazneen Contractor) and newcomer Maxine Carlson (Sarah Greene), who's been hired over Yates' objections because . . . well, you'll see.
The kid's being held by the usual CBS crime drama sadist, who's fond of beating his accomplice brother senseless when he doesn't properly listen. Beaumont has an answer for everything until things come to a head. He's an unflappably cool and smooth operator who prefers to keep the cops out of things until they're absolutely, positively needed to mop up.
At the end of this week,
Ransom
goes to Siberia Saturdays, joining
Criminal Minds
reruns and
48 Hours
. It likely will fit right in while also giving the night a rare injection of first-run scripted drama. Thirteen episodes have been ordered for Season One. There are likely to be more to come on a network that only occasionally fails to keep its crime hours in play for multiple seasons.
Ransom
is easier to take than some of them, and with a hero who doesn't have to brandish a gun to get the job done.
GRADE:
C+
Email comments or questions to:
unclebarky@verizon.net