FX's Trust takes some big whacks at the Gettys
03/23/18 10:45 AM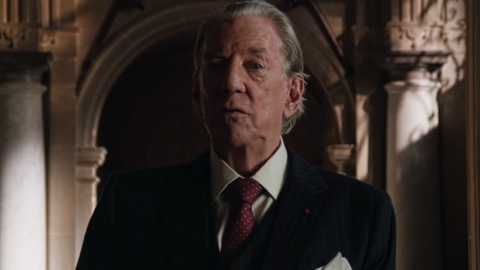 Donald Sutherland's in command as tycoon J. Paul Getty. FX photo
Premiering:
Sunday, March 25th at 9 p.m. (central)
Starring:
Donald Sutherland, Hilary Swank, Harris Dickinson, Brendan Fraser, Michael Esper, Anna Chancellor, Norbert Leo Butz, Laura Bellini, Charlotte Riley, Sarah Bellini, Silas Carson, Charlotte Riley
Produced by:
Danny Boyle, Simon Beaufoy, Christian Colson
By ED BARK
@unclebarkycom on Twitter
In life, in death, on big screens and small, controversy goes hand in hand with the Gettys.
The 2017 feature film
All the Money in the World
initially made some noise by recasting the disgraced Kevin Spacey with Christopher Plummer in the pivotal role of patriarch J. Paul Getty Sr. But an outcry of protest kicked in when it was revealed that Mark Wahlberg received $1.5 million to reshoot some scenes while co-star Michelle Williams got less than $1,000.
The 10-episode first season of FX's
Trust
covers the same ground the film did in depicting the 1973 kidnapping of Getty's grandson, J. Paul Getty III. But unlike
All the Money in the World
, this new treatment shows the debt-ridden 16-year-old fabricating his abduction in hopes of profiting from a king-sized ransom payment from his grandfather. Then things go very wrong when a second, for real kidnapper enters the picture.
This is not setting well with grandson Getty's surviving sister, Ariadne Getty. Threatening legal action, she says via her attorney, "It is ironic that you have titled your television series
Trust
. More fitting titles would be
Lies
or
Mistrust
, since the defamatory story it tells about the Gettys' colluding in the kidnapping is false and misleading, and viewers rightly ought to mistrust it."
Ariadne Getty's attack came two and a half months after a Television Critics Association winter "press tour" session in which
Trust's
co-creator and co-executive producer, Simon Beaufoy, contended that "it became clear reading between the lines that he (Getty III) actually kidnapped himself. It was a hoax gone wrong."
FX has affixed a standard opening disclaimer to episodes of
Trust
, the first three of which were made available for review. "The following is inspired by actual events," the network says. The closing disclaimer goes a bit further: "Some dialogue was created consistent with those events. Various events were combined for dramatic purposes."
So what is a viewer to believe? And does it much matter anymore, as long as we are "entertained" or even engrossed by the latest "non-fiction" treatment of the rich and famously dysfunctional?
Well, the Gettys portrayed in
Trust
get one's full attention right from the start. During a lavish party, J. Paul Sr.'s oldest of five sons, George, commits suicide by jabbing a two-pronged barbecue fork into his chest. Then it's time for Donald Sutherland to immediately command the screen as George's father
Awakening the next morning at his Sutton Place estate in England, he chokes down a double egg yolk concoction prepared by his head manservant Bullimore (Silas Carson) before being dressed and even having his teeth brushed for him.
"I will not have that!" he rages upon hearing of George's suicide, which eventually will be written off as a "terrible accident." J. Paul Sr. then proceeds downstairs to a breakfast table mostly populated by the women who compose his harem. "So, which of you loves me best?" he inquires.
Sutherland is letter-perfect imperious in this role, whether dressing down one of his surviving sons, admiring the Kennedys as "men with red balls and hot blood" or coldly dismissing one of his live-in mistresses after he fails to achieve an erection.
"Maybe you want to talk?" she asks.
"With you?" he retorts incredulously. "No. Leave."
Into this den of iniquity, and just in time for George's wake, bounces J. Paul Getty III (Harris Dickinson) in full hippie regalia. But the old man comes to enjoy the kids's pluck and intellect while his grandson has one objective in mind -- securing $6,000 to pay off a series of debts he's rung up in Rome while partying and occasionally selling one of his paintings for a big snort of cocaine.
Grandson manages to charm granddad in ways he'd never dreamed until his own negligent father, the brushed off J. Paul Getty Jr. (Michael Esper), shows the old man Getty III's pictorial in "Playmen" magazine. This gets him a one-way ticket back to Rome after he'd just been grandly anointed as the old man's successor. Then comes the "kidnapping."
Episode 2 largely belongs to a bulked up Brendan Fraser as cowboy-hatted Fletcher Chase, the role played by Wahlberg in
All the Money in the World
. Chase, a former CIA operative, is J. Paul Sr.'s chief negotiator. He's also biblically inclined and rather sweetly persuasive unless you try his patience. Carrying ample cash and willing to spread this wealth in return for information on Getty III's abductors, Chase journeys to Rome and starts cutting deals. He also meets up with Getty III's blood mother, Gail (Hilary Swank), who's been living with a jerk after being divorced from J. Paul Jr.
Gail is a true believer in her son's essential goodness while Chase comes to believe the whole kidnapping was staged. Back in England, old man Getty publicly proclaims that "I will not be paying a single solitary cent" in ransom. Neither will Gail, because she has no money.
The third episode reconstructs how Getty Sr.'s grandson got into this mess in the first place before deciding to stage his own kidnapping out of desperation. Whether you believe any of this or not, it's an involving and sometimes brutal hour.
The instantly arresting performances of Sutherland and Fraser, plus a solid first impression by newcomer Dickinson, keep
Trust
on track as an immorality play that FX says will be "told over multiple seasons and spanning the twentieth century."
The dramatic licenses taken apparently will be considerable, although by no means unprecedented. "Fact-based" movies and TV productions have a long history of being branded as trash by either descendants or among the living who are depicted. They often have a case. But just as often, few really care. Just dish the dirt.
So perhaps in fact you can't trust
Trust
. Regardless, it's a pretty good wallow so far, a real-life
Dallas
or
Dynasty
whose more diabolical Ewings and Carringtons swallowed their enemies and family members whole when they weren't simply spitting them out. That they did this is undisputed. It's the hows and the whys that will always be subject to interpretation.
GRADE:
B
Email comments or questions to:
unclebarky@verizon.net