Redneck scrapper: Dallas-born Christian Kane fights for TNT's new Leverage
12/08/08 03:29 PM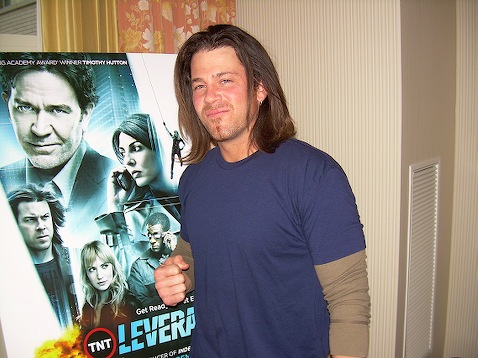 Christian Kane touts TNT's Leverage during Dallas stop. Photo: Ed Bark
By ED BARK
Born in Dallas but mostly bred in Oklahoma, actor Christian Kane seems a bit unsuited for his Ritz-Carlton suite.
The former high school wrestler is finishing off a second bottle of Bud Light and has a small chaw between his cheek and gum when we meet on a mid-weekday afternoon to talk about his new TNT series
Leverage
among other things.
"In Oklahoma, man, it's a prerequisite," he says of the marble-sized ball of snuff that eventually finds a home at the bottom of his longneck. "I've broken the habit a couple of times, but it's just a redneck thing, man."
On the other hand, Kane says he watches the Food Network "24 hours a day" because cooking is "my biggest passion."
"I love the presentation on the plate and all that stuff," he says. "I definitely want to do some sort of cooking show, and I'm working on it right now."
The Kane house specialty would be his "Rattlesnake Steak," which he describes as a bleu cheese, jalapeno, bacon-stuffed filet mignon. He also makes a mean "purple pizza" whose sauce consists of "a lot of garlic and two cans of crushed black olives."
All of this makes him at the very least a Renaissance Redneck who also plays lead guitar in a southern rock band called Kane and proudly does all of his own fistfighting stunts as "retrieval specialist" Eliot Spencer on
Leverage
. The tongue-in-cheek action series had a
sneak preview Sunday night
, drawing a respectable 5 million viewers nationally on TNT. It now will air on Tuesdays at 9 p.m. (central), beginning Dec. 9th.
Kane, 34, bounced around a lot as a kid before his family moved from Odessa to Oklahoma when he was in eighth grade.
"I always knew I wanted to be an actor," he says. "My dad was in the oil business and I went to five different elementary schools. And it's tough to make friends, so the movies became my best friend."
Still, he dabbled in art history at the University of Oklahoma before impulsively packing up his truck and heading West. Here's his short-form narrative:
"I drove to Laguna and slept on the beach with a gun on my lap. Then I started making my way to Los Angeles and meeting people, which is pretty hard when you don't have any money. I went out there and I busted my ass and learned as much about the business as I could.
"I walked into a management company and said, 'Hey, I'll make deliveries for you if you send me out on auditions.' They laughed at me, and one month later I had my own series (the short-lived
Fame L.A.
, in which he appeared in three episodes). So it's really a Cinderella story. It's a lotta luck, too. I can't even say I'm deserving of what I've got. It's really being in the right place at the right time. Woody Allen said it best. Ninety percent of life is showin' up."
After
Fame L.A.
came 1999's
Rescue 77
, one of innumerable TV series produced by the late Aaron Spelling, who himself journeyed from Dallas to Hollywood in the 1950s with little money in hand. The hits he left behind include
The Love Boat, Charlie's Angels
and
Dynasty
"I miss him a lot, man," Kane says of Spelling. "He was very nice to me. I always got in trouble on the set, so I'd have to go to his office. And he was like, 'We're not gonna do that anymore, are we?' I'd say no, and he'd say 'Great!' and he'd get up and give me a hug."
Kane says his troublemaking didn't amount to much more than always wanting to wear his hair different. "I was never difficult. Listen, every day on a set is a gift. The thing that most people forget in this business is that there's no reason to yell at anybody. There are 85 people on a set, and their sole job is to make
you
look good. So there's never a time to be pissed off."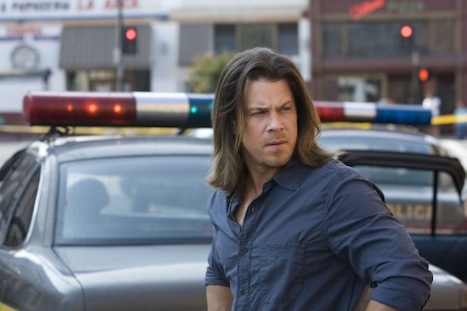 Kane in character as Leverage's resident tough guy.
He bounced around after
Rescue 77
, playing Angelina Jolie's fiance in 2002's
Life or Something Like It
and getting cut up for real during a fight scene in the following year's
Second Hand Lions
. He had to grow a mustache to cover up the scar.
"Somebody threw a right when they were supposed to throw a left," Kane says. And it split my lip wide open."
It didn't curb his taste for faking his own fights, which he does without a stunt double in all 13 first-season episodes of
Leverage
.
"I'm not claiming to be a bad ass or anything, but I know what to do," Kane says, pointing to his background as a high school wrestler and occasional dabbler in martial arts. "In the case of
Leverage
, all of the fighting is a choreographed dance. And if you actually look at it, it's a very beautiful thing."
Before
Leverage
, Kane played Lindsay McDonald in 21 episodes of
Angel
(opposite his off-screen best friend David Boreanaz) and Jack Chase on CBS'
Close to Home
. The latter proved to be a throwaway part as the husband of prosecutor Annabeth Chase (series star Jennifer Finnegan). So Kane asked that his character be written out at the end of Season 1. The producers obliged with a fatal car wreck.
"I was upset because I was supposed to be a construction worker and a guitar player," Kane says. "And in the 10 of 22 episodes I was in, I didn't don a hard hat
or
a guitar. So there were a lot of promises that were made to me that didn't work out because the show needed to go in another direction. I felt I was underused, but that's just how it goes. You accept the good with the bad."
Leverage
, with Timothy Hutton as the marquee star, gives Kane "the coolest character I've ever had," he says. "I really feel like I've been studying 10 years to play this role. And TNT's the place for me, man. Their motto is 'We know drama.' They're not putting any of this reality
bullshit
on. I can't stand this reality crap. It's killin' Hollywood."
By that he means shows such as
Survivor, America's Top Model
and even
America's Top Chef
. But give him a cooking show and maybe he'll eat some of those words.
"That's my next goal," Kane says. "Me in the kitchen with maybe some other guests."
Meanwhile,
Leverage
will do.
"You work 9 to 5 and there's some fat cat up there that's doing illegal crap and they're protected by the law. What we're doing on this show is fighting for the person that's watching us," he says.
"I think if somebody looks at it that way they'll really sit back and enjoy the series. It's very smart television, but you don't have to be a rocket scientist to enjoy it. It really is a working man's show."