Mid-season merry-go-round: Fox's animated Napoleon Dynamite doesn't need to go back to the drawing board
12/31/11 09:27 AM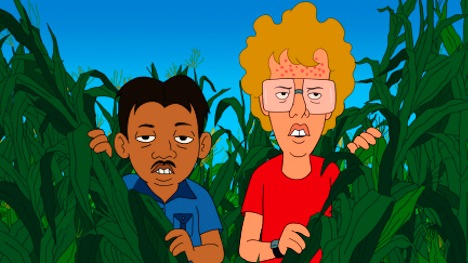 Pedro and Napoleon remain fast friends in cartoon version. Fox photo
Premiering:
Sunday, Jan. 15th at 7:30 p.m. (central) on Fox, with another episode at 8:30 p.m.
Voiced by:
Jon Heder, Aaron Ruell, Efren Ramirez, Tina Majorino, Sandy Martin, Jon Gries, Diedrich Bader
Produced by:
Mike Scully, Jared Hess, Jerusha Hess
By ED BARK
Fox's animated version of the cartoonish movie
Napoleon Dynamite
is amusing enough to merit the continuation.
It's just that sometimes the cover letters from show runners are even funnier. For instance, here's the opening pitch to TV critics from co-executive producers Mike Scully, Jared Hess and Jerusha Hess: "That holiest time of the year -- television midseason -- is upon us. We were going to make a donation to Herman Cain's presidential campaign in your name, but instead have decided to send you this DVD containing the first two episodes of the animated series
Napoleon Dynamite
."
They also note that "despite the success of the original film (which was released in 2004), there were never any sequels such as 'Napoleon Dynamite: Money Never Sleeps' or 'Napoleon Dynamite: Ghost Protocol.' So the characters never wore out their welcome with the audience and remain popular to this day."
OK, let's segue to our review after noting that all of the original cast members, principally Jon Heder in the title role, have reunited to voice their cartoon likenesses. Which is highly unusual, even if some of them don't have a whole lot else going on at the moment.
The Jan. 15th launch is two-pronged, with the "Thundercone" episode airing at 7:30 p.m. (central) and "Scantronica Love" at 8:30 p.m.
Dynamite
will then return on Jan. 29th in its regular Sunday, 7:30 p.m. slot.
The first half-hour shows how much you can do with the absurdity of 16-year-old Napoleon getting an outpouring of zits on his forehead after his twice-as-old loser brother Kip (Aaron Ruell) hits him with some greasy fried chicken skin.
Cantankerous grandma (Sandy Martin), with whom the boys live in nowhere Preston, Idaho, soon tries to squeeze them dry after Napoleon warns her they're "not ready yet." He's right. But maybe an FDA-disapproved ointment called Rack-U-Tane will help in the healing process. Side effects can include B.O. and "unbridled rage," which Napoleon soon develops while his forehead keeps steaming. This enables him to be a standout combatant at Preston's underground Pioneer Punch Club. And so on.
Amy Poehler lends a guest voice to a character named Misty, whom Kip takes to the local Goof Nutz Pizza animatronic show before she's captivated by Napoleon's sudden physical prowess. Napoleon's best friend Pedro (Efren Ramirez) and his jughead uncle Rico (Jon Gries) also figure in the story.
The second episode, subtitled "Scantronica Love," finds students at Preston Senior High ("Now Teaching Evolution" says the sign at the entrance) being romantically matched by a badly outdated computer.
Napoleon is hooked up with a Japanese exchange student named Tokiko (Lauren Tom). This dismays the only classmate who has a crush on him, goodly Deb (Tina Majorino). She's instead paired with self-important bully boy Don Moser (Jared Hess), whose empty-headed girlfriend Summer (Haylie Duff) draws Pedro.
The episode includes a laugh-out-loud line from one of Preston's wealthier denizens, who tells Napoleon, "You're tangling with a force you don't understand -- the upper middle class."
Napoleon Dynamite
's humor is gentle compared to the oft-coarse Seth McFarlane trio of
Family Guy, American Dad
and
The Cleveland Show
. And it's far funnier than Fox's two still relatively new animated series,
Bob's Burgers
and
Allen Gregory
.
Mickey Mouse it's not, though. Because Mickey never got a bad case of pimples after being belted by a piece of greasy chicken skin thrown by Minnie.
GRADE:
B