Stars and bars: Prison Break ends its third and likely last season
02/17/08 08:54 PM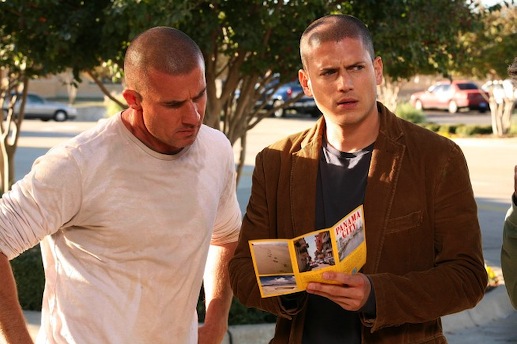 Linc and Michael: Plotting and scheming for the last time?
By ED BARK
Fox's early release program for
Prison Break
also could be its death sentence.
Monday's third season finale (7 p.m. central) caps a strike-shortened, 13-episode run that again finds brothers Lincoln Burrows (Dominic Purcell) and Michael Scofield (Wentworth Miller) on the outside looking in. They're on the lam anew, which frankly is getting pretty lam-brained for all concerned.
Dwindling ratings and sagging creativity make it unlikely that the mostly made-in-North Texas drama will find its way to Season 4.
PB
currently ranks a still halfway decent 45th among advertiser-coveted 18-to-49-year-olds. But its Monday night running mate,
Terminator: The Sarah Connor Chronicles
, is 12th in that key demographic despite downtrending week to week. Neither series is high on momentum right now.
Subtitled "The Art of the Deal,"
PB
's closer finds the star-crossed brothers closing in on diabolical Susan B. Anthony (Jodi Lyn O'Keefe), who's still holding Linc's son, L.J. (Marshall Allman), captive. She'll trade him straight up, though, for James Whistler (Chris Vance), whom the ever-resourceful Michael helped spring from Panama's vermin-choked Sona prison.
Back-and-forth we go, with more bloodletting, a death and another character sustaining a bullet wound. There's one gift-wrapped happy outcome amid all of this. And the final image -- a lone avenger heading down a long, lonely highway -- is suitable for framing an end to the series.
It wouldn't be sporting to give away any more. But charitably speaking, it's time for
PB
to go, and Fox seems on board with that. It's been a nice lift to the area economy over the past two seasons, no matter how preposterous or plodding the story lines became.
There's talk of Fox opting for a women-in-prison series next season -- in which case the plot might not matter much if at all. D-FW still stands ready and able to put that one on film, too.