Fox's Houdini & Doyle is a far-fetched pairing in a fair to middling drama
04/27/16 11:16 AM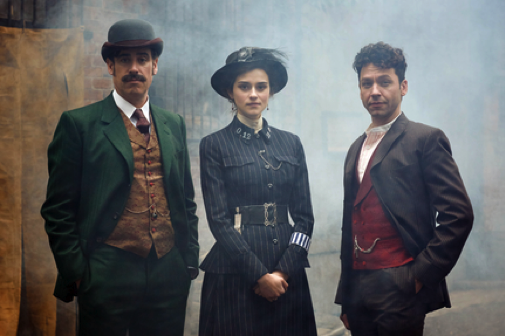 Doyle, Houdini and Scotland Yard's first female constable. Fox photo
Premiering:
Monday, May 2nd at 8 p.m. (central)
Starring:
Michael Weston, Stephen Mangan, Rebecca Liddiard
Produced by:
David Shore, David Hoselton, David Titcher
By ED BARK
@unclebarkycom on Twitter
Arthur Conan Doyle has several Sherlock Holmes stories under his belt and Harry Houdini is deep into his dunk tank phase when they begin clashing and collaborating on crime solving.
Their venue is Fox's fanciful and halfway decent
Houdini & Doyle
, which is taking the already renewed
Lucifer's
place on the network's Monday night schedule. So we go from a prodigal, rakish devil swinging his way through modern-day L.A. to two disparate historical figures without mobile devices who team up as gumshoes in 1901 London. Both dramas are quite a stretch, but who's to say they couldn't or shouldn't happen? On the other hand,
The Harlem Globetrotters on Gilligan's Island
should
NOT
have happened.
Houdini (a somewhat oddly cast Michael Weston) is the irreverent wise guy of this duo while Holmes (Stephan Mangan) is the more proper married man and father whose wife unfortunately has been in a coma for months. They're assisted by plucky Adelaide Stratton (Rebecca Liddiard), Scotland Yard's first female constable. Therefore her abilities are constantly questioned.
Weston's Houdini bears more than a passing resemblance to Jimmy Fallon. He also can be quick with a quip, sometimes winningly so. As when a physically impaired suspect flees in Episode 1, prompting Houdini to crack, "You're gonna out-limp us?"
Houdini also is thoroughly skeptical about the supernatural and paranormal while Doyle is a fan. In the far better-rendered Episode 2, this prompts Houdini to debunk a superstar local faith healer by sniping, "Or maybe God is just a louse who gets a divine thrill out of watching people suffer." (In real life, Houdini wound up on the receiving end of a
pretty painful death
at the age of 52.)
Monday's opening episode is a less effective, cockamamie mystery involving two murders in a convent. The young nun who discovered the first body insists that she saw a ghost. It all gets pretty tedious and convuluted.
Episode 2 is brisker and more compelling, albeit not without some queasy scenes of Doyle preforming an autopsy and Houdini battling a severe case of the boils. At issue is whether the tent preacher in fact is a killer of unbelievers or legitimately empowered by God. The eventual answer may not surprise you, but the episode as a whole is superior to the premiere.
Houdini & Doyle
likely won't set anyone's heart aflutter or the ratings on fire. But it looks like a passable spring/summer diversion and also just a bit of a history lesson on what these two guys were all about. Even though they never did become a crime fighting duo.
GRADE:
C+
Email comments or questions to:
unclebarky@verizon.net