FX's Baskets still in the throes of its miseries, but also keeping some slivers of hope alive
01/17/17 04:14 PM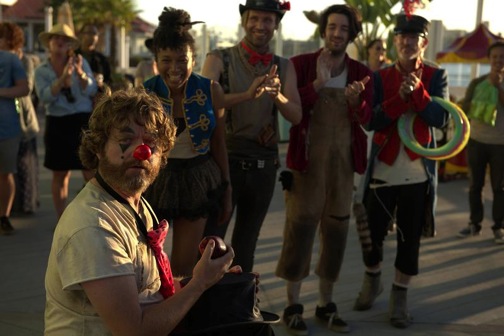 Chip gets a new gig as "Noodles" in Season 2 of Baskets. FX photo
By ED BARK
@unclebarkycom on Twitter
Sad sacks and bleak prospects again abound in
Baskets
.
Could it be true, though, that this dourest of FX comedies also sucker punches its loyalists with a little heart and humanity? Yes, that's right, particularly in Episode 4 of Season 2. That's not until Feb. 9th, though, in an episode subtitled "Ronald Reagan Library."
Baskets
otherwise ups its misery index with a Season 2 launch on
Thursday, Jan. 19th at 9 p.m. (central).
Chip Baskets (Zach Galifianakis) has jumped into a boxcar and fled Bakersfield, California after the rodeo where he worked as a clown shuts down. His insolent French wife, Penelope (Sabina Sciubba), previously had been run out of town by Chip's long-suffering mother, Christine (Louie Anderson). And his condescending twin brother Dale (Galifianakis) is hitting on Chip's only real friend -- hangdog, monotonic Martha (Martha Kelly) -- after his marriage to Nicole (Ellen Williams) goes sour. So there's not much left for Chip -- not that there ever really was.
Baskets
, whose co-creators include Galifianakis and Louis C.K., primarily is one big slice of the human underbelly in already dispiriting times for many. And it mostly stays that way in the new season's early going. Vagabond Chip is befriended by a group of street performers who likewise hop trains and scrape along. The troupe already has a clown in Trinity (Mary Wiseman). But the leader of this pack, known as Morpheus (Tobias Jelinek), soon discovers that Chip, dubbed "Noodles," has a way of being ineptly entertaining.
It makes for a tolerable little "family" for a while, until the inevitable dark sides kick in. Meanwhile back home, Christine frets about Chip's safety and whereabouts, as does Martha. Anderson, who won a best supporting actor Emmy for playing a woman, remains remarkably in sync with Christine, who's trying to eat better and actually even exercise a bit. The only truly unmitigated louse of
Baskets
is Dale, who's basically hatable in Episode 3 after he manipulates Martha into going on a date with him.
But Episode 3 also starts hitting a few sweet spots before Episode 4 actually gets touching. It works on several levels, but primarily via the friendship struck up by Christine and Ken (Alex Morris), an African-American carpet store owner whose daughter, Cypher (Eva La Dare), also has been a constant challenge. Christine remains a devoted admirer of Reagan while Ken backed Jimmy Carter in the 1976 and '80 presidential elections. Their inclination to get along anyway is part tonic, part straight-ahead jab at the country's seemingly ceaseless polarization on the eve of the most fractious "peaceful" transfer of power in our country's contemporary history.
Baskets
will never be a walk in the park. And it no doubt remains too dark for many. Some rays of light are showing, though, by the end of Episode 4. Nothing overly warm and toasty, mind you. But some welcome little thaws.
GRADE:
B+
Email comments or questions to:
unclebarky@verizon.net