"Press tour" tales: whither Conan
08/30/13 01:13 PM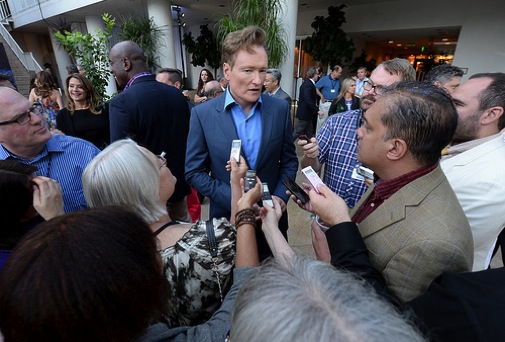 Conan amid inquisitors at TNT 25th anniversary party. TNT photo
By ED BARK
@unclebarkycom on Twitter
BEVERLY HILLS, CA -- The Big Buzz of 2010 has died down to an almost inaudible hum. And that's not likely to change in the coming year.
Conan O'Brien says he knows and accepts this. And his network, TBS, isn't about to cut him loose anytime soon after a contract extension that takes
Conan
through November 2015.
O'Brien, who recently turned 50, now casts himself as a savvy show biz vet who's content to keep his head down and spirits up while most of the late night attention this year and next goes to Arsenio Hall's return, NBC's eventual new after-hours tandem of Jimmy Fallon and Seth Meyers and where -- if anywhere -- Jay Leno re-emerges after being dropped from
The Tonight Show
for a second time.
"Things have to run their course," O'Brien says when asked by unclebarky.com if he has any interest in jump-starting his visibility. "I mean, I've been around 20 years. If you want to be in this business for a long time and your desire is to always be the 'It' guy of the moment, you're going to be sorely disappointed. You wait for your tide again. The late night stories will probably be about other people for a while. It would be fake and disingenuous of me to say, 'It's gotta be about me this year!' It can't be, really. You've got to have a very adult concept about this."
O'Brien began hosting
Conan
on TBS in November 2010 after a mega-publicized departure from
Tonight
on Jan. 22nd of that year. In the interim, he toured the country with his "Legally Prohibited From Being Funny on Television" show. Fans rallied behind "Team Coco" while his new Twitter account exploded with Followers. Exuberant chants of "Coco!" rained down on him during the early weeks of his new TBS show. But that was then.
"There was a lot of publicity there for a while," O'Brien understates. "And I was very proud of the way my people and I conducted ourselves and reacted to it creatively. But you can't sustain that. I mean, in a weird way, I think I'd be dead if I tried to sustain that. The task now is 'What's our next show? Let's make it funner than our previous show.' "
Meanwhile,
Conan
is getting drubbed in the Nielsen ratings week after week by leader of the pack Leno's
Tonight Show
. Not only in total viewers, but among advertiser-prized 18-to-49-year-olds. David Letterman, Jimmy Kimmel and
The Daily Show
also are beating
Conan
in both of these ratings measurements.
But TBS, in announcing its renewal of
Conan
, put an emphasis on his Twitter following, Facebook fans and what the network said is "15 million video views" per month on TeamCoco.com and You Tube. Leno and Letterman remain comparative no-shows in those arenas.
O'Brien, who used to make fun of Twitter, says he's had to "rewire my brain. It's more challenging in some ways, but it's also more rewarding. You can be afraid of a new technology or you can embrace it. And it's been a beautiful thing for me . . . A lot of us grew up in the three network environment. 'Oh boy,
M*A*S*H
is gonna square off against
Happy Days
. Who's gonna win?' We don't live in that kind of a world anymore."
He's also been branching out as a show producer, with the new ABC fall comedy series
Super Fun Night
his latest behind-the-scenes credit. O'Brien's Conaco production company also bankrolls the Adult Swim cop show parody series
Eagleheart
, starring the always off-center Chris Elliott.
"Talented people delight me. I'm like a vampire," O'Brien says. "I'm just so happy to be around them."
He's a little easier on himself as a talk show host than during those early make-or-break years of NBC's
Late Night with Conan O'Brien
. "I fed my bone marrow into a wood chipper," he says. "In the '90s, I just used to go into spirals, the high highs, low lows, staying up late because I was so jazzed about a show or so down I couldn't sleep. I'm not like that anymore. I'm heavily medicated."
He's also the married father of two children, ages seven and nine. "In a good way, kids throw you off your rhythm," O'Brien says while also stressing his belief that hard work is still the great equalizer.
"I don't leave things alone. I keep working on the show until it airs," he says. "I think it's why I'm still here. This town is filled with talented people. That doesn't interest me anymore. The people that assiduously work really, really hard and take whatever talent they have, like a little flame, and just blow on it and turn it into something, that's what's interesting."
In that respect, he sounds more than a little like Leno, who loathes taking vacations and spends most of his down time on the road doing his standup act. O'Brien isn't quite that anal, but isn't about to deploy any extra troops in the interests of replicating what he calls the "legendary vacations" of
Tonight Show
godfather Johnny Carson.
"Trust me," he says. "After what I've been through, no guest hosts."
Email comments or questions to:
unclebarky@verizon.net