Latest remake of The Odd Couple is grounds for a quick "conscious uncoupling"
02/17/15 01:10 PM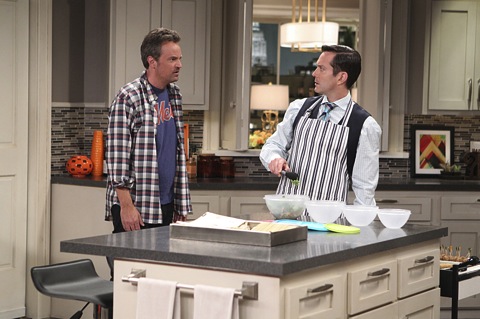 Matthew Perry as slovenly Oscar Madison and Thomas Lennon as anal Felix Unger in TV's latest version of The Odd Couple. CBS photo
Premiering:
Thursday, Feb. 19th at 7:30 p.m. (central) on CBS
Starring:
Matthew Perry, Thomas Lennon, Wendell Pierce, Yvette Nicole Brown, Lindsay Sloane
Produced by:
Matthew Perry, Bob Daily, Sarah Timberman, Carl Beverly, Eric Tannenbaum, Kim Tannenbaum with Garry Marshall as "executive consultant"
By ED BARK
@unclebarkycom on Twitter
If at first you don't succeed . . .
Except that
The Odd Couple
has already greatly succeeded as a Broadway play, a hit movie starring Jack Lemmon and Walter Matthau and a long-running TV series with Tony Randall and Jack Klugman.
CBS'
The Odd Couple
is more in line with ABC's
The New Odd Couple
, a deservedly short-lived 1982 sitcom fronted by Ron Glass (
Barney Miller
) and Demond Wilson (
Sanford and Son
). It initially recycled old scripts as a plug-in series during a Writers Guild strike. New scripts eventually were written, but to no avail.
Matthew Perry for some reason is the main force behind this latest
Odd Couple
. He's a co-executive producer and co-writer who also has woefully miscast himself as unkempt New York sports commentator Oscar Madison opposite Thomas Lennon's persnickety neat freak, Felix Unger.
CBS has made only Thursday's premiere episode available for review. That was merciful on their part. Nothing about this latest re-do offers any hope for its future.
Perry's idea of being slovenly is a little extra facial hair. Otherwise he dresses pretty well, even wearing a tie in some scenes. His handling of his speaking parts otherwise is forced and kind of sad. The male spark plug of
Friends
since has gone clunk in NBC's
Studio 60 on the Sunset Strip
, ABC's
Mr. Sunshine
and NBC's
Go On
, in which he also played a sportscaster. It's not pretty watching him flailing about like this.
Lennon fares a bit better as Felix, but the laugh track-laced jokes are uniformly hard to take. Felix has been booted after 20 years of marriage and Oscar is happily divorced. The former college pals reunite and begin living together while Felix pines for his wife and quickly makes Oscar miserable.
"He seems incredibly gay but he's not," Oscar assures poker pals Teddy (Wendell Pierce on the rebound from
The Michael J. Fox Show
) and Roy (guest star Dave Foley).
But Felix's vegan meal is a turnoff, prompting Oscar to rage, "They didn't leave. They fled. To a place called No Felix-stan." Oof.
The first episode of this
Odd Couple
also includes a bulimia joke and an even worse one after Oscar is getting ready to bed a comely blonde named Casey (guest star Leslie Bibb) before Felix screws it up.
"There's a beautiful person inside you," he tells Oscar.
"Well, I was about to be inside a beautiful person!" Oscar rages.
Also caught up in this mess is Yvette Nicole Brown as Oscar's radio show assistant, Dani. Lindsay Sloane will be joining the cast in as a "quirky" next door neighbor named Emily.
Episode 1 ends with Oscar making up with Felix and then putting a cup of coffee on his crotch while he's doing a yoga headstand. The studio audience/laugh track roars at this sight. Most viewers instead might recoil while wondering why CBS didn't do likewise.
GRADE:
D-minus
Email comments or questions to:
unclebarky@verizon.net