NBC's Truth Be Told looks like a Friday night false hope
10/14/15 09:59 AM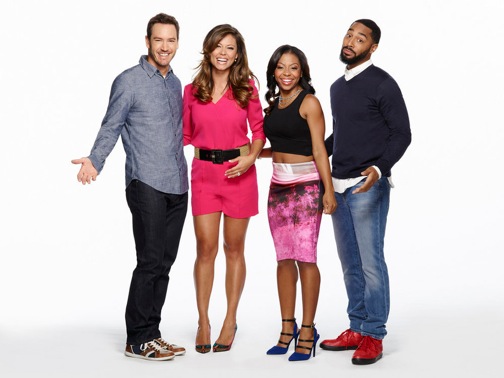 Racial unions and divides add up to Truth Be Told. NBC photo
Premiering:
Friday, Oct. 16th at 7:30 p.m. (central) on NBC
Starring:
Tone Bell, Mark-Paul Gosselaar, Vanessa Lachey, Bresha Webb
Produced by:
DJ Nash, Pam Fryman
By ED BARK
@unclebarkycom on Twitter
NBC's latest laugh track-spiked sitcom at least is livelier than its original generic title --
People Are Talking
-- and its revised generic title --
Truth Be Told
.
It's also scheduled opposite a new comedy that makes it look pretty good --
ABC's Dr. Ken
.
That's the faint praise for a show that attempts to explore racial gray areas while also unfortunately being pretty infantile about it in the premiere episode. NBC hasn't made any subsequent half-hours available for review. So the first impression of
People Are Talking
is that bolder topics were tackled in late summer on NBC's
The Carmichael Show
, a very pleasant surprise that's been renewed for a second season after the Peacock at first seemed to be burning it off.
The most familiar face in
People Are Talking
is Mark-Paul Gosselaar, the former
Saved By the Bell
teen idol who since has seemingly been in just about everything and is still only 41. Gosselaar plays Mitch, a college ethics professor whose closest pal is next door neighbor Russell (Tone Bell), an African-American standup comic.
Both are married, Russell to a black woman (Bresha Webb as Angie) and Mitch to the "ethnically ambiguous" Tracy (Vanessa Lachey). The show's creator, DJ Nash, says it's largely drawn from his real life experiences with a Korean wife and a best friend who's black. "My White Guilt is the fifth character on our show," he says in publicity materials.
Friday's premiere begins at a Chinese restaurant, where the two guys are picking up takeout while Russell quickly deduces that the Asian counterperson is an "Uncle Tom yumming it." Translation: she's faking that accent.
Outside the restaurant, a valet hands the car keys of Russell's Porsche to Mitch, who takes offense at the notion that the car couldn't possibly be owned by a black person. But appearances aren't what they seem, prompting Russell to crack, "We done here, Reverend Sharpton?"
Other situations and misunderstandings quickly kick in like typical sitcom clockwork. It's all built around four prized tickets and backstage passes to a Jay Z concert, with Mitch's stir-crazy wife at last primed for a night out but apprehensive about leaving their four-year-old daughter with a babysitter for the first time. But hey, it just happens to be the Sabbath, and a nearby Jewish family with a multitude of kids is thereby locked in for the night. Could Russell and Vanessa borrow their babysitter? Yes. Is the very well-endowed babysitter more than he bargained for? Yes. Might she even be a . . . well, by that point it's gotten really ridiculous.
The ham-handed "edginess" also includes the four-year-old announcing a rash "on my 'bagina' " before she asks, "Daddy, do you have a 'bagina.' " Russell later pronounces the word correctly during an investigation of the babysitter.
The principal cast members are appealing enough, providing perhaps some hope that the material will mature and measure up to them in future episodes. For now, though, it's mostly hammer-over-the-head time, with Angie at one point declaring, "Oh Mitch. Your white guilt amuses me."
Will enough viewers be of a like mind? Truth be told, that seems like a real long shot.
GRADE:
C
Email comments or questions to:
unclebarky@verizon.net