Lifetime gets deadly with its first weekly crime series
06/09/11 02:40 PM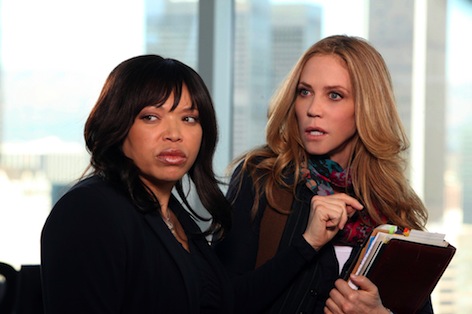 Tisha Campbell-Martin and Ally Walker smell a crook on Protector.
Lifetime photo
Premiering:
Sunday, June 12th at 9 p.m. (central) on Lifetime
Starring:
Ally Walker, Tisha Campbell-Martin, Miguel Ferrer, Chris Payne Gilbert, Thomas Robinson, Sage Ryan, Terrel Tilford
Produced by:
Jeffrey Bell, Gene Stein
By ED BARK
Now it's Lifetime's turn to go the partners-in-crimesolving route.
The aimed-at-women network of
Army Wives, Drop Dead Diva, Love Handles
and sob story movies had resisted any previous urges to catch killers on a weekly basis.
The Protector
alters that course, with the former star of NBC's
Profiler
at its steering wheel.
Ally Walker, who also had featured roles on FX's
Sons of Anarchy
and HBO's sex-charged but short-lived
Tell Me You Love Me
, resumes the prime-time grind as Gloria Sheppard, a divorced, do-it-her-way L.A. homicide detective with two young sons.
Her recovering alcoholic brother Davey (Chris Payne Gilbert) lives under the same roof and impulsively buys expensive espresso coffee makers to help keep his hard-charging, sleep-deprived sister on a soothing caffeine high. It can be tough when duty calls for the mom side of Sheppard to stay up all night making a costume for her youngest son's school play. But this cop just can't cop a plea after a long day of brow-furrowing detective work.
Walker is starting to look a little wan as she nears her 50th birthday this summer. And her co-star, Tisha Campbell-Martin, has gotten notably chunkier since her days on ABC's
My Wife and Kids
.
In a completely color-blind, research-free world, Campbell-Martin would be
Protector
's principal drink-stirrer as Sheppard's saucy detective partner, Michelle Dulcett. Instead, her considerable energy and charm are in a second banana capacity, although she does get ample screen time in Sunday's premiere episode (which follows the Season 5 finale of
Army Wives
).
A hedge fund dude with money problems turns up dead in the early minutes after Sheppard first informs an inquiring neighbor that she's not into solving lawn ornament thefts.
"Now if you find a severed head, you give me a call," she says. "I've had lots of success with severed heads."
The corpse is allowed to keep his head while dying from a skull fracture. Sheppard quickly starts deducing while of course being hamstrung by two sour-tempered, middle-aged male lawmen. Tried-and-true Miguel Ferrer, a pro when it comes to steely glares, will be a regular character as grouchy Lt. Felix Valdez.
"You just love pissin' people off, don't you, Sheppard?" he inquires.
"Yeah, that does seem to happen a lot, doesn't it?" she retorts.
Protector
will be solving murders while also maintaining that light Lifetime touch. The accompanying music is chirpy, insipid and more in keeping with
Desperate Housewives
than any of those hardcore CBS procedural crime dramas. And the banter between Sheppard and Dulcett is constant and sometimes fairly enjoyable. That's primarily due to Campbell-Martin, whose way with words is missed when she's not in the picture.
Lifetime has ordered 13 episodes for
Protector
's first season. It's hard to imagine it having a rabid following, although there's nothing terribly wrong with it. Campbell-Martin very ably acquits herself while Walker runs a little low on overall oomph. Together they're less than dynamite, but capable of a few sparks.
GRADE:
C