Fox's The Choice is mostly about chiding The Voice
06/06/12 11:47 AM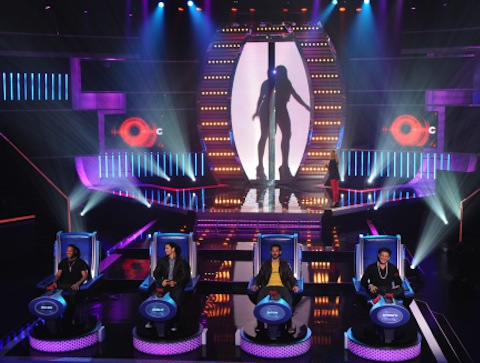 The first four celebrity bachelors wait to be tempted on The Choice.
Fox photo
Premiering:
Thursday, June 7th at 8 p.m. (central) on Fox
Starring:
Host Cat Deeley and an array of "the most eligible celebrity bachelors in America"
Produced by:
Arthur Smith, Kent Weed, Scott St. John
By ED BARK
@unclebarkycom
There's no honor among thieves, particularly when they're television networks.
CBS is
suing ABC
over its planned June 18th premiere of
Glass House
, a transparent copycat of
Big Brother
being helmed by that show's former executive producer.
NBC hasn't bothered trying to stop Fox's
The Choice
, which is clearly intended to twit
The Voice
. In this case, four of "the most eligible celebrity bachelors in America" sit in swivel chairs and activate their spin-around "love handles" if a sight-unseen potential date lures them with her verbal teases. The women who get selected become part of the celebrity's "team" before further winnowing kicks in. Sound familiar?
It all gets much more serious in the fall, when
The Voice
and Fox's
The X Factor
will give viewers four successive weeknights of splashy singing competitions. Fox hopes to soften up
The Voice
a bit with a summertime parody. So far NBC hasn't yet made a move to retaliate with a fractured relationship show called
The Ex- Factor
,
Your host for
The Choice
is Cat Deeley, the vivacious and gorgeous Brit who also presides over Fox's Wednesday night editions of
So You Think You Can Dance
. She strides out confidently in tight red leather pants, prompting
General Hospital
actor Jason Cook to say he wants her as his date. Naughty boy. Pull your knickers down and take your spanking.
For Thursday's premiere, the three other bachelors are singer Romeo, former skiing champ Jeremy Bloom and the requisite
Jersey Shore
cast member. This time it's DJ Pauly D, with the show's Mike "The Situation" Sorrentino due later this summer.
Other booked bachelors include temperamental Detroit Lions defender Ndamukong Suh, singer Joe Jonas, Dean "Superman" Cain, star New England Patriots tight end Rob Gronkowski and Season 5
American Idol
champ Taylor Hicks, for whom it's come to this.
An upcoming special edition of
The Choice
will put hunky men on the receiving end, with four celebrity bachelorettes making these hard choices. Among them are Carmen Elektra and ex-Miss USA 2010 Rima Fakih, who lately aspires to be a WWE wrestler.
Women come and go rapidly Thursday night, with each getting just 30 seconds to reel in at least one male. First to prance out is Rachael, a North Carolinian who bills herself as a "cutie with a booty" and also enjoys spending time with her 96-year-old grandma.
This prompts both Bloom and Cook to whirl around. Cook says with a straight face that "she got my heart with that one" -- meaning hangin' with grandma and not her booty. Rachael must then choose between them.
Cook and Pauly D can be mildly amusing at times, even if their quips just might have been pre-written for them. A total of 14 women vie for the three spots on each bachelor's team, eventually wearing beauty pageant sashes to designate their affiliations.
"Please welcome -- Jeremy's ladies!" Deeley proclaims. Yes, this show is further proof that women have come a long way -- that is if you substitute "had" for "have."
A quick-paced Q&A further reduces the field from three to two for each bachelor. Then come the Miss America-esque final questions before one woman is left out and the other gets to go on a "hot date" to a destination that's never specified.
Romeo wants to know, "What's the most impressive thing you've ever done for love?" He gets 10 seconds to digest the answers before picking his girl. And so on.
Deeley says the "outcomes" of these dates will be detailed during next week's episode of
The Choice
. Which means that the show also is stealing from
Love Connection
.
Fox is premiering another dating show, the George Lopez-hosted
Take Me Out
, as a Thursday night lead-in to
The Choice
. But it wasn't made available for review as of this writing, leaving TV critics to ponder how bad it might be.
The Choice
already is bad enough but has a few amusing moments to help keep it afloat. These mostly have to do with the bachelors' feigned sincerity before women are given their eviction notices. In the end it's all one big meat market, with the supplicants belting out brags instead of songs.
"I'm a bombshell with a body like Jessica Rabbit."
"I have a beautiful European look to me."
"I've been in over 100 pageants and hold many titles."
Anything to make the "Team."
GRADE:
C-minus