Hendrix gets his American Masters spotlight
11/04/13 02:34 PM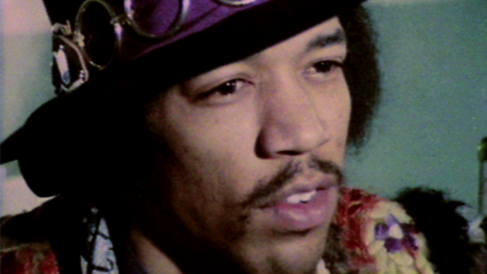 Jimi Hendrix led an electric but woefully short life. PBS photo
By ED BARK
@unclebarkycom on Twitter
Long before Guitar Hero the game came Guitar Hero the man.
And Jimi Hendrix undoubtedly was THE MAN, if only for a few short years in times when he, Jim Morrison and Janis Joplin all died within a 10-month span. Each lived to be 27.
Hendrix gets the
American Masters
treatment on Tuesday, Nov. 5th (
8 p.m. in D-FW on KERA13
) in a two-hour film subtitled
Hear My Train A Comin'
. It includes a wealth of performance footage, some of it with the requisite "previously unseen" tag. That's more than reason enough to watch, but don't expect to hear anything all that insightful on what made Hendrix live the way he lived or die the way he died.
Next to nothing is said about the extent of Hendrix's drug use, which for the most part went hand in hand with the late 1960s rock music scene. Many are still around to tell some of those tales. But Hendrix died of a reported mega-sleeping pill overdose on Sept. 18, 1970 while staying with a lady friend in London.
American Masters
very briefly notes this before ending rather abruptly. Cut to the closing credits, which include a short Hendrix guitar solo as requiem.
The documentary film begins with footage of Hendrix at the height of his performance powers and accompanying off-camera verbal praise from -- well, that's a good question.
"One of the most important American musicians of the 20th century . . . No one pushed the envelope like he did," says one unseen, unidentified talking head.
Too many PBS films begin this way, requiring viewers to possibly later match the speaker with his or her opening words. It's a structure that could use a makeover.
The review copy made available on PBS' media site also does not differentiate between who's living and who isn't. Interview subjects such as Paul McCartney and Steve Winwood obviously are very much among us -- and still on tour. Both presumably sat down for new interviews in connection with this film.
But it might surprise some viewers to learn that the other two members of The Jimi Hendrix Experience -- Britishers Noel Redding and Mitch Mitchell -- have both been dead for quite some time. As has Jimi's father, Al, who fed his son's early musical appetites and bought him his first electric guitar.
Absent any such notations,
Hear My Train A Comin'
leaves the impression that all three are as much among the living as McCartney and Winwood. But a little research shows that Redding died in 2003, Mitchell in 2008 and Al Hendrix in 2002.
Another key and very regularly recurring interview subject, Hendrix record producer "Chas" Chandler, died in 1996.
American Masters
usually does its own new interviews for these presentations, which have been rightly acclaimed over the years. But this one appears to be far more a cut-and-paste job without any on-screen notifications that some outwardly fresh reminiscences date as far back as 17 years. There's still time to remedy that in the finished product. Truth in packaging is more than a nitpick in a case when so much of a film is compiled from old interviews.
Hendrix wasn't much for interviews but was relatively expansive during his only talk show appearance with Dick Cavett.
"Hie ego was still the right size. I don't think he was really bitten by the serpent of fame," remembers "friend/musician" Paul Caruso, who died earlier this year.
"He only wanted to communicate with his playing," says "friend" Linda Keith, who first met Hendrix in New York City and eventually introduced him to producer Chandler, previously the bassist with The Animals. "I knew he was going to be a sensation in England," Chandler says.
Hendrix's managers later tried to land him a spot on
The Ed Sullivan Show
, a premium destination for any rock performer seeking full-blown stardom. But Hendrix was rejected as too wild and untamed, even though Morrison and Joplin both were allowed to perform on the show.
Hendrix first attracted a following in London, where McCartney remembers seeing him in small clubs before small audiences.
First impression: "He knows his way around a guitar, this guy." And McCartney still says with considerable awe, "Here he was, just bein' phenomenal."
His first major U.S. appearance came on June 18, 1967 at the Monterey Pop Festival, where Joplin also became a star. McCartney recalls recommending Hendrix for the festival because The Beatles, who'd been invited, had previous studio commitments. Hendrix, Redding and Mitchell performed "Wild Thing" before Hendrix shocked many in the crowd by setting his guitar on fire and then smashing it. Says Dweezil Zappa (hmm, what's he doing in this?), "Before that day, there was nothing like that that ever happened in the world."
Hendrix recorded just three albums --
Are You Experienced? Axis Bold As Love
and
Electric Ladyland
-- before his death. His enduring rock anthems include "Hey Joe, Purple Haze," a cover of Bob Dylan's "All Along the Watchtower" and a searing rendition of The National Anthem during the August 1969 Woodstock festival.
Hear My Train A Comin'
is fully loaded with Hendrix ablaze on stage, even including an impromptu club performance of "Sgt. Pepper's Lonely Hearts Club Band" that remains "one of my proud moments," says McCartney.
Off- and-on girlfriend Fayne Pridgon, relied on heavily in the film, says that Hendrix in reality was conservative and shy offstage. "They had him out there as this Wild Man from Borneo or something," she says. "He wasn't anything like that."
What he was really like remains in large part a mystery. In that respect,
Hear My Train A Comin'
doesn't try to play a gumshoe. Its strengths are Hendrix in action, his guitar on fire whether he set a match to it or not. The rest is a patchwork quilt of new and used anecdotal interviews, with the living and the dead mixed and matched throughout.
GRADE:
B
Email comments or questions to:
unclebarky@verizon.net