His own worst enemy: Norm Macdonald nonetheless stumbles onto Netflix
09/14/18 11:49 AM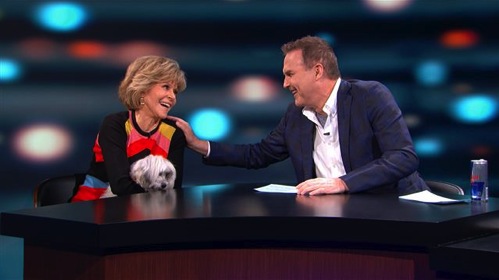 Making nice: Jane Fonda and host Norm Macdonald. Netflix photo
Premiering:
All 10 Season One episodes begin streaming Friday, Sept. 14th on Netflix
Starring:
Norm Macdonald, Adam Eget and various guests
Produced by:
Lori Jo Hoekstra, K.P. Anderson, Daniel Kellison, Norm Macdonald, with "special counsel" David Letterman
By ED BARK
@unclebarkycom on Twitter
Given the dumb, insensitive things he's said of late, the easy way out is to say that Netflix's
Norm Macdonald Has a Show
stars a boob who shouldn't be allowed to have one.
Then again, here's a guy who's never really expressed himself cogently and whose lines of thought can seem like a child's scribblings. He's an acquired taste whom many have never acquired. But as a talk show host, Macdonald's definitely something different, as Jane Fonda finds on Episode 5.
"You're weird," she tells him rather affectionately. But not weird enough to resist him when a transfixed Macdonald asks for a little kiss at show's end. Fonda responds with a surprisingly prolonged full smooch on the lips. Johnny, Merv, Stephen or either Jimmy never got that kind of treatment.
All 10 of these roughly half-hour shows were taped before Macdonald's bad form got him disinvited from
The Tonight Show
after he'd already shown up backstage. Let's briefly review.
In an interview with
The Hollywood Reporter
, Macdonald said of his longtime friends, Roseanne Barr and Louis C.K.: "There are very few people that have gone through what they have, losing everything in a day. Of course, people will go, 'What about the victims?' But you know what? The victims didn't have to go through that."
Macdonald also said he's "happy the #MeToo movement has slowed down a bit." Not that there's any real evidence of that.
He later apologized via Twitter, acknowledging that Barr and Louis C.K. "both made terrible mistakes and I would never defend their actions. If my words sounded like I was minimizing the pain that their victims feel to this day, I am deeply sorry."
The
Tonight Show
wanted no part of Macdonald anyway, even though he had defended host Jimmy Fallon's much-criticized fawning over Donald Trump during that same
Hollywood Reporter
interview. Then Macdonald made it even worse for himself during a subsequent appearance on Howard Stern's radio show. "You'd have to have Down syndrome to not feel sorry" for victims of sexual harrassment," he told Stern. "Down syndrome. That's my new word."
But Macdonald also said that "#MeToo is what you want for your daughters. You want that to be the future world."
On the eve of Friday's launch of all 10 episodes of his talk show, Macdonald made a remedial trip to ABC's
The View
, which to its credit did not disinvite him. The show's four hosts were surprisingly receptive to him, with Macdonald fully apologizing for his Down syndrome remarks while looking like a man who was thoroughly ashamed of himself throughout their 10 minutes together.
Some will say that's not nearly enough, and that Netflix should have pulled Macdonald's show and let him deservedly sink into oblivion. It's also an open question as to whether Fonda would have agreed to join him, had her appearance not already been taped.
But the show has gone on, and Fonda's guest appearance is head-and-shoulders the best of the four I've seen. In fact, Episode 1, with David Spade featured, is so excruciatingly bad that you're better off skipping it entirely.
Fonda, who brings her lap-sitting dog along, clearly came to play with Macdonald and guffawing "sidekick" Adam Eget, who manages The Comedy Store and has co-hosted Macdonald's podcasts. At one point, in reference to Fonda's once famed workout videos, the host mentions Suzanne Somers and her ThighMaster commercials.
"Do you think her thighs were as powerful as yours?" Macdonald asks. Fonda stammers a bit before rejoining, "Well, her tits sure are."
His first question, "Who do you consider sexy?" is followed by, "Do you like Troy Donahue?"
"That's my era," Fonda says before naming Blake Shelton, a vintage Tony Curtis and the late drummer of The Band, Levon Helm, as men she found or finds attractive.
There's also a semblance of an actual conversation. Fonda talks about her three husbands -- Roger Vadim, Tom Hayden, Ted Turner -- her controversial visit to North Vietnam, her affinity for "cultures that aren't scared of death" and her father, Henry, of whom she speaks very fondly.
Macdonald generally has a can of Red Bull on his desk, prompting Fonda to warn him how bad that is for him.
"Maybe you could change me," he nimbly replies.
Unfortunately, Macdonald also insists on ending shows by making guests join him in reading mostly terrible jokes from the blue cards piled near him. In this case, it gets in the way of a surprisingly good give and take. Fonda gamely spits one out before telling Macdonald, "You know who you look like in profile? Marlon Brando."
"Towards the end?" Eget ad libs, at last making a worthy contribution.
Each show also ends with the same sub-stupid goodbye song by Macdonald and Eget. So that's two things to lose if this thing ever gets a second season.
I also watched the segments with Drew Barrymore and David Letterman, who's billed in credits as a "special counsel" to the show.
Letterman endures Macdonald's impression of actor Robert Shaw, his quoting from the pilot episode of
The Beverly Hillbillies
and a Wesson Oil joke among other semi-indignities. But there's an interesting sidelight when Letterman talks about why he rejected his lone invitation to host
Saturday Night Live
. He says it was due to his "horrible" performances as a repertory player on Mary Tyler Moore's failed comedy-variety show, which also included the likes of Michael Keaton, Swoosie Kurtz and Dick Shawn.
But Letterman finds that he's had enough when Macdonald interrupts the flow to tell him, "Here's the time in the show when we do jokes."
"You're an infant," he retorts, and later literally walks out on the show before the host and Eget perform their closing song.
Barrymore, who like Fonda and Letterman currently has a series on Netflix, loudly expresses her revulsion to "dick pics" and her extreme fondness for the Steve Martin-John Candy film
Planes, Trains and Automobiles
. When the talk turns to some of the exotic things they've eaten abroad, Macdonald volunteers that he once ate a monkey's brain in Bangkok.
"What did it taste like?" Barrymore asks him.
"Mine was stupid," he says. Not bad.
Barrymore's ultimate compliment comes early in these proceedings, when she tells the host, "I like your free-flowing format. It's totally different."
That it is, and you take the good, you take the bad.
Macdonald's other announced guests, are Judge Judy Sheindlin, Chevy Chase, M. Night Shyamalan, Michael Keaton, Billy Joe Shaver and, for Episode 10, his old
Saturday Night Live
boss, Lorne Michaels.
Of course there's always a chance that Netflix could yank this show at any moment if Macdonald has another episode like he did with
The Hollywood Reporter
and then with Stern. So if you're a Norm Macdonald fanatic, and there likely aren't very many of those, it's best to watch this show while you still can.
GRADE:
B for Fonda, F for Spade, with the others somewhere in between.
Email comments or questions to:
unclebarky@verizon.net