Reviewing Amazon Prime's Bosch after mainlining all 10 Season One episodes
02/24/15 03:42 PM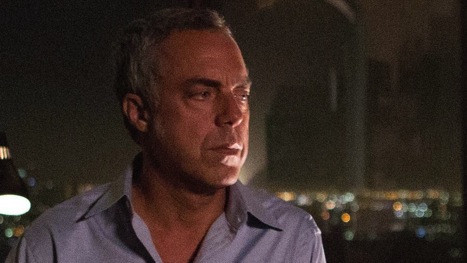 Titus Welliver commands attention in Bosch. Amazon Prime photo
Currently streaming on:
Amazon Prime
Starring:
Titus Welliver, Jamie Hector, Amy Aquino, Lance Reddick, Jason Gedrick, Annie Wersching, Sarah Clarke, Madison Lintz
Produced by:
Eric Overmyer, Michael Connolly
By ED BARK
@unclebarkycom on Twitter
It's good to see a veteran knock-around actor at last get a standout starring role that could serve him well for several years.
Titus Welliver has an intimidating face made for villainy. But in Amazon Prime's
Bosch
he's been boiled hard as a Los Angeles detective who fights off his demons while putting bad guys away. Adapted from the Michael Connolly novels, the 10-episode Season One began streaming on Feb. 13th. It's a solidly told whodunit with a payoff that's worth your investment.
Hieronymous "Harry" Bosch is a former special forces veteran with a desktop placard that reads, "Get off your ass and go knock on doors." He's also the divorced son of a prostitute who wound up being murdered and left in a dumpster. This has made him an emotionally scarred, shoot-first cop who's regularly been on the receiving end of internal investigations. But Bosch gets the dirty jobs done. Or as he puts it to a lying perp in Episode 3, "I'm too old a cat to be (bleeped) by a kitten."
The series marks Amazon Prime's second notable achievement after launching the acclaimed
Transparent
last year. As a streamer of original series, it's not quite on a par with Netflix yet. But the once yawning gap between them has shrunk considerably.
Bosch initially is beset by a wrongful death civil suit after shooting and killing a runaway suspect who supposedly drew on him first. Mimi Rogers drops in for a few episodes and makes a strong impression as prosecutor Honey "Money" Chandler. But
Bosch
draws most of its strength from two series-spanning murder tales.
One is an unsolved 25-year-old case involving a 12-year-old boy whose humerus is dug up by a dog. An investigation of other discovered remains shows that he was repeatedly and brutally beaten as a boy. While trying to unscramble this mystery, Bosch also is bedeviled by a serial killer named Raynard Waits (more good work by the resilient Jason Gedrick).
One of the series' major denouements comes in a taut second-to-last episode. The final hour then settles down considerably but without bogging down.
Major supporting characters include Bosch's loyal, younger partner, Jerry Edgar (Jamie Hector); tough but supportive Lt. Grace Billets (Amy Aquino); blunt deputy police chief Irvin Irving (Lance Reddick); and rookie cop Julia Brasher (Annie Wersching), who used to be an attorney before belatedly answering a second calling.
Sarah Clarke and Madison Lintz also pitch in effectively as Bosch's ex-wife, Eleanor, and their 14-year-old daughter, Maddie. Both live in Vegas, with Eleanor a former police profiler turned successful high-stakes poker player and Maddie a refreshingly well-adjusted kid without the usual deep streaks of 'tude.
Some of
Bosch
plays a little same-old, same-old, principally a power struggle between deputy chief Irving, who wants to climb the next rung, and district attorney Rick O'Shea (Steven Culp), who ramrods the cop shop in his quest to be mayor. But their war of words also prompts this memorable line: "L.A. is a three-piece suit. Black, white and brown. You need two out of three to get elected in this town."
Harry Bosch focuses only on the crimes at hand. And there's a little
True Detective
evident in these side-by-side tales of a long unsolved murder case and a creepy, heart-of-darkness labyrinth hiding the series' principal villain. Unlike detectives Rust Cohle and Marty Hart, though, Bosch and his partner get along from start to stop. And Bosch, for his part, would rather draw on another cigarette than trip the cosmic fandango.
Welliver, who's played roles ranging from
Lost
's Man in Black "Smoke Monster" to gun-runner Jimmy O'Phelan in
Sons of Anarchy
, bites off a lot that he definitely can chew in
Bosch
. Finally he's the top-of-the-marquee star. It's hoped that Amazon Prime will keep it that way with at least several more seasons to come.
GRADE:
B+
Email comments or questions to:
unclebarky@verizon.net