The air is extra heavy in Season 2 of Sundance TV's Rectify
06/18/14 02:37 PM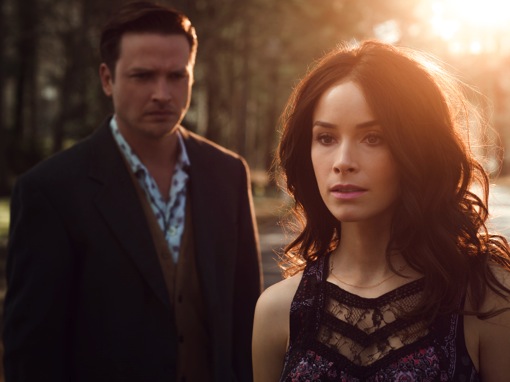 Aden Young and Abigail Spencer play brother/sister in Rectify.
Sundance TV photo
By ED BARK
@unclebarkycom on Twitter
Do you like your gloom spread extra thick?
Rectify
won't let you down.
Season 2 of Sundance TV's first originally produced series returns on
Thursday, June 19th (at 8 p.m. central)
with an expanded 10-episode arc in which rays of sunshine are very much frowned upon during the first three hours sent for review.
Beaten to a pulp in the final scenes of Season 1, ex-convict Daniel Holden (Aden Young) is in an induced coma to keep his brain ticking. His character otherwise is seen only in prison flashbacks and dream sequences during Thursday's re-start. Daniel's devoted mother, Janet (J. Smith-Cameron), and steadfast but morose sister, Amantha (Abigail Spencer), maintain a bedside vigil.
Rectify
had a six-episode first season, and I was transfixed. Season 2 still has more than a little going for it beyond an overall sense that nothing will end very well. The grim goings-on are harder to bear this time around, though, and the overall pace can be sedative-like. For those who haven't seen Season 1, well, good luck with sorting all of this out.
Here are a few particulars. Daniel, at age 18, was convicted of raping and strangling his 16-year-old girlfriend, Hanna. But after nearly 20 years on death row, contradictory DNA evidence led to his release. This didn't set well with many of the denizens of Paulie County, Georgia. But Daniel, who endured many indignities while in prison, found an inspirational friend in a devoted Christian named Tawney Talbot (Adelaide Clemens).
Unfortunately for her, pretty young Tawney is married to the high-strung and jealous Ted Talbot, Jr. (Clayne Crawford), son of Janet's second husband, Ted Talbot, Sr. (Bruce McKinnon). The two Teds run a struggling tire shop that continues to sink further into bankruptcy at the start of Season 2. Ted Jr. has a new business plan but carps to Tawney in Episode 3 that "dad doesn't know good ideas. He only knows old ones."
In fitting
Rectify
fashion, Ted Jr. and Tawney continue to plod through one of the more joyless marriages in recent TV history, even though she's constantly trying to change that. Meanwhile, Sheriff Carl Daggett (J.D. Evermore) tries to do his sworn duty by identifying and arresting the thugs who viciously assaulted Daniel while he visited Hanna's grave. One of them was revealed last season as her no-good brother Bobby Dean (Linds Edwards), who intentionally unmasked himself before urinating on Daniel.
Rectify
's creator and head writer is Ray McKinnon, who's also acted in
Deadwood
and
Sons of Anarchy
. Given that background, he's not about to serve up any frosted flakes. Instead, the prison flashback scenes include Daniel being severely tormented by a fellow death row inmate in an adjoining cell. The guy took his turn when it came time to rape Daniel in the shower. But it was nothing personal, he says. "Coulda been a watermelon." Be assured it gets worse.
There is one semi-redemptive and inspirational sequence. While still in a coma, Daniel dreams of being reunited with the executed Kerwin Whitman (Johnny Ray Gill), with whom he became friends during their joint cell time together. They meet in a pasture, with Kerwin extolling the beauty of life while Daniel says he may be "just too broken" to exist in the so-called real world.
It's both a touching scene and a welcome relief near the close of Thursday's Episode 1. But near the start of next week's Episode 2, Ted Jr. already is wondering, "What if Daniel wakes up out of this coma and he's a damn veggie burger?"
Rectify
's strengths in Season 1 included its portrayal of Christianity as something to embrace rather than wink-wink at or ridicule. In that respect, Tawney was no hypocrite or evangelical charlatan. Her spirituality wasn't laughable. And the tortured Daniel responded to it -- for a while at least.
Season 2 will be four hours longer than its predecessor. In the first three episodes at least, its relentlessly brooding nature might turn off potential converts. There's so much out there in the wide, wide world of TV, with significant new and returning cable dramas launching or re-launching every week.
Rectify
remains one of the worthier ones, and I'm not about to renounce it.
Still, this year's tagline -- "Life Is a Tough Sentence" -- isn't exactly inviting. The joy of last season's discovery has given way to a hope that
Rectify's
continued strong performances won't be snuffed out by a steady downbeat of characters' lives further unraveling.
GRADE:
B+ (down from last season's grade of A)
Email comments or questions to:
unclebarky@verizon.net