OMG, LOL, WTF: And then along came ABC's Selfie
09/29/14 11:14 AM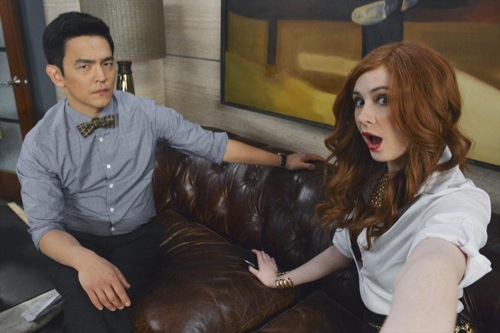 John Cho and Karen Gillan re-imagine My Fair Lady in Selfie. ABC photo
Premiering:
Tuesday, Sept. 30th at 7 p.m. (central) on ABC
Starring:
Karen Gillan, John Cho, Da'Vine Joy Randolph, Allyn Rachel, David Harewood
Produced by:
Emily Kapnek, Julie Anne Robinson
By ED BARK
@unclebarkycom on Twitter
Affixed with the new season's most off-putting title, ABC's
Selfie
further welcomes viewers with a vomit-athon in the opening minutes.
Those who get past that point might actually come to somewhat enjoy the two principals in this modern-day mash-up of
My Fair Lady
.
For starters, though, here's social media addict Eliza Dooley (Karen Gillan) aboard a plane with a guy she's been dating until suddenly discovering the telltale trace of a ring around his finger.
She unloads into not one, but two airline barf bags before making her way toward the restroom. Alas, both bags burst, dispensing "panic pudding" on Eliza and triggering a festival of phone cam pics. As humor goes, The Three Stooges suddenly seem cerebral.
It turns out that Eliza was a high school ugly duckling who resorted to Facebook, Twitter and Instagram as means to becoming popular without all that messy face-to-face discourse. But after this mishap-gone-viral, she deduces that "being 'friended' is not the same thing as having friends." Really? Wow, that's powerful, although perhaps not all that far from the realities of many younger humanoids who text first, foremost and always.
Eliza's guru turns out to be a fellow employee and marketing whiz named Henry (John Cho), who's just successfully re-branded a pediatric nasal spray that had to be recalled after inducing "satanic hallucinations." Yes, the humor in
Selfie
can be very broad. Or more to the point in the early going -- imbecilic.
Eliza decides that Henry is just the man to "re-market me." He reluctantly agrees to accept the challenge of transforming her from a "vapid, despised, social-media obsessed narcissist into a valued and respected woman of stature."
Their odd couple liaison occasionally begins clicking from a humor standpoint. Eliza also relies on three nerdy reading club women who might as well be leftovers from one of last season's ABC flops --
Super Fun Night
. They amusingly help to groom Eliza for a company wedding event at which the couple's vows to each other include, "If I'm the bagel, you're the schmear."
Selfie
has some vital signs, with Cho and Gillan a well-matched, mis-matched pair that could take this beyond what seems to be a one-joke premise. By the end of Tuesday's premiere, the opening puke-fest is almost out of mind. But how many repulsed viewers might have already tuned out before reaching this point? The answer, my friends, is not entirely up to your Facebook friends or Twitter followers. Well, in this case, perhaps it is. Hashtag #suityourselfie.
GRADE:
C+
Email comments or questions to:
unclebarky@verizon.net