Hill and Dave: Together again for the 9th time
02/03/08 03:20 PM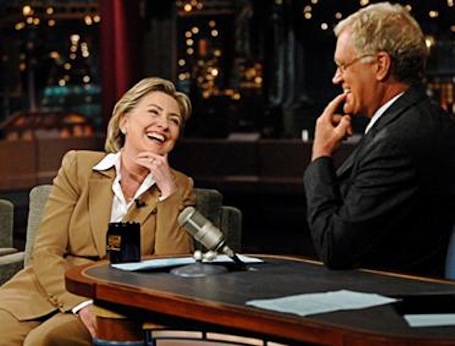 Big boost? Hillary will do Dave on "Super Tuesday" eve.
By ED BARK
Hillary Clinton is smart to be with David Letterman on the night before the "Super Tuesday" primaries have a big say in who will get the Democratic presidential nomination.
Barack Obama would be just as smart if he dropped in on Jay Leno Monday. But Democrats so far have stayed away from NBC's
Tonight Show
, which unlike CBS'
Late Show
is still without its striking writers.
Republican candidates haven't been nearly so shy, with John McCain, Mitt Romney and Mike Huckabee all joining Leno since he returned to work.
Hillary Clinton first braved Letterman's show on Jan. 12, 2000 after he baited her for weeks on end. But Letterman strives to make his guests look good, so she was never in any real danger.
Her last sit-down with Letterman, on Aug. 30th, included the guest's game recap of some of his pant suit jokes. Look for Tuesday's network morning shows and the cable news channels to be amply stocked with excerpts from whatever she comes up with in her pre-primary joust with Letterman.
Barring an unforeseen disaster, this likely will help soften a few of those troublesome hard Hillary edges on the same day that many viewers will be voting. In closely contested states where every ballot counts, it might not be a laughing matter to Obama.
Here's the pantsuit excerpt: