Netflix's Master of None is Aziz Ansari's fully realized comedy masterpiece
11/05/15 01:41 PM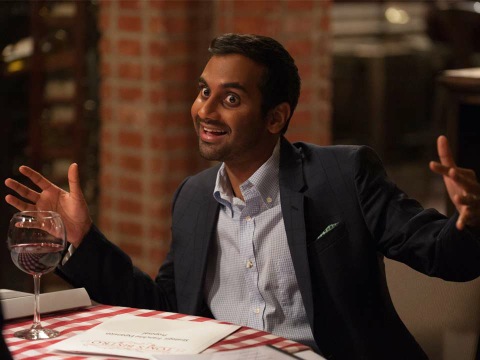 Aziz Ansari: A star is born in his own right. Netflix photo
Premiering:
All 10 episodes begin streaming Friday, Nov. 6th on Netflix
Starring:
Aziz Ansari, Noel Wells, Eric Wareheim, Lena Waithe, Kelvin Yu, H. Jon Benjamin
Produced by:
Aziz Ansari, Alan Yang, Michael Schur, Dave Becky, David Milner
By ED BARK
@unclebarkycom on Twitter
Aziz Ansari's new comedy series,
Master of None
, is a total misnomer in terms of what its star and co-creator have wrought.
In what amounts to his full-blown coming out party after years as a supporting player on NBC's
Parks and Recreation
, Ansari shows he has mastered the art of devising a perfect vehicle for himself. You can see for yourself on
Friday, Nov. 6th
, when the best new comedy series of the year begins streaming on Netflix. The 10-episode Season 1 is a marvel of edge, charm and storytelling.
Ansari is front and center as a 30-year-old New York actor named Dev. But there's more than ample room for a quirky batch of close friends and a woman who could be "The One." Ansari's real-life parents, Shoukath and Fatima Ansari, also drop in on occasion while the episode titled "The Other Man" features guest appearances by Claire Danes and Noah Emmerich (FX's
The Americans
).
Netflix made the entire inaugural season available for review in advance of the Nov. 6th unveiling. It's a distinct pleasure to watch each and every episode while marveling at how deftly Ansari injects topicality, heart and big laughs. It's in no way all this easy, but he makes it seem so. The "Old People" episode is just one of the gems, with Dev meeting and commiserating with his girlfriend Rachel's "Grandma Carol," an assisted living center denizen yearning to break out and breathe deeply for a change. Both ageism and racism are aired out in this series without leaving viewers feeling suffocated.
Dev's principal three pals are Denise (a standout Lena Waithe), Brian (Kelvin Yu) and Arnold (Eric Wareheim), the only character to court stereotype as the virtually obligatory tubby bearded shlepper.
Former
Saturday Night Live
regular and University of Texas at Austin grad Noel Welles makes a superb showing as Rachel. She briefly appears in a table-setting opening half-hour and pops up again in Episode 3 before making her presence completely felt in the "Nashville" episode. The Dev-Rachel dynamics are a case study in how to act naturally while dodging dullness or predictability. Simply put, they spark each other in some very marvelous ways, none of them neurotic. The second-to-last episode, subtitled "Mornings," is an instant classic in this respect.
Ansari's character otherwise manages to make financial ends meet with brief roles in commercials and a part in a cheesy B-movie titled
The Sickening
. Benjamin, one of his fellow lower-rung co-stars in the film, is played by H. Jon Benjamin, otherwise gainfully employed in real-life as the voice of vain master spy Sterling Archer in FX's animated series
Archer
.
Benjamin is a marvel of deadpan self-assuredness in
Master of None
, with Dev using him as a sounding board when he's vexed or unsure of himself. "So you're basically like a human dildo," Benjamin tells him at one point. Which is perfectly stated in the context of Dev struggling to decide whether to have sex with a very welcoming married woman played by Danes.
The series is replete with other small, medium and large delights, whether it's Dev discussing various particulars with the openly gay Denise or "Grandma Carol" talking about the time she briefly stole a car. Flashback scenes are evocatively rendered, as is an imagined flash-forward in which Dev envisions exchanging vacillating wedding vows with Rachel.
The material and its mouthpieces keep delivering strikes, making it easy to devour all of
Master of None
in just one or two big gulps. Ansari's cheerfully opinionated and resilient Dev is still fully capable of enjoying small pleasures and rebounding from big letdowns. Perhaps the biggest one comes during the Season 1 finale. But a little misdirection in a poignant closing scene sets up all kinds of possibilities for Season 2, which surely will be forthcoming. For now, enjoy
Master of None
for what it is -- a polished jewel of the genre starring an actor-comedian who has seized this opportunity and soared with it.
GRADE:
A
Email comments or questions to:
unclebarky@verizon.net