NEW SEASON: NBC's Outsourced deftly finds the funny without being an Ugly American about it
09/23/10 10:44 AM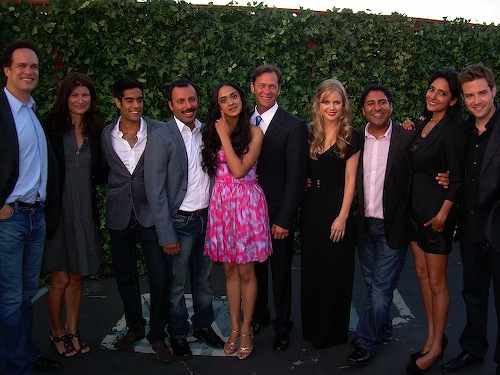 The cast of Outsourced flanks NBC programming head Jeff Gaspin (5th from right) at summertime party in Beverly Hills. Photo: Ed Bark
Premiering:
Thursday, Sept. 23rd at 8:30 p.m. (central) on NBC
Starring:
Ben Rappaport, Rizwan Manji, Sacha Dhawan, Anisha Nagarajan, Rebecca Hazlewood, Diedrich Bader, Pippa Black, Parveesh Cheena
Produced by:
Robert Borden, Ken Kwapis, Alex Beattie
By ED BARK
There are perils aplenty here. Or at least many people might be looking very hard to find ways in which NBC's
Outsourced
offends their sensibilities.
After all, it dares to make a little fun of the name Manmeet. But in turn, this very promising workplace comedy (which follows
The Office
on Thursday nights) also jumps at the chance to twit the peculiarities of the American culture as seen through the eyes of the natives populating a call center in India.
The setting is the new home abroad for Mid America Novelties and its young manager, Todd Dempsy (Ben Rappaport).
"We had to do a little right-sizing," his boss tells him when Dempsy arrives at work to find rows of empty desks. With $40,000 in student loan debts, he grudgingly accepts the new assignment and quickly encounters Rajiv (Rizwan Manji), who covets his job but is willing to bide his time.
Dempsy isn't an Ugly American type of boss. He's willing to work with the locals and try to understand their culture. In return they must sell the ridiculous junk that Mid America Novelties purveys, ranging from a farting garden gnome to a red brassiere-clad animated bosom dubbed "Jingle Jugs" to a mistletoe that straps onto the crotch area during Christmas season.
"This is how you celebrate the birthday of the son of your God?" inquires the comely Aisha (Rebecca Hazlewood).
Dempsy prefers to see all of this as the "definition of freedom," in which U.S. consumers can spend their money on anything -- including a deer head that sings "Sweet Home Alabama."
He has something of a mentor in Charlie Davies (Diedrich Bader from
The Drew Carey Show
), who's in India running the All-American Hunter call center. There's also lush Tonya (Pippa Black), manager of the Koala Airlines facility.
Davies pointedly warns Dempsy about the digestive challenges of Indian food shortly before Dempsy challenges each of his new charges to sell at least one "Add-on" during their first full shift together. For instance, the buyer of a Green Bay Packers foam finger also might be talked into ordering an accompanying cheese hat. Dempsy models it and takes no offense at the ensuing laughter.
Particularly challenged is introverted Madhuri (Anisha Nagarajan), who speaks in a barely audible whisper and ends up being the last call-taker without an Add-on" to her credit. This is resolved in a very amusing way, endearing Madhuri to viewers in a way that nicely caps the first episode of
Outsourced
.
There's lots of room to grow here. And also much to lampoon from the perspectives of both sides of the cultural divide.
Outsourced
isn't mean-spirited or abrasive. It has an edge but not a serrated one. From this perspective it's the new season's most pleasant surprise -- a comedy that on paper is easy to slam but in reality navigates some tricky terrain without getting all clenched up about it.
GRADE:
A-minus