Blast from the past: Jericho rides again
02/12/08 08:34 AM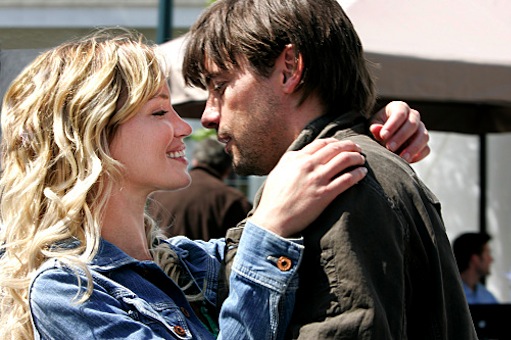 "Man, you were the bomb last night." Ashley Scott gives some sugar to Skeet Ulrich on the second season premiere of CBS' Jericho.
By ED BARK
Not exactly back by popular demand -- but backed by a self-avowed group of uncrackable nuts --
Jericho
returns Tuesday night in search of converts.
It just might make quite a few.
Canceled and then resurrected by CBS, this remains a stark drama about a small town's resiliency in the face of nuclear annihilation. But as the pieces are picked up,
Jericho
(9 p.m. central, Feb. 12) finds its center of gravity. And an abbreviated refresher course at the start of each episode (seven are planned) is enough to get the uninitiated pretty much up to speed.
Basically, ravaged Jericho, Kansas now is under the rule of the so-called "Cheyenne government" and its uniformed head man, Major Edward Beck (Esai Morales).
"Nightmare's over. Order will be restored," he tells resistance fighter Jake Green (Skeet Ulrich), emerging bloody but unbowed from a fierce battle with invaders from New Bern.
Ulrich's Green is built tough, but no character resonates more than scrappy Mimi Clark. Played by Alicia Coppola (no relation to Francis Ford), she crackles in every scene while her earnest, but sometimes gullible farmer boyfriend, Stanley Richmond (Brad Beyer), gamely tries to keep apace. Mimi melts, though, when he proposes. And this makes for a terrific scene near the end of Tuesday's re-opener.
Ashley Scott also is back as Jake's schoolteacher honey, Emily Sullivan, although she's of little import in the first two episodes at least. Eric Green (Kenneth Mitchell), Jake's older brother, and covert agent Robert Hawkins (Lennie James) also return to the fold. And both have lots more to do.
Basically, the torn-asunder U.S. is re-booting after 23 cities were leveled in a single day. The fledgling Cheyenne government is holding most of the cards in a battle with rival would-be lawmakers in Columbus, Ohio. But powerful Texas still hasn't taken sides, and Cheyenne of course is wearing wolves' clothing. Wow, Big Tex suddenly matters again, both on
Jericho
and in the upcoming March 4th presidential primary.
For now, a new and probably crooked president is rallying remaining citizens around the new Allied States of America. But what if the so far unseen Texas can be told the real truth about who set off those explosions?
Jericho
is off to a rousing re-start, and viewers must act now or never to ensure its long-term future. This time it's for keeps, with CBS very unlikely to yield a second time to fan pressure if the show can't govern itself in the Nielsen ratings.
Grade:
B+