Travel Channel's Booze Traveler tipsy toes through its international "spirit'ual journey"
11/19/14 03:10 PM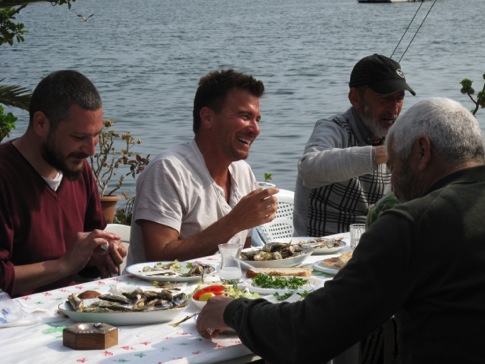 Host Jack Maxwell gets lit up in Turkey on Raki. Travel Channel photo
Premiering:
Monday, Nov. 24th at 9 p.m. (central) on Travel Channel
Hosted by:
Jack Maxwell
Produced by:
Kelly McPherson, Sarah Wetherbee, Emre Sahin, Maria Bukhonina, Deborah Von Brod
By ED BARK
@unclebarkycom on Twitter
It's not known if Blues Traveler at least got a case of Jameson in return for Travel Channel's play on the band's name in the new series
Booze Traveler
.
It
is
known, however, that host Jack Maxwell has one of the greatest jobs in the world. The former South Boston barkeep and occasional actor is being paid to be an Anthony Bourdain of alcohol consumption, traveling the globe on what his network calls "the ultimate spirit'ual journey." He'll drink to that -- early and often.
The Monday, Nov. 24th premiere episode finds the convivial and easily amused Maxwell in Turkey, where the Muslim faith and heavy drinking have long been adversaries. But Maxwell has no trouble finding the right crowds, whether it's the "Defenders of Anarchy" getting blasted before a soccer game or bands of devoted Raki swillers.
"When they pound the pre-game beers, it's not just for the buzz. It's an act of defiance," Maxwell says before joining the hearty partiers of working class Besiktas.
Maxwell and his Turkish guide recover the following morning with some healing Boza, which is mostly alcohol-free and resembles a thick, creamy egg nog. Later it's on to the "trendy Bloodhound Bar" for a stiffer Boza-and-booze cocktail.
All manners of food and alcoholic drink meet with Maxwell's enthusiastic approval. In that respect he's more like Guy Fieri of
Diners, Drive-ins and Dives
, swooning over whatever greasy spoon concoction comes his way. Maxwell is more descriptive, though. Kaymak, a traditional Turkey dish made from water buffalo milk, is "like eating clouds." And a glass of ice cold Raki "tastes like licorice on a speeding bobsled 'cause it goes down smooth and fast."
Booze Traveler
also has an educational component, with a little history woven into all the glass and bottle tipping. And Maxwell learns the proper way to pick poppies from a batch of giggling young women.
Travel Channel will present 15 one-hour episodes of
Booze Traveler
in its inaugural season, with the host also drinking his way through future venues such as Armenia, Belize, Lithuania, Mongolia and Nepal.
Maxwell can be a little too camera-conscious at times and he works overtime to pound home the irony of a Muslim nation in which "everyone loves to drink." Well, certainly not everyone. But Maxwell seems to have no trouble finding the Muslims who greatly enjoy a good drink or 10.
"It's been an incredible trip," he says at episode's end. "But booze always takes its toll. Time to clean out the system."
He does so with a bowl of tripe soup that's touted as a sure cure for a hangover. The show itself goes down easier than that probably did. But if you're going to match this guy drink for drink, then by all means
do
try this at home. We'd hate to see you behind a wheel in the states Maxwell sometimes finds himself in.
GRADE:
C+