Even more twists/turns in newest Witness for the Prosecution (this time on Acorn TV)
01/26/17 02:08 PM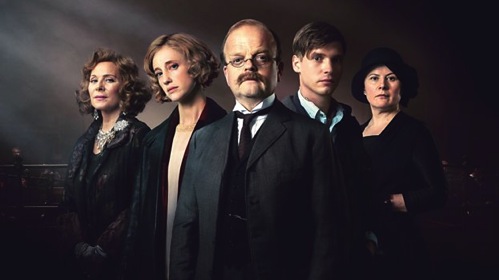 Toby Jones (center) has a very bad cough and often an even worse time of it in The Witness for the Prosecution. BBC One photo
By ED BARK
@unclebarkycom on Twitter
Agatha Christie's
The Witness for the Prosecution
has been around the block a few times since its original publication as
Traitor Hands
back in 1925.
It first emerged on BBC Television in 1949 before CBS re-made it for American TV audiences in 1953. The most famous version of all came 60 years ago, when Billy Wilder directed a black-and-white feature film with a heavyweight cast that included Charles Laughton, Marlene Dietrich, Tyrone Power and Elsa Lanchester. It received six Oscar nominations but was denied any wins.
CBS struck again with a 1982 adaptation under the Hallmark Hall of Fame banner. The twisting, turning murder mystery then had a long rest before coming back to life with two more remakes, one of them still in the planning stages. Ben Affleck is developing a
Witness for the Prosecution
in which he'll star and direct. But the time is nearly nigh for a second BBC version affixed with the Full Monty title of
Agatha Christie's The Witness for the Prosecution
. Set in London circa 1923, the two-hour film has its
U.S. premiere on Monday, Jan. 30th
via Acorn TV, which actually is a
subscription streaming service
that you'd do well to look into.
The principal star is Toby Jones, who's previously played both Truman Capote (in the 2006 feature film
Infamous
) and Alfred Hitchcock (in HBO's 2012
The Girl
). The other "name" in the cast is Kim Cattrall, best known as Samantha Jones in
Sex and the City
.
Cattrall is man-hungry anew as aging Emily French, a very wealthy socialite who enjoys collecting and discarding young bucks before, oops, she gets murdered. This two-hour version is faithful to Christie on that plot point and several others. But it has a wholly different ending from all the previous incarnations, with Jones grabbing center stage as tragic and sometimes pathetic solicitor John Mayhew.
Basically an ambulance chaser in the mode of John Turturro's defense attorney in HBO's recent
The Night Of
, Mayhew represents the penniless Leonard Vole (Billy Howle). He's a struggling but handsome war veteran who succumbs to Emily's pay-for-play advances after getting fired for spilling a drink tray at a nightclub she frequents.
"I like young men," she says after luring Leonard to her lair. "I like their skin. I like their muscles . . . I like to look."
Leonard keeps all of this from his common law wife Romaine (Andrea Riseborough), a chorus girl that he first met in a foxhole (long story). But Emily's possessive and increasingly festering housekeeper, Janet McIntyre (Monica Dolan), doesn't at all like what she sees and hears. She's the one who fingers Leonard when Emily is found dead after first re-writing her will to make him the sole beneficiary.
It doesn't look good for the defendant. And on the home front, it's not at all good for Jones' Mayhew, whose wife, Alice (Hayley Carmichael), looks sadder than her husband's attempts at a comb-over. She harbors a deep resentment which won't be revealed. But it ends up being key to the considerable post-trial goings-on.
Directed by Julian Jarrold and adapted from Christie's novel by Sarah Phelps,
Witness for the Prosecution
is atmospheric, textured and often poignant in its depiction of the pain-wracked Mayhew. Telling touches abound, whether it's Emily's beloved cat leaving bloody paw prints on the carpet or Mayhew weeping copiously at Romaine's stage rendition of "Let Me Call You Sweetheart" while she's seated on a suspended crescent moon.
Mayhew and the defendant are both veterans of the recent war. One of the film's more touching scenes comes when Mayhew reveals that he lost his son in combat on the eve of his 17th birthday. Leonard's lament could just as easily hold true today: "We thought we'd get more, didn't we? That we'd all come home heroes, live in a house with roses around the door. Three meals a day with extra gravy . . ." So yes, he was Emily's boy toy to help pay the rent. But no, he didn't kill her.
Although it arguably strings things out a bit too much, this newest
Witness
is a watchable feast of strong portrayals and mostly sturdy plot threads. Jones is a fearless, full-immersion actor whose performance spares him no personal indignities. Were she alive to see it, the feeling is that Christie might like Jones best of all in a role where the character's name has been changed (from Wilfred Robarts) while his added-on fragilities threaten to divide and conquer him.
GRADE:
A-minus
Email comments or questions to:
unclebarky@verizon.net