New series review: Damages (FX)
07/24/07 02:44 PM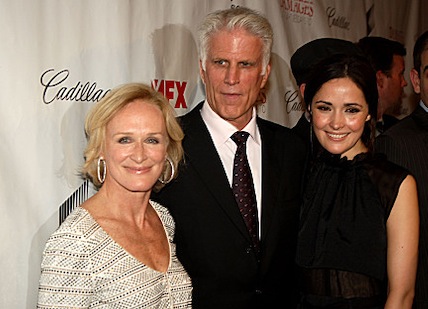 Starring in Damages: Glenn Close, Ted Danson, Rose Byrne.
Premiering:
Tuesday night, July 24th at 9 (central) on FX
Starring:
Glenn Close, Ted Danson, Rose Byrne, Tate Donovan, Zaljko Ivanek, Anastasia Griffith, Noah Bean
Created by:
Todd A. Kessler, Daniel Zelman, Glenn Kessler
By ED BARK
Driven by Emmy caliber performances from its two principal stars,
Damages
lands several notches above ongoing FX drama stalwarts
The Shield, Nip/Tuck
and
Rescue Me
.
That's saying a lot. But this is superlative TV in a month where basic cable already has gifted viewers with AMC's
Mad Men
and TNT's
Saving Grace
. Summertime continues to be one big reality show merry-go-round on broadcast TV. Mind-engaging, gourmet fare is elsewhere.
Damages
affords Glenn Close a grand opportunity to play a high-stakes Manhattan litigator to the hilt. Her Patty Hewes is coldly calculating and warmly manipulative without masticating scenery. This is no
Shark
. Close locks tight on this character without resorting to any showy, James Woods histrionics. Her performance is Meryl Streep-ian, and that's meant as the highest compliment.
Hewes is in hot, panting pursuit of corporate titan Arthur Frobisher (Ted Danson), who in fine Enron style sold a wealth of personal stock in his company just before it crashed. The government failed to convict him, but a group of aggrieved employees has filed a class action suit. Frobish's attorney, Ray Zisk (Zeljko Ivanek), puts the stakes in stark terms to his client: "She's on a mission here, and she won't stop until you're strung up in the public square."
Another layer is added when bright, ambitious Ellen Parsons (Rose Byrne) gets recruited to join Hewes & Associates. Her story is twofold. She's both at the center of a grisly killing and in the clutches of boss lady Hewes, who lured her for a very specific reason. It's an enthralling, episode-to-episode mystery that reverts from the present to "6 Months Earlier" and back again without ever losing focus or coherence.
Danson is somewhat peripheral in Tuesday's premiere episode, but has much to do on next week's
Damages
. Rebounding from ABC's cancelation of last season's
Help Me Help You
, he's taking on his first dramatic series role after decades of sitcom work, most notably in
Cheers
and
Becker
.
Frobisher represents an entirely different turn for Danson, and he's fully up to it. So this is a true clash of acting titans, even if he's yet to have any scenes with Close through the first two of 13 episodes.
FX has stamped itself as HBO's latter day equal in its ability to craft distinctive adult dramas.
Damages
is its best effort yet, a thrillingly distinctive his/hers whodunit. Emmy nominations already are in the bank for Close and Danson, but viewers will be getting the most rewarding experiences. Don't miss this one. It's a gem.
Grade:
A