New series review: Welcome to the Captain (CBS)
02/04/08 01:43 PM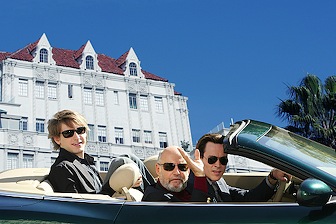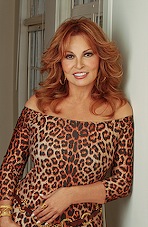 Jeffrey Tambor (middle) yearns to get lucky with Raquel Welch.
Premiering:
Monday, Feb. 4, at 7:30 p.m. (central) on CBS
Starring:
Fran Kranz, Chris Klein, Jeffrey Tambor, Raquel Welch, Al Madrigal, Joanna Garcia
Produced by:
John Hamburg, Andrew Reich, Ted Cohen
By ED BARK
Working without a net -- in this case no laugh track -- is highly unusual for a CBS comedy. But here goes.
Welcome to the Captain
, which has nothing to do with a cruise, the military or Tennille, daringly and perhaps suicidally joins the network's Monday night lineup without benefit of any artificial additives. So you'll have to laugh entirely on your own at a show that aims to be in the vein of
Arrested Development
and also has one of that late, great comedy's crazier cast members in Jeffrey Tambor.
His pathetic yet self-assured character, "Uncle Saul," has been living in Hollywood's outwardly stately El Capitan apartment building -- a k a "The Captain" -- for the past 26 years. This dates to his tenure as a writer on
Three's Company
, where he hit it big enough to live in what he thinks is style.
The building's newest resident, struggling writer/director Josh Flug (Fran Kranz), won an Oscar five years ago in the short film category. Now he's constipated -- creatively at least -- and had planned on returning to New York until his friend, Marty Tanner (Chris Klein), hooked him up with a vacancy at The Captain.
Josh also has busted up with his girlfriend and for a time had lived alone amid memories of their co-habitation. This prompts Uncle Saul to observe, "That's like a dog having to bed down in its own sick."
Some reviewers might find this to be an irresistible commentary on the show itself. But in reality it's got some charm and enough amusingly oddball moments to make it all pretty bearable. And there's also Raquel Welch, now 67, as former prime-time soap star Charlene Van Ark. Uncle Saul still yearns to bed her, but has struck out for 26 years and counting. He bears her no ill will, though, likening Charlene's "tush" to a "buttery Chardonnay."
Other characters include a gossipy desk clerk named Jesus (Al Madrigal) and an accident-prone apprentice acupuncturist, Hope (Joanna Garcia), with whom Josh is quickly smitten.
The show is well-cast and has possibilities in its menagerie of off-kilter characters equipped with oft-nonsensical one-liners. Next Monday's episode finds the appealingly earnest and pliable Josh spending a weekend at Uncle Saul's retreat after he's again rebuked by Charlene. Her excuse is a weekend dinner theater performance with Bob Costas, who likely doesn't know yet that he's a punchline. Maybe he'll never know.
Grade:
B-minus