Peacock goes "back to basics" by re-embracing "quality" scripted series
05/16/10 09:24 PM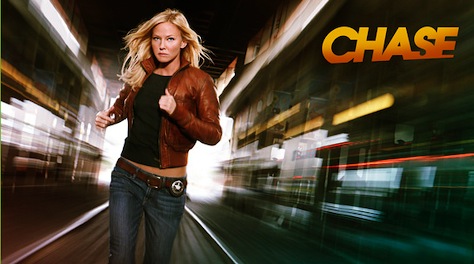 Kelli Giddish stars as Texas-bred marshal in Dallas-made Chase.
By ED BARK
NBC's new fall prime-time lineup has both a made-in-Dallas drama and Jimmy Smits in a legal series from the banished Conan O'Brien's production company.
Seven of the eight entries announced Sunday evening already had been embraced last week via a flurry of program pickup news releases. The only suspense was whether they'd debut in the fall or be held back for midseason.
The big news in these parts is autumn's Monday, 9 p.m. (central) berth for
Chase
, whose pilot episode recently was filmed in Dallas. The series itself also will originate in North Texas, with hitmaker Jerry Bruckheimer (the
CSI
franchise) at the throttle. Kelli Giddish, from the shortlived Fox series
Past Life
stars as U.S. marshal Annie Frost, described as a "cowboy boot-wearing deputy whose sharp mind and unique Texas upbringing her help track down violent criminals on the run."
As
previously detailed
, two Fox prime-time newcomers,
The Good Guys
and
Lone Star
, also are being filmed in the Dallas area.
Here's a clip from
Chase
, in which Annie both subdues a bad guy and fires off a wisecrack:
The Smits series, titled
Outlaw
, finds the former
L.A. Law
and
NYPD Blue
star playing a U.S. Supreme Court justice who abruptly resigns in the interest of returning to private practice and representing "the little guy." The character's name is Cyrus Garza. And no, it's not a comedy.
Asked during a Sunday evening teleconference about O'Brien's reaction to the pickup, NBC entertainment president Angela Bromstad said she hadn't talked to him.
"I speak to his (O'Brien's) head of development for his company all the time, and they're thrilled with the pickup," said Bromstad, referring to Conaco president David Kissinger, son of Henry Kissinger.
As previously reported, NBC is canceling
Law & Order
after 20 seasons, but will add yet another spinoff,
Law & Order: Los Angeles
to this fall's lineup. No casting has been announced yet. The Peacock also is dropping
Heroes
after four seasons of diminishing returns ratings-wise. But both series could get final sendoffs via two-hour "event movies" at some point next season.
NBC Universal chairman Jeff Gaspin, in a printed statement preceding the teleconference, said the new fall schedule brings the network "back to basics with its commitment to quality scripted programming." It's a stark departure from last year, when
The Jay Leno Show
took up all of the network's 9 p.m. weekday spots. Scripted series, four of them newcomers, will fill those slots this fall.
The only new fall show not detailed last week is
School Pride
, a reality series "that tells the stories of communities coming together to renovate their aging and broken public schools," NBC says. A team of four "experts" will help them along, including for some reason a SWAT commander named Tom Stroup.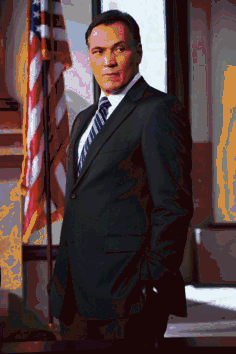 Boris Kodjoe, Gugu Mbatha-Raw of Undercovers; Smits in Outlaw.
Here are the four other new series:
Undercovers
(drama) --
Lost
architect J.J. Abrams eases up a bit with a "sexy, fun, action-packed spy drama" starring relative unknowns Boris Kodjoe and Gugu Mbatha-Raw. They were crack CIA spies before falling in love, dropping out, getting married and starting a small L.A. catering company. But the disappearance of a friend and spy thrusts them back into the game. Prime-time graybeard Gerald McRaney plays the pair's boss.
The Event
(drama)-- This sounds more like a steeped-in-intrigue, serial-minded Abrams series. Jason Ritter (
The Class
) stars as commoner Sean Walker, who stumbles into "the biggest coverup in U.S. history" while investigating the sudden disappearance of his fiancee. Co-stars include Blair Underwood as the president of the United States and Emmy-winner Zeljko Ivanek (
Damages
) in a so far unspecified supporting role.
Outsourced
(comedy) -- Yo ho ho, what happens when a heartland company called Mid America Novelties has its call center transported to India? Newcomer Ben Rappaport stars as the transported head of a new "eclectic sales team."
Love Bites
(comedy) -- Modeled after ABC's old
Love, American Style
series, this hour-long "romantic comedy anthology" features three loosely connected stories "illuminating the theme of love with an edgy, irreverent spin." Becki Newton (
Ugly Betty
) and Jordana Spiro (
My Boys
) co-star as lovelorn singles Annie and Frannie.
NBC also announced Sunday that Amy Poehler's
Parks and Recreation
will be held off the schedule until midseason, but will remain on Thursday nights.
Likewise awaiting mid-season berths are returnees
The Marriage Ref
and
Who Do You Think You Are?
The Peacock also has two new drama series --
The Cape
and
Harry's Law
-- slotted for midseason. The new comedies
Perfect Couples, Friends With Benefits
and
The Paul Reiser Show
are being held back as well. And after
Sunday Night Football
goes away in January, NBC will send in
Dateline, Minute to Win It
and
Celebrity Apprentice
.
Two first-year dramas that made it through much of this season --
Mercy
and
Trauma
-- have been canceled.
Here's NBC's night-by-night fall lineup, always subject to change, of course:
(New series are marked by an asterisk.)
MONDAY
Chuck
The Event*
Chase*

TUESDAY
The Biggest Loser
Parenthood

WEDNESDAY
Undercovers*
Law & Order: Special Victims Unit
Law & Order: Los Angeles*

THURSDAY
Community
30 Rock
The Office
Outsourced*
Love Bites*

FRIDAY
School Pride*
Dateline
Outlaw*

SATURDAY
"Encore programming" (code name: reruns)

SUNDAY
Football Night in America
Sunday Night Football