Still a headliner: Season 2 of HBO's The Newsroom
07/12/13 12:49 PM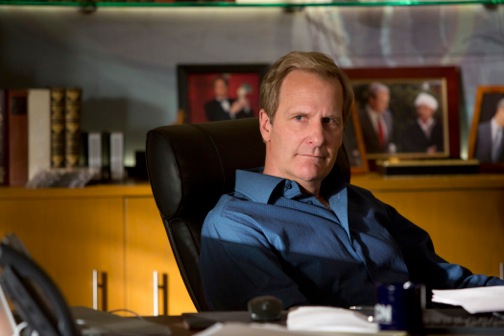 Ship's captain: Jeff Daniels as ACN anchor Will McAvoy. HBO photo
By ED BARK
@unclebarkycom
At its best when it sticks to the journalism -- and at times off-putting when it doesn't --
The Newsroom
again makes its presence felt.
Returning to HBO for Season 2 (
Sunday, July 14th at 9 p.m. central
), Aaron Sorkin's blend of workplace clashes and tangled personal lives can still take a seat near the head of the prime-time class. When it's good there's nothing out there any better. And when it falters, it's far closer to a stumble than a crash-landing.
The nine-episode second season's opening theme music has been pepped up and shortened, with new visuals and a piano at the forefront. And the overall storyline is an instant grabber. The fictional ACN cable network is reeling from an explosive exclusive that went badly awry and now endangers the jobs and futures of all the key players, including bombastic anchor Will McAvoy (Jeff Daniels). So one of the first characters you'll see is a new one -- Marcia Gay Harden as high-powered litigator Rebecca Halliday. She's representing ACN, but acts like the enemy. Watching McAvoy and Halliday clash in the opening minutes makes for a great start before
Newsroom
rewinds to August 2011 to begin detailing how this all came about.
Unfortunately, this also means revisiting the tiresome love triangle among chipper associate producer Maggie Jordan (Alison Pill), idealistic producer Jim Harper (John Gallagher) and taciturn veteran producer Don Keefer (Thomas Sadoski). It's all glop compared to the price McAvoy is being asked to pay for calling the Tea Party "the American Taliban" during an on-air commentary.
The dialogue, although certainly sharp, doesn't seem as rat-a-tat-tat this time around. Sorkin has tempered that to a degree, but sparks still fly between McAvoy and his executive producer/former lover Mackenzie "Mac" McHale (Emily Mortimer). Sam Waterston also is back as news division president Charlie Skinner.
Newsroom
is always on point whenever they have a face-to-face meeting. The only downside is that their one-on-ones don't last longer, with both Daniels and Waterston commanding the screen with their characters' percolating points and counterpoints. This is the place where McAvoy declares, "Snark is the idiot's version of wit, and we're being polluted by it." Gonna chew on that a bit.
Mitt Romney's presidential campaign figures prominently in Season 2. Hangdog Jim, looking to distance himself from Maggie, volunteers to replace an injured colleague on the front-running Republican candidate's campaign bus. This enables him to both constantly rock the boat and meet blogger Hallie Shea (Grace Gummer). She's initially cool to him, of course. But you'll know exactly where this is going -- and it pretty much gets there near the end of Episode 4. Meanwhile, Maggie is Africa-bound after also looking to get away from it all.
Jim's replacement back at ACN is Jerry Dantana (Hamish Linklater), the guy who's tipped to a story that U.S. forces used nerve gas abroad during an "extraction" mission dubbed Operation Genoa.
Newsroom
is at its best in portraying the infighting and skepticism that goes hand in hand with a story of this magnitude.
Sorkin's personal politics are well-known and left of center. And as with
The West Wing
, he at times makes this transparently clear during the first four
Newsroom
episodes sent for review.
Episode 3 begins with Daniels' McAvoy denouncing audience members who booed an openly gay U.S. soldier's question about future military policy during a Republican candidate debate in Orlando.
"Soon they'll surely be in hell. But not soon enough," McAvoy says before also lashing the pro-military Republican field for remaining silent. In a post mortem, Skinner wonders aloud, "How do these people boo a soldier? How do the candidates say nothing? And how are you a member of this party?"
McAvoy nominally remains a "moderate" Republican. So he's still perfectly willing to twit the burgeoning Occupy Wall Street movement while also declaring, "I don't think there's an immoral way to kill terrorists." But
Newsroom
as a whole tilts its content teeter-totter to the left, giving Fox News Channel (which also is upbraided in Episode 3) almost weekly opportunities to take offense. They're probably secretly thanking Sorkin.
Whatever your politics,
Newsroom
can and should be admired for its passionate interest in how the media handle or mishandle stories of major import. Sorkin doesn't spare the whip in this respect either. In Episode 4, a fictional Romney campaign spokeswoman named Taylor Warren (Constance Zimmer) tells the constantly agitating Jim, "I hate the press in ways you can't even comprehend." And she has a point.
Sorkin also pens a delicious face-off between McAvoy and gossip columnist Nina Howard (Hope Davis).
"I don't believe in censorship. But I'm a big believer in self-censorship," he tells her in hopes of waylaying the real story of why he wasn't allowed to anchor ACN's 10th anniversary coverage of 9/11.
By the end of Episode 4, even Maggie begins to resonate as a character of new import following a devastating experience in Africa. Her questioning by Harden's Rebecca Halliday ends up being heart-rending as the transformed Maggie haltingly revisits what happened to one of her colleagues.
Newsroom
likely will be a lightning rod throughout its run on HBO. Few TV dramas are as thought-provoking or daringly opinionated. Sorkin doesn't always get everything right. Who the hell does? But he writes with purpose, force and conviction, sometimes with a heavier hand than necessary. It's a challenge and a pleasure to watch and review his work while always admiring all that went into it.
GRADE:
A-minus
Email comments or questions:
unclebarky.com