Last call for the "old" TNT with the late-arriving Proof
06/15/15 04:49 PM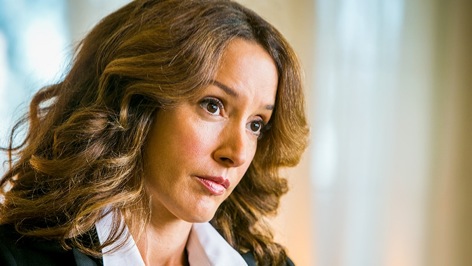 Jennifer Beals is a snippy, self-assured surgeon in Proof. TNT photo
Premiering:
Tuesday, June 16th at 9 p.m. (central) on TNT
Starring:
Jennifer Beals, Matthew Modine, Joe Morton, Edi Gathegi, Annie Thurman, David Sutcliffe, Caroline Rose Kaplan
Produced by:
Kyra Sedgwick, Rob Bragin, Tom Jackson, Jill Littman, Alex Graves
By ED BARK
@unclebarkycom on Twitter
TNT's "proactive makeover" is currently in progress, with new Turner entertainment head and former Fox programmer Kevin Reilly warning TV watchers to "expect some very daring shows -- some of which will not appeal to all of our current viewers but will be a lightning rod to attract new viewers."
In other words, he wants TNT to be more like advertiser-supported basic cable competitors such as FX and AMC. They attract a lot of social media buzz and/or critical acclaim for the likes of
Louie, The Americans, American Horror Story, The Walking Dead
and the just-ended
Mad Men
. TNT's far more conventional drama series have mostly come and gone without incident.
Proof
, a leftover from the pre-Reilly TNT regime, pretty much fits the old mold. Think NBC's
Medium
or CBS'
Ghost Whisperer
, both of which explored life after death through the eyes of a central woman character.
This time it's Jennifer Beals, whose no-nonsense Dr. Carolyn Tyler is considerably more skeptical about the supernatural. But she starts to defrost after a cancer-stricken billionaire inventor named Ivan Turing (Matthew Modine) summons her to his sprawling estate and makes a proposition. If she'll search for "real proof of what happens after we die," he'll start lavishing money on Medics International, where Carolyn works long hours while flexing her reliably prickly personality.
Hmm, a lot of good could be done with all that dough, particularly for underprivileged countries in need of medical supplies. So OK, deal.
There are other complications. Carolyn and her doctor husband Len (David Sutcliffe), who still work together, have been separated since she caught him cheating on her before their teen son died in a car wreck. And Carolyn herself had a possible brush with the afterlife, which she's mostly repressed, after nearly dying while in the "Far East" helping victims of a tsunami. A rebellious surviving teen daughter -- Annie Thurman as Sophie -- further stirs the plot pot.
TNT made the first three episodes of
Proof
available for review. And while not must-see, they're solidly acted and decently scripted. Beals makes a generally strong impression as the show's driving force. The cast also includes stalwart Joe Morton as hospital administrator Charles Richmond and Edi Gathegi as intern Zednan Badawi, a Sudanese import who's fun to watch.
Carolyn's ad hoc after-life team also includes perky Janel Ramsay (Caroline Rose Kaplan), who serves as Turing's intermediary. And Callum Blue gets to clash with Carolyn as best-selling author/psychic Peter Van Owen. "I'm a doctor. You do cheap parlor tricks," she sniffs.
Tuesday's premiere episode also works in the case of a little girl who'd been pronounced dead before miraculously recovering. What might she have seen on the "other side?"
Episode 2 trains on a pilot who scattered his beloved deceased wife's ashes but now envisions her as very much alive. The third hour is built around a combat fatality dating back to the Korean War but somehow still haunting two young military veterans. With help from a "regression" therapist (guest star David Chisum), they cathartically re-live what happened on that fateful day. It doesn't make a great deal of sense -- if any at all. But the episode does give Carolyn a chance to climb in the sack with a charming former medical school mate while the characters played by Modine and Blue are benched throughout.
It would be good to see more of Modine, who adds some nice carefree touches to his billionaire benefactor role. But this is Beals' show from start to finish, with her character's softer sides and haunted vulnerabilities seeping through that hard-shell casing during Episode 3 in particular.
Beals' sturdy performance is an overall plus, but
Proof
has a harder time selling its basic week-to-week premise. The featured cases resonate to a point but so far tend to falter at wrap-up time. Episode 1 mostly sets the table before limping to a rather lifeless denouement. Next week's hour ends too abruptly and with little punch. Episode 3 is the best of this early grouping, with some affecting moments down the stretch and then a nice kicker involving the appealing intern Zedan.
Any real-life afterlife beyond this summer could be the toughest sell of all. The new programming maestro is intent on burying those lingering ghosts of the "old" TNT. And
Proof
could well be caught in his crossfire if it's not an immediate and substantial ratings hit.
GRADE:
B-minus
Email comments or questions to:
unclebarky@verizon.net