The Improv turns 50: cue the Epix network anniversary special
12/05/13 02:04 PM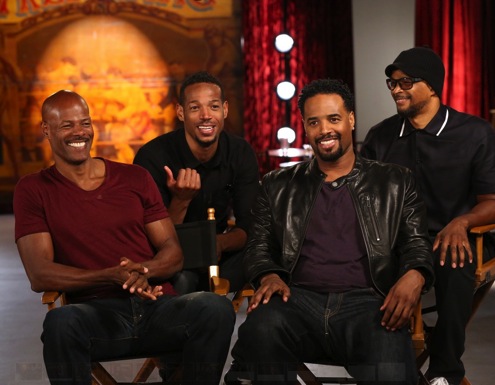 The Wayans brothers laugh it up with The Improv. Epix photo
By ED BARK
@unclebarkycom on Twitter
Synonymous with standup comedy, The Improv has turned 50 this year.
This of course requires an anniversary special. Rim shot, please.
Home base for
The Improv: 50 Years Behind the Brick Wall
, is the premium pay network Epix, where the 60-minute film premieres on
Friday, Dec. 6th at 9 p.m. (central)
. Don't look for lots of laughs, But as a clip-enriched museum piece accompanied by new interviews with a wealth of famous comics,
Behind the Brick Wall
is better than your average "guy walks into a bar" joke.
Adam Sandler narrates, but is given little to say about "the very first comedy club." The Improv opened in 1963 as a coffee house where Broadway show people could gather and feel at home. It quickly evolved into a venue for impromptu performance, with many future comedy stars learning how to bomb and excel against what became the Improv's trademark
faux
brick backdrop.
Budd Friedman and Silver Saunders, who became his wife and then ex-wife, co-founded New York's Improv. When a Hollywood Improv opened in 1975, Friedman headed West while Saunders was left in charge of the now defunct original. At present count, there are 25 Improv offshoots in addition to the one still standing at 8162 Melrose Avenue.
All of the reminiscing comics in
Behind the Brick Wall
are veterans of Improv bumps, bruises and bright spots. Jay Leno goes back the furthest -- to 1969.
"I used to sleep in the alley around the corner" in order to get a place near the front of the line, Leno recalls. He learned that comedy wasn't pretty on a night when a prostitute serviced a client within a few feet of him. Or at least that's the "low point" story that Leno still tells.
The other participants are Jerry Seinfeld, Ray Romano, Bill Maher, Judd Apatow, Kathy Griffin, Larry David, Richard Lewis, Sarah Silverman, Jimmy Fallon, Russell Brand, Lewis Black and Keenen Ivory, Damon, Marlon and Shawn Wayans. Friedman himself and his latter day business partner, Mark Lonow, also pitch in.
Some of this is boiler plate. Several comedians talk about what a "family" it used to be among striving Improv regulars. Other times it's more fun, with David and Lewis jabbing at each other, and Seinfeld surprising Fallon, who still has his first $8.25 check from The Improv (and the visual to prove it).
Some of the clips are important for their mere existence. A vintage Richard Pryor is shown in grainy black-and-white. Andy Kaufman comes onstage and simply eats ice cream. A cheap little comedy film made by Improv up-and-comers includes Romano and Louis C.K. And blips from Apatow's act show why he wasn't a very good standup comic before getting the last laugh as the director and/or producer of hits such as
The 40-Year-Old Virgin, Knocked Up
and
Anchorman: The Legend of Ron Burgundy
.
"
The 40-Year-Old Virgin
was inspired by me not getting laid at The Improv and watching other people get laid," Apatow says.
All bow to the late, great Rodney Dangerfield, who "was like the Pope," Lewis says.
Lewis, Seinfeld and Leno now are Improv elders. This allows Seinfeld to be something of a scold. There's a simple reason why "giant" comedy stars are few and far between these days, he says. "They don't put the work in."
The Improv, now grandly billed as "America's Original Comedy Showcase!", remains both a training center and re-proving ground for those still willing to write day and night in hopes of someday hitting it big or keeping their fastballs up to speed. Epix's
Behind the Brick Wall
may be an Improv infomercial in no small part. But its historical import can't be denied. And there may still be plenty more where that came from.
GRADE:
B
Email comments or questions to:
unclebarky@verizon.net