Tom Snyder: He laughed, he smoked, he drank, he listened
07/30/07 08:30 PM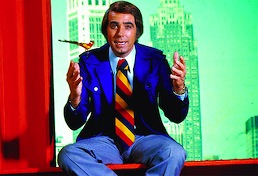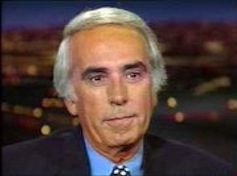 By ED BARK
A decade ago, mostly his teeth pained him.
"Ya know, that's my Achille's heel," Tom Snyder said over the phone in a 1997 interview that was delayed by another trip to the dentist. "I don't have problems with constipation or hearthburn, but my teeth are troublesome."
Snyder, 71, died Monday of leukemia. His last television outing, CBS'
The Late, Late Show with Tom Snyder
, remained in progress when we talked for the last time. CBS billed it as late night's "sole true interview program in a time period filled with comedy." That it was.
"I'm proud about that," he said when the term "old-line broadcaster" came into play. "We're the last stop on the old line. When we're gone, it's over, I fear. Look at how the
Tonight Show
has changed with the evolution of Johnny Carson to Jay Leno. It's much louder. There's more excitement to it."
Snyder's
Tomorrow
show followed Carson's
Tonight
from 1973-'82 on NBC. Toward the end he was paired with gossip queen Rona Barrett, whom he very much didn't like. He then kicked around, becoming more famous for Dan Aykroyd's
Saturday Night Live
impression of him than as a TV personality in his own right. Snyder bombed as a New York City news anchor before getting back into the talk show arena on the then little-seen CNBC cable network.
"I've survived some ups and down," he said. "When the
Tomorrow
show went south, I spent a little time reinventing myself."
David Letterman eventually looked fondly upon him, convincing an initially reluctant CBS that Snyder would be a terrific followup act for his new CBS show. The pairing lasted from 1995-'98, with Snyder welcoming viewers to his unadorned "colorcast" and inviting them to sip a "colortini" if they'd like.
"I very seldom object to or veto a guest," he said. "In fact, I can't think of one instance where I said, 'No, I don't want to do that.' I mean, I didn't want to do Johnny Rotten again, but I did it."
His favorite guests weren't bathed in klieg lights. He enjoyed the company of humorist Orson Bean, author Harlan Ellison and TV producer David Milch, who went on to create both
Deadwood
and the current
John From Cincinnati
.
"He's a compelling individual," Snyder said of Milch, a recovering heroin addict and alcholic whose demons seldom recede from his rear view mirror. "He's nuts, but he's a genius. We do have these people on often, because they've always got something to say."
Snyder also regularly apprised viewers of his beloved "Mother Snyder." At shows' openings, he'd also discourse on anything that popped into his fertile mind. No script. Just Tom being Tom.
Still, he was a largely private man who mostly loathed talking about the being beating within him. He had a brother, John, who'd live in Dallas for 20 to 25 years and was still "in the wholesale carpet business" at the time of our interview.
Snyder quietly journeyed to Dallas in April 1996 to attend the wedding of his brother's only son. "It was very lovely," he said, firmly declining to elaborate.
Tom Snyder had an out-sized ego and an oversized style that became easy to parody. It sometimes didn't make him easy to like. But in the end he stood tall as an original and resourceful interviewer. Full of himself, he nonetheless filled the screen. For a time television made him larger than life.
He loved -- and loathed -- every minute of it.