It's no crime or coincidence that FBI is on CBS
09/25/18 09:47 AM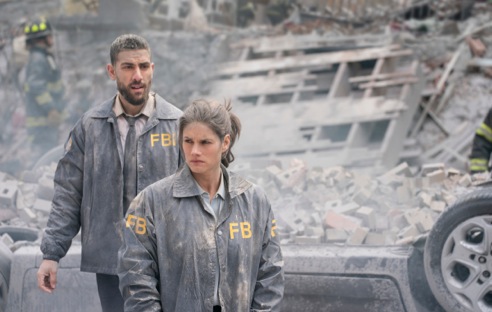 Missy Peregrym & Zeeko Zaki star as hard-charging crime solvers.
CBS photo
Premiering:
Tuesday, Sept. 25th at 8 p.m. (central) on CBS
Starring:
Missy Peregrym, Zeeko Zaki, Jeremy Sisto, Sela Ward, Ebonee Noel
Produced by:
Dick Wolf, Greg Plageman, Terry Miller, Noberto Barba, Arthur W. Forney, Peter Jankowski
By ED BARK
@unclebarkycom on Twitter
CBS' latest crime series -- it has 13 this fall -- begins in a big and gripping way with chain explosions that decimate a Bronx housing project.
The resultant rubble and carnage fill television screens, no matter how big or small yours may be. This first hour of
FBI
, from hit maker Dick Wolf, isn't going to mess around in terms of holding the large audience it expects to inherit from the preceding
NCIS
. Wolf, who's straying from NBC in part because that network already is loaded with four of his hit shows (the
Chicago
trilogy and
Law & Order: SVU
), knows how to craft mainstream shows with staying power. This looks like another of them. It also makes the FBI look good during a presidency that often seems intent on achieving the opposite.
Tuesday's premiere of
FBI
, the only episode made available for review, has two strong leads in Missy Peregrym and Zeeko Zaki as young gun FBI agents Maggie Bell and Omar Adom "OA" Zidan. TV vet Jeremy Sisto pitches in as assistant special agent in charge Jubal Valentine while newcomer Ebonee Noel plays analyst and tech whiz Kristen Chazal.
Subsequent episodes will add another familiar TV face, Sela Ward, as special agent in charge Dana Mosier. So don't get used to Connie Nielsen, who remains in the first hour as a G-man boss named Ellen before she's written off and out.
FBI
moves swiftly and sometimes graphically through its earth-shaking opening investigation, adding and dropping suspects in a familiar pattern that nonetheless seems fresh and certainly isn't dull. Peregrym and Zaki quickly register as agents who aren't impervious to human suffering but have jobs to do -- and do well. Producer Wolf is known for being particularly savvy at casting. And if someone isn't working out -- or their demands eventually become overbearing to him -- he's not at all shy about finding someone else and moving on without missing any beats.
The opening episode makes several "statements" as well -- about people of color and those who want to turn back the clock. The eventual villain in this first hour is suitably detestable, but also perhaps a little too convenient from a storytelling standpoint. But it's also tailor made for a solidly landed parting shot from Zaki's agent Omar.
CBS keeps developing and green-lighting new crime series because so many of them have become long distance runners for the network.
FBI
seems well-equipped to also settle in for an extended stay. It's on a network that knows how to do this genre, and from a producer who perhaps knows even better. Changes of pace increasingly are being sent to CBS' All Access streaming network at an extra charge to viewers. The old broadcast mothership in turn currently offers three nights -- Tuesday, Friday and Saturday -- of wall-to-wall good guys vs. bad guys. Case closed.
GRADE:
B-minus
Email comments or questions to:
unclebarky@verizon.net