"The Rock" gives HBO's Ballers a big draw at the height of his powers
06/18/15 11:57 AM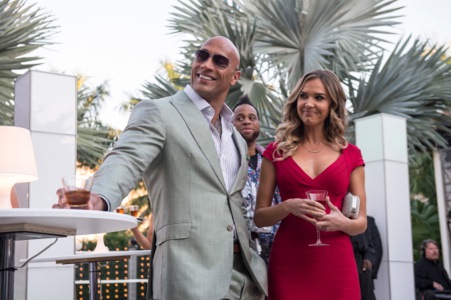 "The Rock" with his TV reporter bedmate in Ballers. HBO photo
Premiering:
Sunday, June 21st at 9 p.m. (central) on HBO
Starring:
Dwayne "The Rock" Johnson, John David Washington, Omar Miller, Donovan Carter, Rob Corddry, Troy Garity, Jazmyn Simon, London Brown, Dule Hill, Arielle Kebbel
Produced by:
Stephen Levinson, Mark Wahlberg, Dwayne Johnson, Danny Garcia, Peter Berg, Evan Reilly, Rob Weiss, Julian Farino, Denis Biggs
By ED BARK
@unclebarkycom on Twitter
Being caught between The Rock and his hard places turns out to be perfect timing for HBO.
Dwayne "The Rock" Johnson, currently starring in the smash feature film
San Andreas
, strides through HBO's new 10-episode
Ballers
like he owns it. Which he does. Premiering on Father's Day along with
True Detective 2
and
The Brink
, this engaging comedy/drama is a heavy favorite to be the most-watched of HBO's new trio. Johnson's best-selling popularity is the primary reason in a series that fits him almost as well as those old wrestling tighties.
He plays retired Miami Dolphins defensive stalwart Spencer Strasmore, now looking to score big as a Florida-based financial manager for current NFL stars. Doing it the "right way" is a priority, but bossman Joe (very good work by Rob Corddry) wants the deals done by pretty much any means necessary. Through the first four episodes made available for review, Spencer and Joe trade mostly friendly jabs while in hot pursuit of new clients and bigger windfalls for Anderson Financial Management.
Strasmore, who regularly pops pills to ease the leftover pains from a violent profession, has two principal players to juggle in the series' formative early episodes.
Veteran, trouble-prone receiver Ricky Jerret (John David Washington), who looks more than a little like Dez Bryant, has just been cut by the Green Bay Packers after a nightclub confrontation goes viral on youtube. Strasmore finds him a new, last-chance home with the Dolphins, but it's not a particularly comfy one.
Pass rusher Vernon Littlefield (Donovan Carter) is a cash-poor Dallas Cowboy looking to re-up with a king-sized longterm contract. His best friend, Reggie (London Brown), excels at being a money-sucking leech who keeps getting in Strasmore's way.
Also in the mix is ex-NFL offensive lineman Charles Greane (Omar Miller), who's tempted to make a comeback while his loyal wife, Julie (Jazmyn Simon), tries to keep him focused on finding a new profession.
Also on the other side of the ball, a sports agent named Jason (Troy Garity) works in tandem with Strasmore while dealing with abrasive Cowboys dealmaker Hal (too young to be Jerry Jones but perhaps a mockup of his son, Stephen).
"I'm not gonna screw up my (salary) cap over this. I've got other needs," Hal says in Episode 4 as the dickering for Littlefield's services escalates. A Cowboys logo is very visible in his office.
Ballers
moves the chains briskly and breezily, with Johnson getting an ample share of closeups and chances to emote. He's a guy's guy and many a woman's dream in terms of both this series and the fans who may well flock to it. For now, his character is bedding TV sports reporter Tracy Legette (Arielle Kebbel), who keeps a lid on one of client Ricky's transgressions in return for Strasmore promising to have his head examined for any collateral concussion damage.
As for the highly protective NFL, well, it may not like a lot of what it sees. Players basically are portrayed as a collective set of self-entitled, sex-crazed, mercenary party hounds, particularly during an epic yacht bash thrown by Anderson Sports Management in hopes of reeling more of them in.
The initial four episodes include references to Roger Staubach and JJ Watt -- and cameos by New York Giants receiver Victor Cruz and famed former Dolphins coach Don Shula. Cruz throws down some drinks with Corddry's Joe in Episode 4 while Shula gets a single, pointed line in Sunday's premiere. "You are an asshole," he tells Ricky. Nice work if you can get it.
HBO has gone the pro sports series route before, with its very early
1st and 10
and then
Arli$$
. Those series respectively were fronted by Delta Burke and Robert Wuhl. Neither could hold a candle to "The Rock's" star power. And in
Ballers
he brings it in full and then makes the sale.
GRADE:
B+
Email comments or questions to:
unclebarky@verizon.net