Swingtown flops around in a sea of sex, drugs and dreary characters
06/05/08 09:42 AM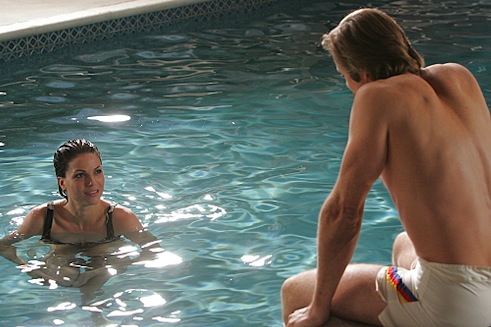 Sex at the deep end: Tom and Trina Decker have an "open" marriage.
Premiering:
Thursday, June 5th at 9 p.m. (central) on CBS
Starring:
Grant Show, Lana Parrilla, Molly Parker, Jack Davenport, Miriam Shor, Josh Hopkins, Shanna Collins
Produced by:
Mike Kelley, Alan Poul
By ED BARK
More seamy than steamy, CBS'
Swingtown
is a pretty limp retro-fit for the sexually aroused '70s.
Its principal provocateurs, Tom and Trina Decker (Grant Show, Lana Parrilla), have an "open" marriage that initially permits hubby to lure an airline stewardess to their lair while flying high on July 2, 1976.
"Your wife is gonna kill me," she tells him.
"My wife is gonna love you," he says. The next scene then offers a fleeting glimpse of a threesome before Trina evacuates and tells her husband to "carry on."
Originally set as a midseason replacement,
Swingtown
was waylaid by a combination of the writers' strike and the network's likely realization that it's just not very good. What might have been provocative on CBS' corporate cousin Showtime is mostly lost in translation on an advertiser-supported broadcast network where the best you can do is peek-a-boo.
That's not the only impediment, though. The main characters in this unnamed "upscale" Chicago suburb, whether adults or teens, seem wan, washed-out and prototypical. Even the swingers are dullards and the '70s mood music is force-fed to fit the situations at hand. "Saturday in the park, every day's the Fourth of July" plays on Bruce Miller's convertible radio as he and wife, Susan (Jack Davenport, Molly Parker), leave their old neighborhood behind with a holiday block party in progress.
Waving goodbye are
Swingtown
's third adult couple, Janet and Roger (Miriam Shor, Josh Hopkins). She's gratingly uptight and he's pretty much a nonentity. So imagine the standard-issue horror when Janet stumbles into the "playroom" during a freewheeling Fourth of July party being thrown by those devilish Deckers.
"Susan, I'm not kidding. They are sick!" Janet trumpets after seeing an unclothed guy entangled with at least two women.
But the Millers decide to stay. And before you know it, the amazingly pliable Susan is ripe for Tina Decker's deal-closer.
"Why don't the four of us go someplace a little quieter?" she says. Presto, change-o, with Bruce and Susan giggling giddily the following morning from the chaster confines of their own bedroom. Meanwhile, back in the old neighborhood, clenched-up Janet is furiously scrubbing because "we live in a pigsty." Out damn spot, sha la la la la.
On the kid front, the Millers' teen daughter, Laurie (Shanna Collins), has an obvious crush on a philosophy teacher who looks young enough to be her kid brother. But she's still dating a lout whom she tells, "You're an idiot. You don't know anything about me."
"I know enough to get in your pants every night," he knee-jerks before Laurie runs off, strips down to her panties and jumps into the surf. Symbolism anyone?
The producers of
Swingtown
, Mike Kelley and Alan Poul, want TV critics to know that their show aspires to be fraught with meaning.
"Our characters will struggle to do the right thing, to reach for happiness while remaining grounded in such a heady time," they say in press materials. "And they're in for the ride of their lives -- a high energy, convention-busting awakening of the senses, all set to the incredible music of the era -- a soundtrack that shaped and expanded the consciousness of an entire generation."
Oh, knock it off.
Swingtown
's opening hour falls well short of exciting any senses. Fox's
That '70s Show
fared far better by not taking itself seriously. This one's just a downer, whether Bruce is accepting a Harvey Wallbanger or wife Susan is popping her maiden quaalude.
Grade:
C-minus