ABC's The Assets: the Cold War served less than lukewarm
12/31/13 01:52 PM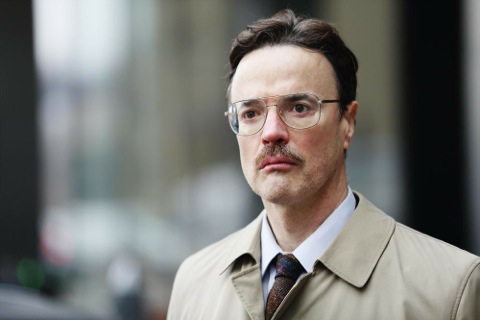 Paul Rhys as a cloak and dagger turncoat in The Assets. ABC photo
Premiering:
Thursday, Jan. 2nd at 9 p.m. (central) on ABC
Starring:
Paul Rhys, Jodie Whittaker, Harriet Walter, Stuart Milligan, Julian Ovenden, Christina Cole, Ralph Brown
Produced by:
Morgan Hertzan, Rudy Bednar, Andrew Chapman
By ED BARK
@unclebarkycom on Twitter
You can cut the tension with a Popsicle stick in
The Assets
, a Cold War era drama so inferior to FX's
The Americans
that it should have been deported before landing on ABC.
Riveting it's not. Murky, plodding and pedestrian it is. Premiering Thursday at 9 p.m. (central), the eight-part series is filling in for
Scandal
, which isn't scheduled to return until Feb. 27th. That will seem like an eternity.
Set in 1985,
The Assets
is drawn from a book with an elongated title --
Circle of Treason: A CIA Account of Traitor Aldrich Ames and the Men He Betrayed
.
Paul Rhys (
Borgia
and no relation to
Americans
star Matthew Rhys) plays the duplicitous Ames, known to his CIA colleagues as "Rick." Principal among them is Sandy Grimes (Jodie Whittaker), a married mother of two daughters who may well be the blandest leading lady in the history of ABC drama series.
Her incredibly understanding husband, Gary (Julian Ovenden), is no help at all in the first two episodes made available for review. Those hard-hitting domestic dynamics of
The Americans
are nowhere to be found in
The Assets
.
Gary knows what his wife does for a living but she can't talk about it. Unfortunately he talks instead, often gratingly so. Episode 1 includes this groaner after Sandy admits to being vexed and perplexed by some troubling developments at the old workplace.
"Whatever it is, you'll beat it," hubby assures her. Furthermore, "Everyone in the family knows why you do what you do. But do you know why you do it? Because you are a warrior. Protecting your country. You do it for us. To keep us safe."
Briefly bucked up, Sandy crumples a pack of cigarettes she's been tempted to smoke. By the end of Episode 1, she's merrily making breakfast for the whole family.
Throughout
The Assets
, the drama is either underwhelming or over-acted. As when a uniformed Soviet KGB official almost comically screams at a captive: "We are both spies! And I caught you spying!" In Episode 2, an elderly would-be Soviet defector is no less hammy.
Agent Sandy's wizened mentor is Art O'Neil (Stuart Milligan), who errs on the side of cardboard dialogue by telling her, "You have got to compartmentalize."
"I don't know if I can do that," Sandy replies, "I don't know if I'm that person."
"Well, if you can't, this job'll tear you apart," he says. Oh gawd.
Aldrich/Rick weaves his way in and out, generating overall boredom instead of electricity.
The Assets
just can't get untracked, lumbering through its first two hours without any sense of purpose, style or urgency. As the first new drama series of the new season, its only clear intent seems to be providing ABC stations with some really lousy lead-ins for their late night local newscasts.
GRADE:
D
Email comments or questions to:
unclebarky@verizon.net